Awards
// January 10, 2023 ■ 6 min read
Shopify, OLAPLEX, Best Buy and eBay are finalists for this year's Modern Retail Awards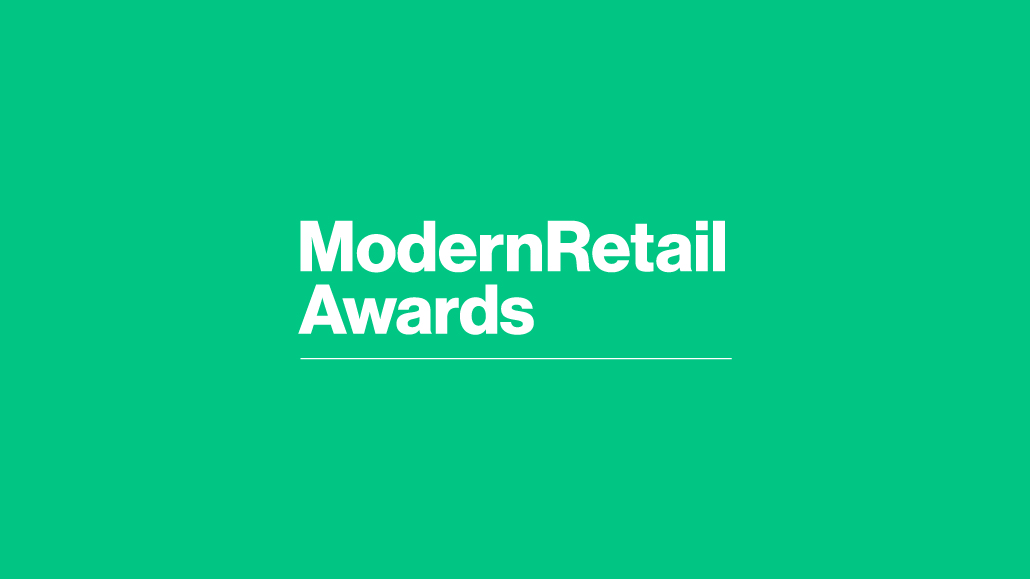 For many companies in this year's Modern Retail Awards, e-commerce technology and innovations in sustainability emerged as top priorities. Brands and retailers are also leaning on customer insights and technology like AI to understand shoppers better and drive interest, both on and offline.
In the new Best Back-end E-commerce Technology category, Shopify earned a nomination for its launch of Shopify Audiences. The tool uses Shopify's platform and machine learning to create custom audiences that maximize reach and drive conversions. Built with flexibility in mind for the platform's wide range of merchants, Shopify Audiences creates audience lists and audience-level insights post-campaign to give clients a unique analysis of their most impactful marketing tactics. It also allows merchants to own and leverage their own data, personalize experiences based on that data and regain return on ad spend (ROAS). Shopify has built the data model around transparency and trust, making it resilient to changes in user-tracking regulations so merchants can stay compliant.
Haircare company OLAPLEX received a nomination for Best Use of Technology for its Virtual Team Member, named Kai. Reflecting OLAPLEX's innovative and technology-driven reputation, the brand created Kai using artificial intelligence to engage its community of professional hair stylists and consumers in a unique way across its digital platforms. Kai merges the images and emotional characteristics of more than 240 brand advocates and employees and a voice synthesis of 15 team members with different accents, genders and tones for an accurate, bias-free composite. As a result, the virtual colleague personifies the diversity and inclusivity of OLAPLEX's brand values while broadening the company's reach across its user bases. The AI employee aids customers in their online shopping journey by answering questions and providing information on OLAPLEX products, campaigns and services. In the financial quarter when OLAPLEX introduced Kai, the brand saw double-digit growth in net and DTC sales.
Best Buy was shortlisted in multiple categories, including Best Omnichannel Experience. The electronics retailer launched a new virtual store experience where customers can connect one-on-one with tech experts via video or live chat while shopping, in-store, online or on the Best Buy app. The virtual store drove an increase of more than 1,200% in revenue and has supported more than 500,000 customers. As part of Best Buy's efforts to meet its customers where they are, new Experience Stores (part of the retailer's footprint of more than 1,000 locations) include immersive demo areas and new product categories, more extensive Geek Squad services and order pick-up areas. 
In the Most Responsible Retailer category, global e-commerce marketplace eBay is a finalist for its launch of Circular Commerce Methodology. The open-source Circular Commerce Methodology report was launched in April 2022 as part of the company's efforts to bring more transparency to how large tech brands are reducing carbon emissions and waste while encouraging others to be more sustainable. The marketplace standardized the categories of avoided greenhouse gas emissions, avoided landfill or incineration and positive financial impact across electronics, fashion, lifestyle, media and parts and accessories, creating a benchmark for other companies to track their impact.  In 2021, eBay was carbon neutral for scope-1 and -2 emissions, had a 7% reduction in scope-3 emissions and achieved 90% renewable energy. The company also created $4.2 billion in positive economic impact and avoided 1.5 million metric tons of carbon emissions and 47,000 metric tons of waste. Looking ahead, eBay aims to create $20 billion in positive economic impact, avoid 7 million metric tons of carbon emissions and avoid 230,000 metric tons of waste.
In another example of sustainability, Outlines is a finalist for Best Retailer/Agency Collaboration for its e-commerce and subscription platform created with design and technology agency Work & Co. Outlines' Responsible Replenishment model reduces waste by replacing and recycling the parts of home essential products, such as shower curtains and scrubbers, that get dirty. The brand's new platform offers an elevated DTC experience for the full lifecycle of products, including digital tools to inform shoppers of replenishment needs and free returns (in compostable mailers) for the guaranteed recycling of old, dirty product parts. Since the launch of the new collaborative website, Outlines has doubled its conversion rate and increased its subscription uptake rate to more than 75%, demonstrating how product education strongly impacts purchasing decisions.
Overall, the judges' nominations illustrate how brands and retailers are experimenting with technology to engage with savvy and sustainable-minded shoppers. 
See the complete list of finalists below.
Best Back-end E-commerce Technology
AfterShip – Launch of AfterShip Predict
Archive
Heyday by Hootsuite
Lily AI – Product Attributes Platform for E-Commerce
Shopify – Launch of Shopify Audiences
Tadpull's Ecommerce Data Pond
Ware2Go
Best Brand Collaboration
Canada Goose Fall/Winter 2022 Campaign with Annie Leibovitz
Honest Co. x Tinuiti: Increasing Target ROAS
Merkle & Nestlé USA – Building an Innovative Measurement & Optimization Solution with Instacart
Poland Spring "Fueled by Nature" Campaign Wins with Fyllo's Infused Audiences
TRUFF & Hidden Valley – Launch of TRUFF x Hidden Valley Spicy Truffle Ranch
Best Community Building Strategy
Kendra Scott – Giving Back As the Truest Form of Success
Vita Coco Launch of The Hangover Shop by Vita Coco
Best Customer Insight Strategy
Entain & UX Connections – In-house Solution Development
Intuit Mailchimp
Nexite
Best Customer Service Experience
Algolia Customer Success Story:  Paul & Shark
Alto Pharmacy
Aviron
Lalo
Best Digital Transformation
Best Buy
Floor & Decor and Astound Commerce – A Digital Renovation for Home Improvement
Specsavers optimise media buying with Paradigm- by Acceleration
Best E-Commerce Experience
Alto Pharmacy
Loop Returns
Moonbug Entertainment and Brand3P- CoComelon Amazon Brand Celebration Store
Pattern & Houseplant – Redesign of Houseplant.com
Quiq & Blue Nile – The path to superior CX
Whatnot
Yext & The Prisoner Wine Company – Finding the Perfect Bottle
Best Email Campaign
DSW x Movable Ink
Best Fulfillment Strategy
Quiet Platforms
Sundays Company
Best Influencer Collaboration
Blue Hour Studios & LikeMeat – LikeWings #WingIt2WinIt
Pearpop & Amazon: Prime Day "Dream Deals" Challenge
Best Marketing Pivot
The Sak & January Digital, The Digital Leadership Company™
Best Omnichannel Experience
Best Buy
Boisson
Brilliant Earth
Madison Reed
Marine Layer Goes All-In On Omnichannel with NewStore
MGA Entertainment and Brand3P – Rainbow High Brand Celebration Store on Walmart, Amazon, & Target
Saatva Viewing Rooms
Best Personalization Strategy
Aki Technologies, an Inmar Intelligence Company and Johnnie Walker
HSN x Movable Ink – Personalization
NOBULL & Bluecore
Stitch Fix – Using data science and algorithms to deliver personal styling in real time
Best Product, Category or Sub-Brand Launch Campaign
Blue Hour Studios & LikeMeat – LikeWings #WingIt2WinIt
Brooklinen – Summer Checkerboard Towels and Robes Collection
Canidae™ & January Digital, The Digital Leadership Company™
Harry's x Flamingo – "Hair is Hair" Campaign
Launch of GoodwillFinds.com
Lion Brand Yarn: Sustainable Stitching
Restore Hyper Wellness 
Best Retailer/Agency Collaboration
Joybird & Marketing Architects – Complement
MGA Entertainment and Brand3P – Rainbow High Brand Celebration Store on Walmart, Amazon, & Target
New Engen & Graco
Outlines E-Commerce and Subscription Platform
Pattern & Houseplant – Redesign of Houseplant.com
StackAdapt & The Stable – Expanding e-Commerce Sales Overseas
Best Subscription Strategy
Lovevery's Early Learning Program, The Play Kits
Outlines E-Commerce and Subscription Platform
Best Use of Social Media for Commerce
Horizon Media & Petco – Sparking Joy With Shoppertainment
Karma
LTK
Best Use of Technology
Afresh & CUB – Improving Product Freshness & Eliminating Food Waste
Circle K Smart Checkout Powered by Mashgin
Family Farm & Home Store Enablement – Launch of Zipline "The Farm Hand"
Firstleaf
Lyre's Spirit Co
OLAPLEX – Virtual Team Member
Specsavers optimise media buying with Paradigm- by Acceleration
Best Use of Video
Goods & Services and Rheem
Founder of the Year
Bev
Dia & Co – Nadia Boujarwah
Forme Science – Founder, Dr. Stephen Liu
Mukul Dhankhar, Mashgin – Expansion to Convenience Stores
Peace Out Skincare – Enrico Frezza
Vuori – Joe Kudla
Most Innovative Retail Model
Amazon – Launch of Amazon Style
Best Buy
Brandless
Dave & Buster's & The Coca-Cola Company – Launch of Game & Go
Petco – The Next Evolution of Retail Strategy
The Clear Cut
Most Responsible Retailer
Canada Goose HUMANATURE
eBay – Launch of Circular Commerce Methodology
GRIND Basketball and Accrue Savings
Grove Collaborative
Kaiyo