Amid its retail expansion, Sanzo is investing in more nontraditional collaborations with food and accessories brands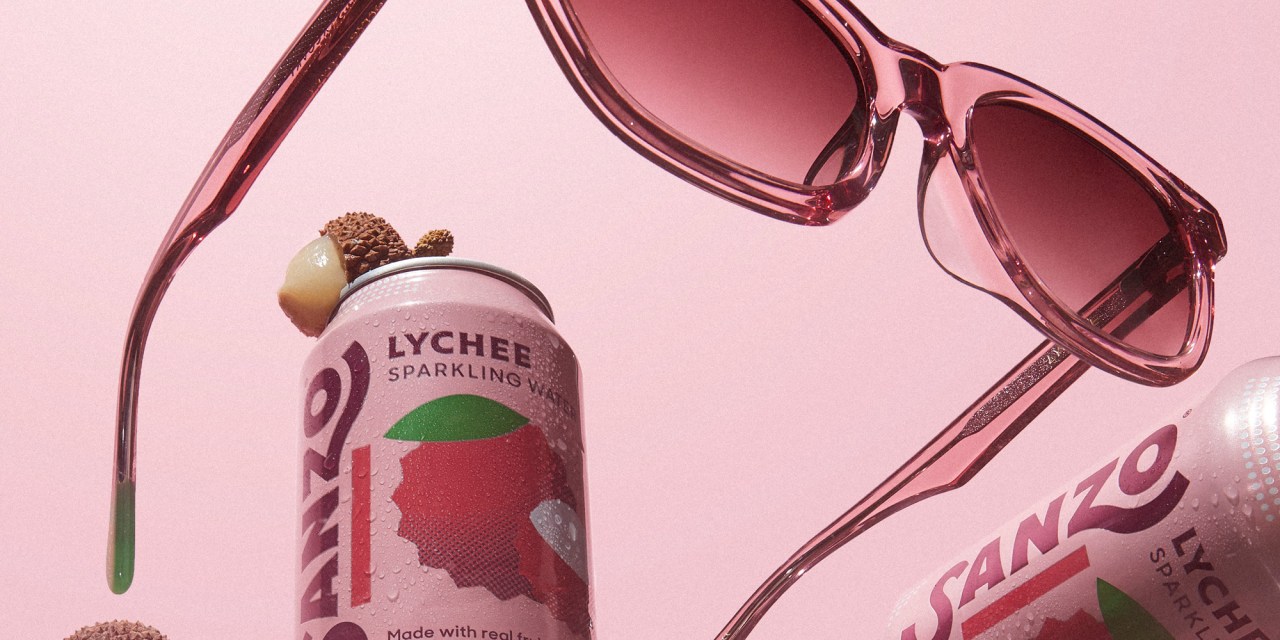 Covry
What do pickleball, eyewear brand Covry and Japanese barbecue sauce brand Bachan's have in common? For sparkling water brand Sanzo, these are all elements of its marketing strategy this summer to drive brand recognition and sales as it enters more retail doors.
Sanzo said it plans to release limited-edition pickleball paddles this summer with pickleball equipment brand Nettie, which are inspired by the beverage brand's fruit flavors. Similarly, the vibrant colors of Sanzo's flavors will also be the inspiration behind the limited-edition sunglasses that the company will release in partnership with Covry. The company also joined forces with Bachan's Japanese BBQ Sauce to offer shoppers a $4 discount when they buy both Sanzo and Bachan's in retail stores.
These initiatives altogether make up Sanzo's summer marketing campaign, dubbed Destinasian Flavor. The idea behind these partnerships is to invite people to try out Sanzo by promoting its brand in places where other beverage companies may not go. That way, people are more likely to think of Sanzo the next time they are at the grocery store. Its Destinasian Flavor campaign is released in tandem with Sanzo's multiple retail launches, including its entry to all Stop & Shop and Whole Foods locations nationwide.
"It all comes back to our mission of bridging cultures and inviting communities to explore Asian flavor," said Kimberly Lam, senior marketing director for Sanzo. "What we really are starting to do with Destinasian Flavor is lean into these four pillars: sports, snack, spirit and soul."
Founded in 2019, Sanzo is introducing Asian flavors to the sparkling water category. It currently offers five flavors — including calamansi, yuzu and lychee — which can be found in 3,000 retail doors nationwide, with more to come later this year. The company declined to share specific revenue figures but said its household penetration has grown 300% year-over-year and it has raised $10 million in a Series A funding round in 2022.
While Sanzo is a relatively young company, it has also made a bet on entertainment partnerships in the past to help it build brand awareness. Sanzo released limited-time cans to promote Disney films like Raya and the Last Dragon as well as Marvel's Shang-Chi and the Legend of the Ten Rings. The company also partnered with Taiwanese-American NBA champion Jeremy Lin by releasing a Linsanity special edition Asian pear flavor to celebrate Linsanity.
"Our core mission really hasn't changed, and it's really about bridging cultures and inviting communities to explore Asian flavor," Lam said.
Its multi-category marketing approach this summer — sports, fashion and food — has different goals. Alongside its partnership with Nettie, Sanzo also recently became the official sparkling water sponsor for the Professional Pickleball Association. Its pickleball initiatives are meant to drive sampling and retail sales at each PPA stop, especially when Sanzo holds demos. Its $4 discount with Bachan's intends to drive in-store sales and possibly foot traffic, while Sanzo hopes to gain sales through Covry's site as well as social media buzz.
Many of Sanzo's partnerships are rooted in Asian American culture, which Kimberley Ring Allen, founder of Ring Communications and adjunct professor at Suffolk University, described as a community-building marketing tactic. She said that more brands have been attempting to build a community around the people it envisions buying their products because it is becoming harder to get people's attention.
"Consumers are being bombarded by marketing messages from brands," she said. "It's super overwhelming."
The sparkling water category, she said, is a particularly saturated category so brands that haven't built a community to back them up could have trouble competing with other players. Launching a campaign to go along with its retail rollout, Allen said, could compel shoppers to seek out the company's products. 
"It's too saturated of a market to not tap a community first," she said. "You can't just automatically say that you're being sold at Publix and expect people to go find it. People have to be introduced to the brand first."
However, engaging in this type of marketing strategy can be expensive and hard to justify. Allen said any partnership or sponsorship that a brand engages in could have a fee, commission cost or a revenue-sharing contract.
For the rest of the year, Lam said that Sanzo is focused on growing the brand "in a meaningful way." She added that the company plans to keep investing in marketing and growing its distribution network.