Blueland's new facial cleanser furthers reach into refillable personal care space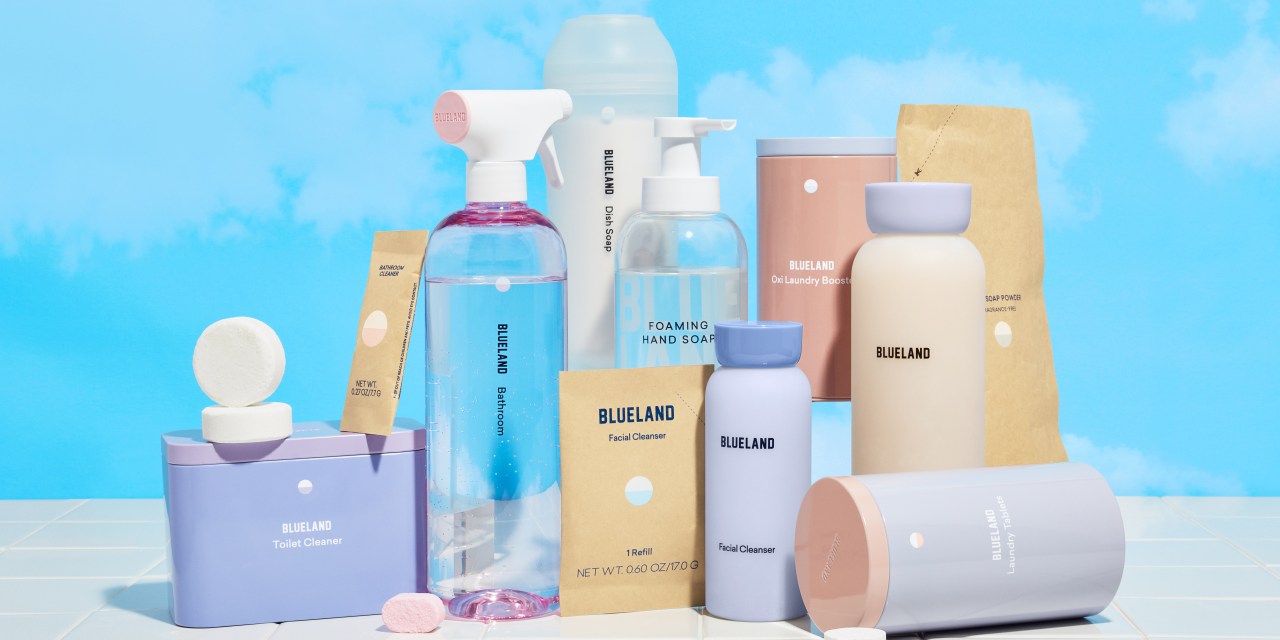 Blueland
Refillable cleaning product startup Blueland is furthering its reach into the personal care sector with the launch of a new refillable facial cleanser.
The move comes at a moment when consumers are increasingly aware of the prevalence and pollution of single-use plastics, and on the heels of a major funding round for the brand. Data analysts at Smithers found in February 2021 that the demand for sustainable cleaning products is rising, with a CAGR of 8.4% through 2026. In February, Blueland announced that it had raised a fresh $20 million in funding, meant to fuel product expansion and future moves into retail.
Blueland launched in 2019  in the home cleaning space with a multi-surface cleaner, glass cleaner and bathroom cleaner. It next moved into hand soap, and slowly ramped up to a line of 15 products over the next two years. Then, it officially made its entrance into personal care products in May with a new body wash.
The new cleanser will follow a similar format to other Blueland products by coming with a reusable bottle and dissolvable powder that transforms into a gel once mixed with water. Customers can also subscribe to get the concentrates delivered on a regular basis, and reuse the same glass bottle.
Co-founder and CEO Sarah Paiji Yoo said the push to expand into personal care dovetails with the increasing demand from consumers to cut down on packaging and to live with less waste.
"I think we are in an exciting time, in that we no longer have to convince consumers on why sustainability matters," she said.
Intentional expansion
Blueland started selling products in 2019, following at least two years of research and development to come up with the technology and first suite of cleaning product offerings.
Paiji Yoo said when launching new products, she's always considered whether the customers will be comfortable switching to a refillable model for that particular item. The first product it ever tested was a toothpaste tablet, but it never launched due to after it didn't off with testers.
"We found that there are categories like cleaning sprays, or hand soap, where people were a lot more open to trying something new or different," she said.
The foray into personal care products started with the body wash product in May. Paiji Yoo said it was "the most requested" product based on customer feedback, and it also made sense given that packaging for body wash is often a bulky plastic item.
"We don't want to just launch things for the sake of launching things. And we want to make sure that internally we're very clear that optimizing existing products is way more important than launching new products," she said.
A broadening market
Blueland is taking a similarly measured approach when considering retail expansion. Paiji Yoo said that Blueland has turned down national retailers in the past as it refines its products and builds its DTC customer base.
Operating this way has allowed for more direct customer feedback as it refines the new products, she said: Blueland says it grew 400% in its first two years, and has served more than 1 million customers. While the brand has been sold in both West Elm and The Container Store, Paiji Yoo says a bigger move into retail is on tap.
"Since the beginning, we knew that we wanted to be in retail, we knew that we needed to be in retail especially because of the categories that we play in," she said.
Consumers are beginning to start demand such products: Trivium Packaging found 74% of consumers are interested in refillable packaging in its 2022 Global Buying Green Report.
Meanwhile, other CPG companies are taking notice. Brands like Softsoap, for exampl,e now have large 50 oz. bottles of hand soap that can be poured into reusable containers. Luxury hair care brands like Ouai, Kerastase and Oribe offer refillable shampoo and conditioner products.
"When we got started, the idea of refillable cleaning products was really a novel one. And now, every major CPG player, all of the billion dollar players all have their answer to refills," Paiji Yoo said.
Matt Prindiville, CEO of Upstream — a circular economy advocacy nonprofit — described Blueland's refillables "super seamless and super simple." In recent years,  Prindiville said, there's been a shift in how brands are approaching the need to be more sustainable. Ten or even five years ago, brands were reluctant to start thinking about reusable products or refillable packaging, Prindiville said.
"The brands just didn't know how to do it," he said. "Now many of them, including many of the brands we think about have all piloted reuse/refill systems and they've learned a lot."
But it's still a "honeymoon phrase," Prindiville said, with the next challenge of how businesses can scale reuse and refill systems. Much of that has to do with infrastructure, or the systems that would allow something like glass refillable bottles purchased a store to be recycled, brought back to the manufactured and then refilled for sale again.
And Prindiville says there's ample evidence around the world of how to do it: Coca-Cola, for example, in 2018 introduced the "Universal Bottle" program where it refills returned glass bottles in several counties across Central America and South America.
Now, the model is beginning to creep into other parts of the world. "It has to work in ways that are going to work for the businesses as well, not just the consumer," he said.