Brands and retailers are finding a win with Formula One merchandise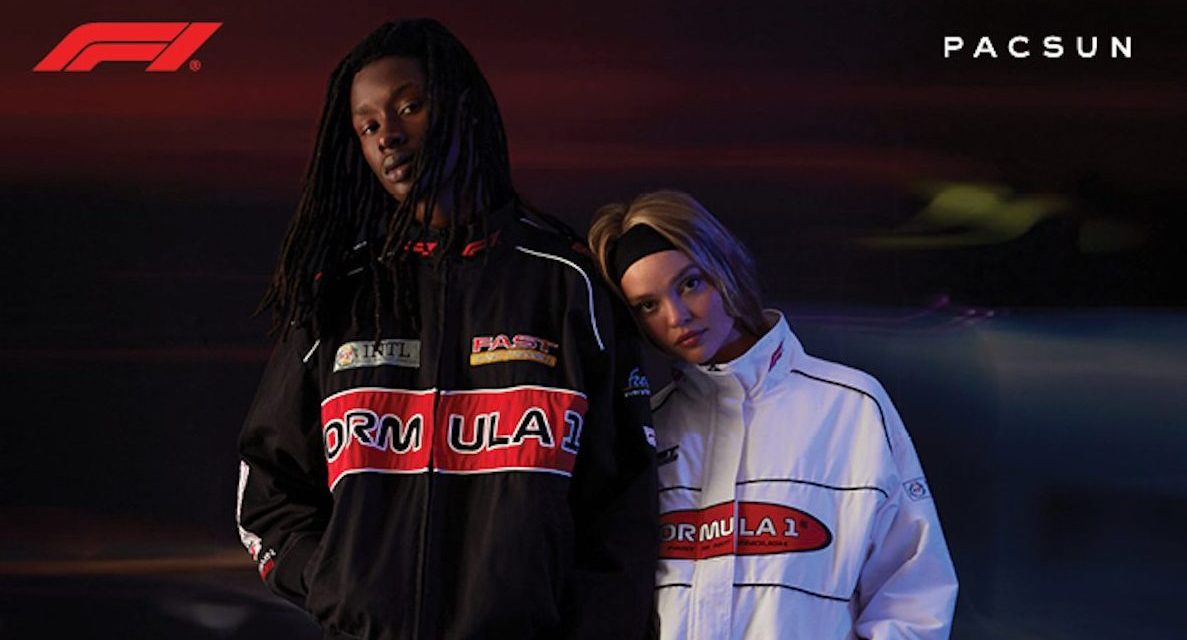 Pacsun/Formula One
As Formula One drivers race around the track, brands are clamoring for a piece of the action.
Pacsun has partnered with F1 on an apparel collection since 2022 and is bringing on new styles this month and next month. Lego sells model sets of team racing cars (including a McLaren set for $199.99), and Puma recently nabbed exclusive rights to sell F1 merch at races starting in 2024. Individual teams also have their own retail deals. For example, Ferrari has partnered with Puma since 2005 on dozens of hats, jackets and bags.
F1 racing began in 1950 and has since become the world's most prestigious motor racing competition. With that comes the opportunity for major revenue. F1's 10 teams — which today include Aston Martin, Red Bull and Mercedes — each have dedicated fan bases eager to snap up branded merchandise like sneakers and T-shirts. Fanatics, an online sports retailer, says that online merch sales from F1 grew triple digits in 2022 and that total sales revenue for the category is up 1,084% since 2018.
Meanwhile, the sport is becoming a global mainstream phenomenon. For example, 5.7 million people attended F1 races in 2022, up 36% compared to 2019, the last season before the pandemic. ESPN, ESPN2 and ABC's coverage of the 2022 season broke records in U.S. viewership. The 2023 F1 World Championship season runs until November and spans across five continents. Worldwide, Google searches for "F1" have steadily grown over the last five years, quadrupling from late July 2018 to late March 2023, according to Google Trends.
Pacsun released its first collection with F1 at ComplexCon last year. At the time, it offered six pieces of apparel, which it then expanded in March 2023 to link up with the start of the new F1 season. In May, to coincide with the Miami Grand Prix, Pacsun unveiled a new summer line. It also gave fans the chance to win tickets to the Grand Prix through pre-ordering purchases of the collection.
"We are always looking for new and unique ways to engage the Pacsun community and participate in the things that they care about," Richard Cox, Pacsun's vp of men's merchandising & design, told Modern Retail. "We recognized that our customers were engaging more and more with F1 and that the sport was continuing to build momentum in the U.S., so we reached out to F1 to begin a partnership."
Pacsun and F1 co-branded items are priced between $10 and $150 and can be found in Pacsun stores or online. Current offerings include graphic tees, loungewear, zip-ups and moto jackets, and a dozen styles are already sold out. According to Cox, customers are most interested in F1 jackets, woven items, shorts and pants — a departure from previous collaborations with other properties in which hoodies and T-shirts got the most attention.
"F1 is selling very well compared to other brands in our store and is one of the strongest selling projects we've had this year," Cox said. "We do see a positive boost in sales during the launch of each collection as well."
The F1 Championship is extremely popular in Europe, but the past few years have seen an explosion of interest, especially from the United States. Some of this spike may be linked to Netflix's popular docuseries "Formula One: Drive to Survive," which is about to begin its fifth season. According to Netflix, the show's fourth season was, at one time, the most-watched Netflix series in 33 countries. The show aired its first season in 2019.
Sky Canaves, a senior analyst at Insider Intelligence, also credits channels like Instagram and TikTok with bringing on new F1 fans. "You have an up-and-coming new generation of drivers who engage with fans on social media platforms and who are also very stylish and fashionable and can serve as inspiration for audiences," she told Modern Retail. Many of these drivers also have their own standalone clothing lines that they promote on social media. Daniel Ricciardo, for example, has Enchanté, while Lando Norris has Quadrant.
On a macro level, Canaves sees the interest in F1 as part of a broader post-pandemic trend — one in which people are prioritizing new experiences and want to participate in wide-scale cultural events (think Taylor Swift's Eras tour).
When it comes to merchandise, "I think brands really want to participate in these trends, because we have definitely seen spending shifting from goods to services in this period," Canaves said. "And one way for brands to draw spending back to goods is to align themselves with the types of experiences that people are seeking out, from travel to sports to entertainment."