Faced with rising online costs, DTC brands are now spending more money on traditional marketing channels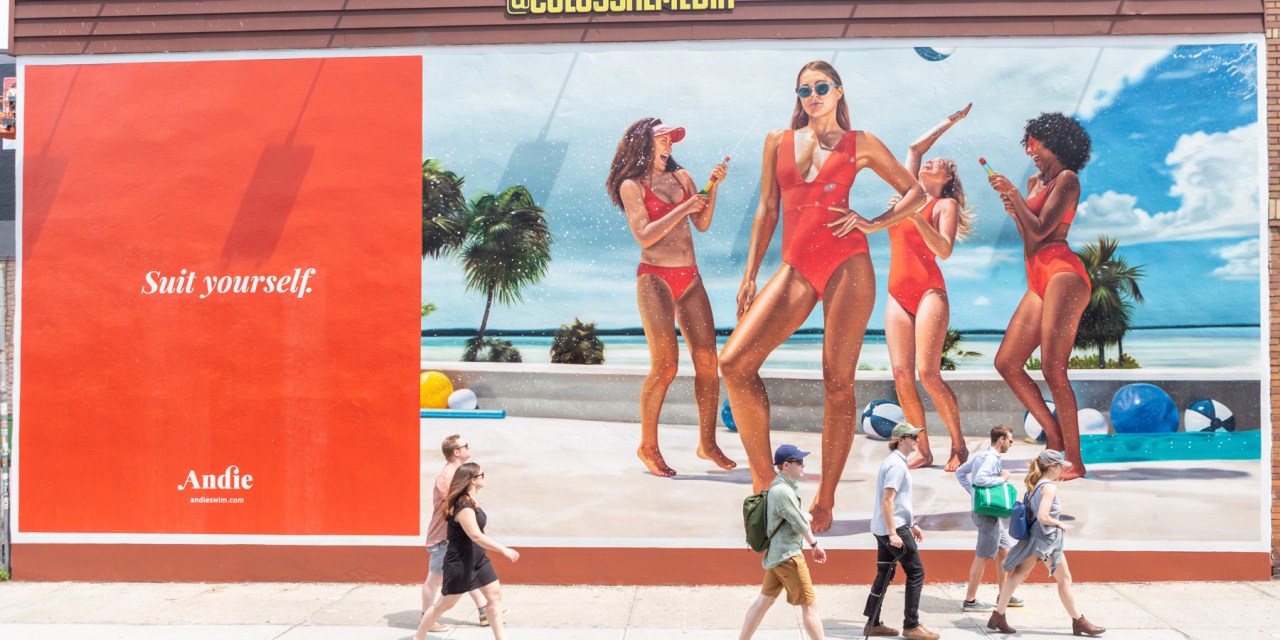 This summer, direct-to-consumer bathing suit brand Andie Swim made its billboard debut.
The brand, which launched in the spring of 2017, ran its first out-of-home campaign in June and July, with ads running in subway stations and on billboards in New York City and Chicago. It worked with the brand services agency Worn Creative to come up with the concept of "Suit Yourself," a series of images portraying women doing activities like diving and biking in their Andie swimsuits.
According to Melanie Travis, Andie's founder and CEO and Bark & Co's former director of brand experience, the out-of-home campaign was the next step in the company's ongoing push to expand its marketing mix. Starting with direct response through display, paid search, Facebook, Instagram and Pinterest, the brand then deployed podcast ads before planning its first out-of-home push in November of last year.
"It was like our coming out story," said Travis. "As you evolve, you need to start branching out from direct response, which is bottom funnel. If you don't fill your top funnel, the bottom-funnel costs will rise more than what the platform is worth. It's also about legitimacy. Different demographics want to see your brand in more places to know you're real and legitimate."
Online consumer startups, mostly VC-backed, which began outreach by targeting customers on Facebook, Instagram and other performance marketing platforms, are expanding their reach to more traditional channels in order to capture audiences that may not have run into the brands' ads on social media, or aren't willing to buy from an online brand they've only seen on Facebook. And as the cost of customer acquisition on channels like Facebook and Google continues to climb, DTC brands are spending more on traditional outlets like TV. In 2018, according to a Video Advertising Bureau study, the top 125 DTC brands spent a combined $3.8 billion on TV ads, up 60% over 2017.
Customer acquisitions costs consider a number of variables — like targeted audience, category and timing — but competing is getting costly. According to one mattress brand, cost-per-click on Google reached $15 this year for search terms like "best mattress," up from $10 the year before. Home goods brand Parachute estimated it would have had to spend $20,000 on Facebook alone in one month to reach the number of customers it reached through a diversified media mix when it launched its mattress earlier this year.
Those costs are pushing brands to consider other pastures in order to take advantage of the trickle-down effect from broad-reach channels, which in turn lowers those costs.
"Companies that started with digital-first and performance marketing are seeing that the moment they go out-of-home, their online campaigns became more profitable," said Marcel Hollerbach, the CEO of e-commerce platform Productsup. "When a user browsing online sees a Google ad for a brand she already recognizes, you end up paying less for their click, and the whole marketing spec becomes more efficient and less expensive."
The move to traditional channels, then, is inevitable. But in the same way that DTC brands are opening stores or selling through wholesale retailers, the goal is to take on these channels with a modern, digital-brand spin: With so much customer information and insight under their belts from launching direct-to-consumer on data-rich platforms, these brands have the opportunity to update the approach to more analog channels.
In stores and wholesale, that's meant rethinking the customer experience and working with retailers to figure out better data-sharing and brand presentation terms. But brands transitioning their marketing strategies to account for broad awareness-raising channels — which yield little to no insight into attribution or customer data — have to navigate an awkward growing-up phase that requires a reallocation of resources, navigating partnerships, new methods for tracking results and back-end preparation to meet a new level of customer response. It all amounts to a complex maneuvering across ad channels that sends a message to any brand founder still under the guise that the barrier to entry for launching brands is low. As it turns out, you can't build a brand on Facebook alone.
Grappling with resources
"These brands need to be diversifying their channel mixes earlier," said Matt Rednor, the founder and CEO of Decoded Advertising. "DTC brands flipped the funnel — they're starting with Facebook and then moving onto TV. The runway for DTC brands is under pressure though, and there are so many competitors that can rip of riff off your ads. So brands have to move to these channels faster."
The first barrier is budget. According to Hollerbach, brands should be accustomed to spending around $1 million a year on performance marketing — ensuring they're covered on those channels — before considering others like out-of-home and TV, channels that quickly top a $100,000 a month budget.
According to Travis, pulling off an out-of-home campaign, an investment starting around $100,000, is a much more considered move than a $5,000 podcast spot or a Facebook ad buy, which lets brands turn on ads for as little as $5. Automatically, this down payment separates the brands that can fund a big TV or out-of-home campaign from the ones who can't, giving faster-growing brands the advantage to stick in customers' minds. Carolyn Rush, the co-founder of Worn Creative, the agency that worked with Andie on the campaign, said the brand was smart about resources.
"For DTC brands, out-of-home feels out of reach because it's a huge spend. Andie was smart — we took over [the MTA station] 59th and Lexington, and not Bedford Avenue in Williamsburg, and then did a mural in Brooklyn instead. That saved a ton," said Rush.
Beyond the cost of the ad buy, big campaigns on platforms unfamiliar to new brands take up talent and expertise resources as well. Brands like Andie as well as home goods brand Parachute were used to doing everything in-house, before stepping into uncharted territory with out-of-home in Andie's case, and direct mail, TV, radio and out-of-home for Parachute.
"We're not in a place where we have this whole toolkit to produce TV campaigns, so we rely on agencies," said Luke Droulez, the CMO of Parachute. "We keep building up our internal team. But working with external agencies helps set a precedent for our internal team, and it also helps along the thought process of revisiting the brand and what it's about."
Tracking invisible data
It's impossible to gauge the number of eyeballs that saw a billboard then went to shop a brand, and attribution is messy when multiple channels are working in tandem to push a customer to a purchase. For DTC brands, taking the plunge into impossible-to-measure marketing channels means rethinking how to track success.
Stitch Fix, the online styling service, launched its first brand campaign earlier this year across a combination of TV, out-of-home, OTT, media partnerships and social. According to Lisel Welden, Stitch Fix's vp of marketing, the company's growth and algorithms teams use incrementality testing across all of its channels to measure impact on metrics like customer sign-ups and orders. For the brand campaign, the brand deployed a "brand health tracker" to watch top-of-funnel metrics. The goal is to get more customers initiated with the concept before they order their first Stitch Fix box across multiple touchpoints, so the likelihood of customer churn is lowered.
"Our brand campaign is driving greater confidence in our ability to drive awareness, affinity, and engagement overall," said Weldon.
Travis said that while out-of-home results in less actionable customer data, "it's clear whether or not it's working." For example, following the campaign, the brand saw its customer age range inch up, as the brand got in front of an older demographic that spends less time on Instagram. She also saw her brands customer acquisition costs on every digital channel go down.
"Offline marketing has bigger audience, but I wouldn't make the proclamation that we're cutting Facebook tomorrow. It means that we're able to connect the dots. Both reinforce the brand, which helps performance," said Droulez.
Under pressure
Reaching more customers in a big brand marketing push can put a startup under pressure internally. Service-oriented startups, like Rent the Runway and Stitch Fix, have had to carefully pace marketing campaigns until their internal systems were in a place to handle an influx of new customers. According to Travis, the brand had to quickly hire more customer service representatives and warehouse workers to meet demand this summer.
"Our inventory and overhead are catching up with our marketing. We've had some hiccups" said Travis. She said that performance exceeded expectations, which resulted in backup. "Our warehouse was flinging swimsuits and customer service was behind. I was like 'Oh my God, we need to staff up."
Growing pains, while still pains, are a good problem to have. Being everywhere — or at least in more places than just Instagram — can secure young brands in customers' consciousness and help them beat out competitors, particularly in oversaturated categories like mattresses and swimwear.
"There's been a proliferation of brands selling swimsuits on Instagram, and a lot are subpar drop-shipping brands. As that grows, it's important to show that you're not that, you're a real team of people. The out-of-home campaign helped," said Travis.