Feminine care brands are getting creative despite marketing limitations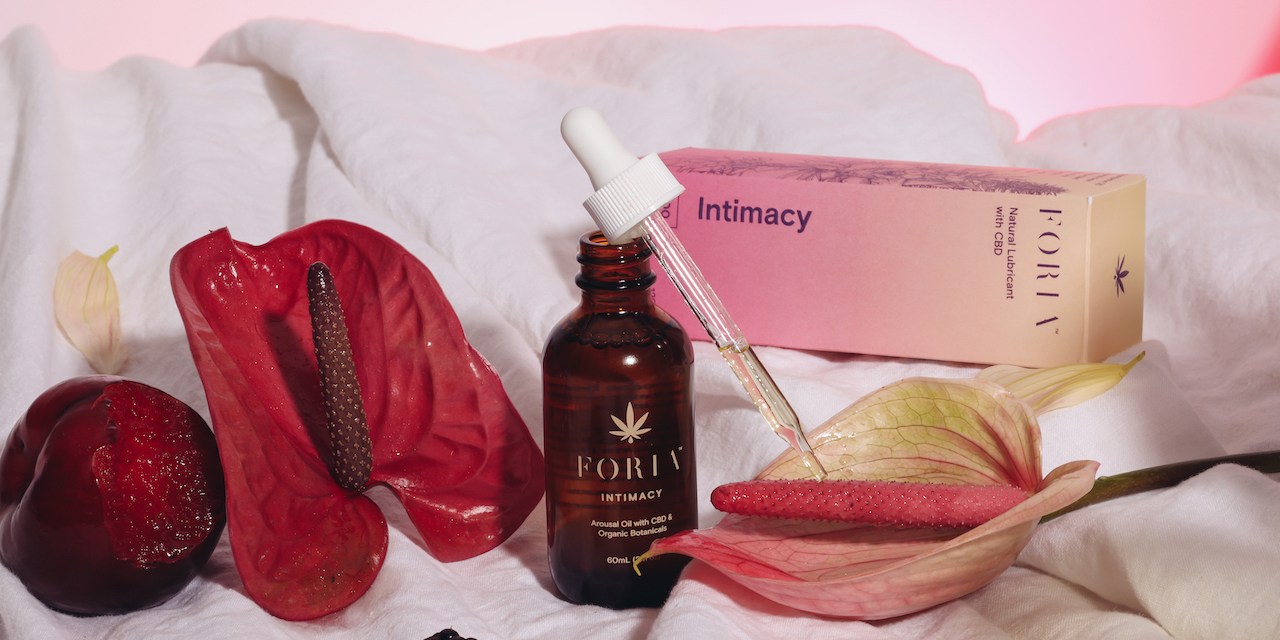 Foria
Back in 2010, TV commercials of Zestra's essential arousal oils caused a ruckus among networks due to their sexual nature. Zestra's online posts were even pulled by then-six-year-old Facebook. 
At the time Rachel Braun Scherl, president of Zestra manufacturer Semprae Laboratories, said the resistance was likely due to Americans' discomfort with women's sexual health topics. "I approached 100 different media outlets, including cable, network, radio and websites, and found our content being rejected by 95% of those," Braun Scherl. She also noted the disparity between male and female-geared products, with erectile dysfunction medications having been freely advertised for decades. 
Today, as the chief development officer at sexual wellness company Pulse, Braun Sherl said that femcare companies are still fighting censorship throughout their marketing channels. In October, Meta announced updates to its policies to be more inclusive of ads focused on women's health products, including reproductive and sexual health. The update was followed by an investigation by the Center for Intimacy Justice into Meta's rejection of rejections of ads for femcare products. 
Specifically, Meta's new policy says that "advertisers can run ads that promote sexual health, wellness and reproductive products and services." However, the company said it will still "place additional restrictions on these ads" because "as a global company, we need to take into account the wide array of people from different cultures and countries who see ads across our technologies." These restrictions include the requirement to target audiences 18 years or older, and that the ads "must not focus on sexual pleasure." Meta did not respond to a request for comment about whether these policy changes have been applied across categories as intended.
Thus, while digital ad platforms like Meta have become more open to allowing certain types of ads from these femcare startups, there's still a lot of gray area given the broad nature of these policies. As a result, brands in this category often find they have to experiment with creative language to determine what is or isn't allowed.
With Women's History Month campaigns underway, several feminine care brand executives spoke to Modern Retail about the trials and tribulations of growing a digitally-native company in this category.
Growing an organic marketing foundation
This month, in an effort to bypass ad costs and potential bans on social media, women's sexual health brand Vspot is using its flagship New York City shop for a visual campaign. Debuting on March 8 for International Women's Day, the out-of-home signage features possible solutions to urinary leakage.      
The company was founded in 2017, launching a treatment spa above the company's office; Its first official store opened in the Flatiron in late 2022, offering gynecological treatments like vaginal rejuvenation. So far, the company says this recent out-of-home campaign has turned a lot of heads from passersby, potentially reaching up to 50,000 pedestrians a day in the Flatiron District of Manhattan. The signage features a QR code to drive onlookers directly to Vspot's website. 
Since the installation debuted, Vspot has received 27 walk-ins and 523 QR code scans. The multi-channel campaign was designed in-house by Vspot's marketing team, and includes paid posts across Meta and TikTok, along with the brand's 35,000-subscriber email newsletter.
Vspot's director of ops, Lucy McNamara, said that the company has "hit roadblock after roadblock on our digital ads." She added that since joining Vspot three years ago, she's had to create multiple Meta brand accounts after being shut down. She said that they were shut down after Meta found posts inappropriate, including instances of using words like "sex" or "vaginal."
"We're trying to reach half the population, but can't say words like 'pleasure' without our posts being deleted," McNamara said. "So we decided to use our store to turn heads in an outspoken way without cross lines." 
To circumvent possible bans, lately Vspot has focused on largely organic educational content — some of which has gone viral on TikTok. "Some of our most effective posts are ones showing us as authorities on the topic, so we try to focus on that content," McNamara said. 
"Our growth rate has definitely been hindered, which is unfortunate because we invest a lot in research and design," McNamara said. "Then there is the cost that you can't see, which is the countless hours we spend researching tactics and looking at how other brands are navigating this issue," McNamara said. "We're constantly monitoring the campaigns in case something gets taken down."  
More recently, community events and brand partnerships have also been effective in creating word of mouth and bringing people to Vspot's website and store. 
Despite these challenges, much of the Vspot team's effort has resulted in healthy growth. The company experienced year-to-date gross revenue growth of 188% since launching, and in 2022 had a 57% rate of repeat customers. 
Constantly navigating a gray area
Vspot founder Cindy Barshop explained that it's not just sexual language that she's seen often gets censored on Meta. For example, "you can't advertise using the medical term labiaplasty," she alleged. "We've even had posts taken down for having a model in a low-cut shirt." 
Even on search platforms like Google, McNamara said there is a gray area in trying to attract visitors searching for terms like "painful sex." "We've had some luck with Google, but they change ad agents quarterly, "McNamara said. "Some quarters we'd have a great rapport while others don't budge on approvals, which leads to an inconsistent strategy"
Pulse's Braun Scherl said that, in particular, Meta's unclear guidelines make it difficult to plan ad budgets. Similarly, Pulse's TikTok account "is regularly shut down," she said, requiring the brand to start from square one by changing its handles and getting followers. According to its community guidelines, TikTok does not allow "sexually explicit content." TikTok also doesn't allowed paid advertising for sex toys as well as other items like lubricant. 
Braun Scherl added that in most cases, "it's due to using anatomically correct words like 'vulva' and 'vagina,'" which get flagged by the platform's algorithm. As a result, the company tries to use innuendos or abbreviations, like "lady parts" or "seggs" (for sex).
"We've noticed that some of the larger, venture-backed brands in our space are able to run ads that are nearly identical to ours that are rejected," she said, without naming specific companies. "This leads us to believe that there is a double standard of how larger advertising budgets allow certain companies to circumvent the most stringent content regulations."
Given the uncertainty and inconsistency surrounding which ads will get approved, Pulse has pulled back almost entirely on social media paid marketing. "Instead, we've put additional marketing dollars behind editorial PR and working with like-minded influencers, primarily on an earned or ambassador basis, so we can tap into their existing networks," Braun Scherl said.
Defaulting to humorous and euphemistic language 
With possible bans in mind, many femcare brands have become accustomed to using tongue in cheek language in out-of-home and digital ads. This format was made popular in 2015, when period under brand Thinx covered New York City's subways with the then-controversial ads depicting period flows. 
Kiana Reeves, chief content officer at sexual wellness brand Foria, said that now, years later, euphemisms have become standard among feminine care and sexual health brands trying to avoid bans.
Reeves said that even in this current environment customer acquisition is still difficult for many DTC brands. And limitations on content and ads make investing in channels like Meta even more frustrating. Since launching in 2014, like other sexual wellness brands, Foria has allegedly faced ad censorship on Meta and modified campaign creatives accordingly.
"We've learned to use words like 'passion,' 'desire' or 'love life' in paid ads," Reeves said, adding that the company works with an ad agency to help navigate censored terms. "In our organic marketing, we mainly talk about women's experiences with a focus on research and well-being, but it's a constant work in progress." 
This can lead to messaging confusion from people engaging with the brand. "Sometimes the ads are so indirect that some followers question what product we're selling," Reeves said. "We've done campaigns that literally say 'we can't tell you about this product on this platform.'" 
Like Vspot, Foria also works with similar brands to generate awareness. "We do a lot of brand collaborations, like sweepstakes and giveaways, with similar brands to share audiences," Reeves said. Despite the myriad challenges, Reeves said Foria has managed to grow sales by 750% from 2017 through 2022.
Mainstream acceptance, but with a ways to go 
In the past few years, Foria has struck up retail partnerships to bypass these marketing obstacles. "We're in Ulta and Nordstrom, which proves that this is a booming category," Reeves said. She added that mainstream retailers, including Sephora, embracing sexual health products is helping destigmatize the category. "But people are still trying to get comfortable with being open about these products, so digital campaigns are important for that." 
That said, the terrain isn't any smoother for newer brands.
Since launching in June 2021, period care brand August has surpassed $1 million in revenue; The company is preparing to enter retail stores nationwide in late March. August founder Nadya Okamoto said she knew that building a direct-to-consumer feminine care brand would be tough — especially using what platforms deem provocative imagery, such as young women placing August pads in underwear. 
"When we first launched August with a video that quickly got pulled down from TikTok and most other channels because there are a few seconds where we show a spot of fake period blood," she explained. In those first few months, Okamoto was posting TikToks daily, with many being taken down for "violent and graphic content." Another obstacle for period brands on TikTok is the inability to market extensively to minors, which make up a big portion of TikTok's audience. 
More recently, she's noticed inconsistencies in the crackdowns. "If anything, I think the censorship has lightened up on my personal TikTok account since it's grown to several million followers," noted Okamoto. 
Like Foria's Reeves, Okamoto hopes that retail presence helps introduce August to people who haven't heard of the brand before. "We plan on leaning into more of our organic virality as we launch into retail, so that we can mobilize our existing community to stores… I wouldn't say it's holistically bypassing online marketing challenges, but more so, opening up a new opportunity for a new audience," she said of retail partnerships. 
For feminine and sexual care brands, there is still a long way to go in perfecting their marketing strategy. Advocacy and lobbying by organizations like the Center for Intimacy Justice may help overhaul advertising rules. 
But for a number of founders, they're still navigating the marketing issues one day at a time. "We've worked to be extremely nimble with our marketing initiatives and focus more on organic content, given the context of these platforms," Okamoto said.
This story has been updated to note that August is launching into retail stores nationwide more generally.