How Casa Verde aims to fill the Latin American gap in plant-based, ready-to-eat meals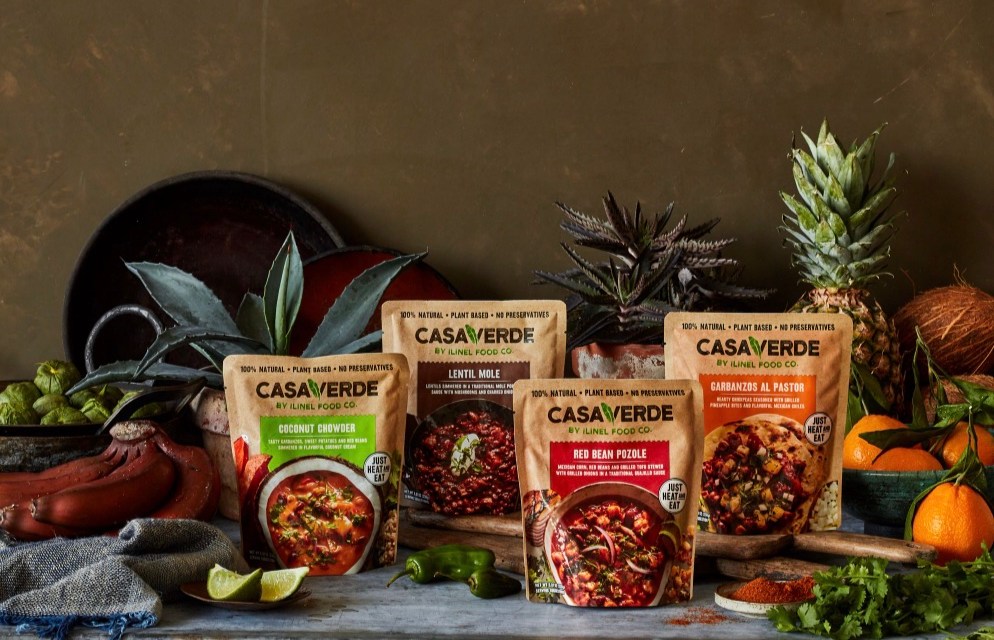 Casa Verde
Former corporate marketing executive Harry Lewis launched his plant-based Latin-flavored ready-to-heat meal line Casa Verde in November 2021 — aiming to capitalize on the demand for healthy, convenient food with flavors he saw missing in the supermarket aisles. Less than a year later, Lewis inked a deal with Albertson's to launch in at least 1,600 markets under 10 of its banners this fall, on top of about 450 stores that already stock Casa Verde.
"Novelty was a big [selling point]," he said. "There's no ready-to-eat Latino foods in the aisles."
So far, performance has been strong: as of September about 60% of store accounts repurchase month over month, Lewis said. 
The launch is an example of the growing popularity of plant-based foods reaching mass markets. Vantage Market Research found in April that the plant-based food market was valued at $40.21 billion in 2021, and is projected to nearly double to $78.95 billion by 2028. 
The same study also found major supermarket chains are increasing organic and plant-based offerings — and CPG companies are expanding as a result. Riviana Foods has begun offering flavored versions of Minute Rice, while frozen food company CLO-CLO Vegan Foods is launching at Cub grocery stores this fall. Meanwhile, chains like KFC and Chipotle have rolled out plant-based and vegan options. 
Casa Verde's inaugural run has four products: coconut chowder, garbanzos al pastor, lentil mole and red bean pozole. Each comes in a single-serve package that can be microwaved in 60 seconds, or heated up on the stove. Some diners choose to add meat or a protein to the mix for a more filling meal. Priced at $3.75, Lewis compares the convenience and affordability of Casa Verde as a Latin-flavored alternative to Tasty Bite, an Indian and Asian ready-to-heat meal line. 
"It's based on that core belief that you don't need to pay more for good food. Good food should be affordable, should be easy, and should be for everyone," Lewis said.
But coming up with healthy recipes has been a process of iteration. Flavor profiles have been tweaked over time based on customer feedback. And processing has changed: for example, tomatoes used in sauces are now peeled before being cooked in order to cut down on sodium. 
"We went to do a lot of research trials and did a lot of iterations to come back with something that consumers really really will love, and be true to this promise of affordable wellness," he said. 
Behind the scenes, Casa Verde is part of a multi-layered expansion of a Latin American conglomerate into the U.S. market. Casa Verde is owned by parent company Ilinel Food Company and being operated by Engine4Ventures, the product incubator of of Latin-American food conglomerate Grupo APEX, which is looking to broaden its reach into North American markets. Lewis serves as founder of Casa Verde as part of his role as Chief Disruptive Growth Officer at Grupo Apex.
When it first launched, Casa Verde hit the market as a direct-to-consumer brand that was also available on Amazon. At that point, Lewis said the focus was to pilot the product and get consumer feedback. The Casa Verde team also ran taste tests on college campuses while tinkering with the flavor profiles to see what resonated.
By spring 2022, it moved onto specialty grocery stores, such as Gourmet Garage and Fairway Market in New York City. In June, Casa Verde expanded to California independent and specialty grocers like Jensen's and Raley's. Throughout this process, Lewis and his team collected data on where the product performed best, what price points worked, and what led to consumers re-purchasing.
"We did a lot of like data mining," Lewis said. "And now, we have a more solid story, saying 'the Hispanic aisle is growing rapidly, and you need to bring variety to this section.'"
Though Lewis didn't share investment figures or year-to-date sales figures, he said Casa Verde has had to work with its production team to meet the new store count, including talking to its investors to make sure it can support the rapid expansion.
"We're seeing a lot of acceptance, and then a lot of retailers opening their doors," Lewis said.
Albertson's, for its part, is putting Casa Verde in the international foods aisle. Lewis said he's also seeing more interest in the product with Hispanic Heritage Month underway. The plan is to continue positioning Casa Verde as a healthy and affordable meal that can fill the gap in Latin flavor profiles, "something that speaks about Latin America, and something that's a full entree."
Casa Verde is far from alone in seeing growth as a plant-based brand. Julia Perez is the vice president of marketing for Owyn, a protein shake that hit more than $60 million in revenue in its first four years and is available in Walmart and Target. Perez said that the "plant-based" label signifies to shoppers that it's a healthy food. She sees the rise in popularity being connected to growing awareness of health concerns related to meat, food allergies and sensitivities, as well as cultural effects like athletes and celebrities sharing their plant-based diets.
"It's not necessarily about people becoming vegan or vegetarian," Perez said. "It's an effort to eat more plants to be healthier."
Sylvia Klinger, a Chicago-based dietician who focuses on outreach in Latino and Hispanic communities with her consulting business Hispanic Food Communication, said that many Latino cuisines are traditionally plant-based, with many popular recipes based around beans, rice and vegetables. "We just grew up with that," she said. 
But not everyone has the time to cook a full meal for their family each night. And there aren't necessarily ready-t0-heat meals with familiar Latin flavors, she said, so having familiar options for ready-to-heat meals might appeal to Hispanic shoppers. Klinger said she often has sought for Puerto Rican-flavored meals that her 90-year-old mother could heat up herself to no avail.
"When you are short on time these things will come in and handy and won't derail you into buying something very high in fat and high in salt and high in sugar," she said. "It would nice to have something Latin that is safe and healthy."
Such choices are in demand regardless of cultural background: Research from Forrester shows that in 2021, 69% of U.S. consumers said they read product labels before purchasing a product to determine that it's healthy. And 48% read labels to check for all-natural ingredients, up 43% from 2017. 
For Casa Verde's part, Lewis said the product won't be marketed as vegetarian, but "plant-based." to indicate a healthy option. He grew up in Guatemala, and said vegetables were much more of a diet staple there compared to what he saw after moving to the United States. 
"We're not waving a flag to be vegan or vegetarian. It's just based on the same premise I grew up with, that you need to have more fruits and veggies on your plate, and make it more colorful," Lewis said.