How furniture brand Floyd is testing the waters of physical retail with new LA showroom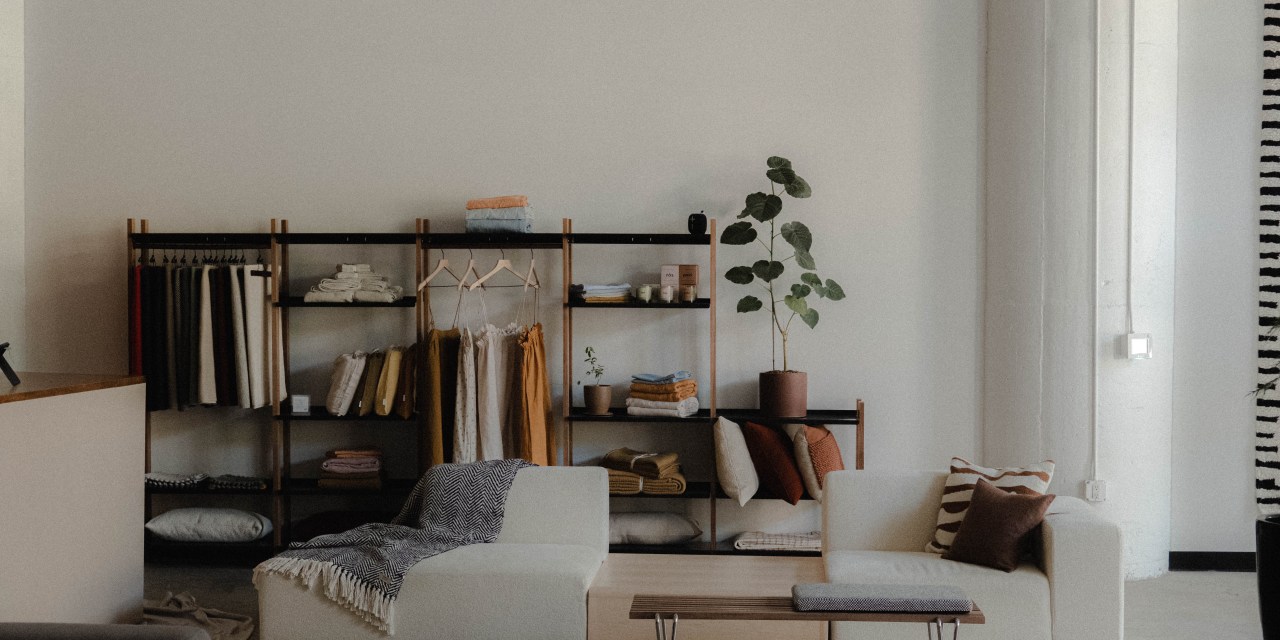 Floyd
For the first time, Detroit-based furniture brand Floyd will have its wares for sale in a permanent showroom as it tests the waters for future physical properties.
Textile and decor brand Morrow tapped Floyd as its furniture partner for a new showroom that officially opens today at Row DTLA. The sprawling complex in downtown Los Angeles features a variety of upscale boutiques, including design brand A+R, and frequently hosts pop-up events and brand activations.
For Floyd, which predominantly operates as an online DTC company, it's the first of what it hopes will be an expansion of the in-person experience. Starting with Los Angeles is a strategic move, as its one of Floyd's top two markets, according to the company. It's also an opportunity to introduce more interior designers and trade clients to the brand.
"It's something that we've always sort of envisioned as part of Floyd," said co-founder and CEO Kyle Hoff. "There is really a value of being able to touch and feel furniture."
Known for its modular construction, Floyd products included in the showroom include its low-slung, deep-seat sectional, its slatted wood bed frame with under-bed storage, its memory foam and coil mattress plus its squat, rectangular table with open sides for storage. Customers will be able to place orders from the store. A comment from Morrow about why it chose Floyd as its furniture partner wasn't immediately available.
The showroom opening comes at a time when furniture sales have plateaued since the furnishing and decor boom of the pandemic's lockdown era. September 2022's monthly retail trade forecast from the U.S. Census Bureau put furniture sales at $12 billion, compared to $11.9 billion in September 2021. In turn, many furniture and decor brands are looking to get in front of customers: this year alone has seen store expansions from the likes of Wayfair, Brooklinen and Parachute.
For Floyd's part, the brick and mortar expansion is a big leap from where it started as a Kickstarter brand for adjustable table legs in 2014. Last year, the brand secured $15 million in Series B funding to bolster its expansion plans, which have included new furniture pieces like tables and a dresser system.
Floyd has dipped its toe into physical retail in the past, such as sponsored pop-ups of furnished apartments in Los Angeles, San Francisco and New York. And it's partnered with West Elm in the past for in-store sales in Santa Monica, Austin and New York. But Floyd's founders say they hope to get into more permanent physical retail in the future.
"We want to do it, right," Hoff said. "As we get our product out there and into the world and build a showroom, we want it to be a very practical experience, for the customer to be able to touch and feel and sit in it."
Co-founder and COO Alex O'Dell said the showroom may help the brand woo more trade designers, who currently make up "a relatively low percentage" of the brand's customers. But it's an area the company is looking to focus on more as the brand grows its offerings.
"The breadth of the offering, the material range we have now, we feel we're in a much better position for giving more options to interior designers as to how they can realize their vision," he said. "That's an area we've really been doubling down on this year."
Chris Ramey, president of marketing firm Precise Retail Marketing and luxury design service The Home Trust, said furniture brands are seeking new ways to reach customers after the pull-forward demand during the pandemic.
Opening a showroom, he said, allows a brand to get exposure to new customers without having to stock inventory, making it a less experience endeavor than a full retail shop. And it will also give new insight into what people are drawn to, he said.
"You're going to know what pieces were selling," he said.
Floyd's showroom presence comes after a season of significant product expansion. In August, it partnered with Danish brand Kvadrat to add two new wool fabric options — sisu textile and tonus fabric — for its sectional sofa. Later that month, it launched a bedside table to complement its signature slatted, modular bed frame — Hoff said that a month's worth of inventory sold out in 48 hours.
In September, it launched the Acton Slat Bench, re-issuing an original piece from mid-century designer Hugh Acton. Then last week, Floyd launched its modular dresser set, which comes in various size, drawer and cabinet configurations.
The core focus behind all the expansions, Hoff said, is to create signature pieces that can work together.
"I think people really do appreciate the systems' approach to furniture," Hoff said. "It gives you the foundational items of your home, and you can build on them how you'd like to make them more about you in your space, and not necessarily so the furniture is only a showpiece in your home."