How insoles brand Fulton is building out an ambassador network with physical therapists and podiatrists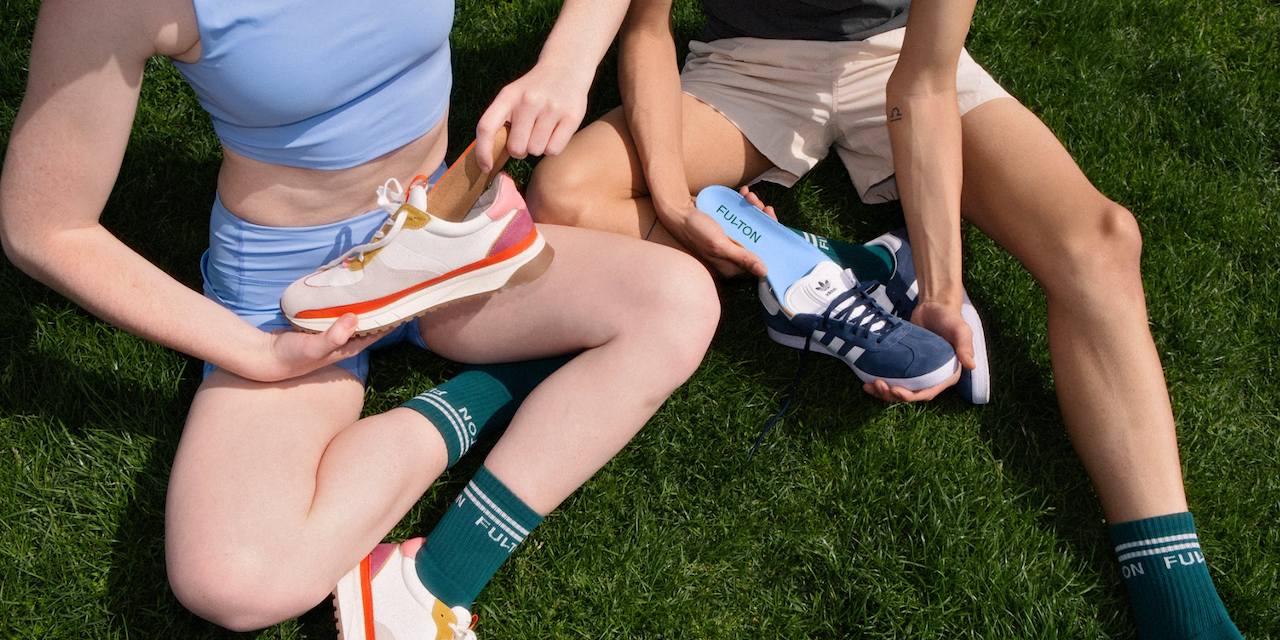 Fulton
As young e-commerce startups look for more ways to acquire customers beyond paid social, many are looking to partner with category experts to spread the word about their products. For shoe insoles maker Fulton, that means working with chiropractors, physical therapists and podiatrists. 
Since launching in March 2021, Fulton's marketing efforts have focused on partnering with experts and influencers in the footcare category. Today, nearly 100 chiropractors, physical therapists and podiatrists across the country are part of Fulton's professionals program, who recommend Fulton to their patients and direct them to the brand's website for purchase. These medical professionals are not paid by Fulton and do not receive a cut from sales, as it's prohibited under U.S. law. They do, however, receive free Fulton samples for displaying the products and promotional materials at their practices. The company's founders credit the launch of this program, specifically geared toward medical professionals, for helping Fulton gain credibility and establish a follower base during its first year of operation.
Throughout January 2023, the company sold as many pairs as it did from January through August 2022. This resulted in revenue growth of over 400% year-over-year.
Fulton co-founder Libie Motchan told Modern Retail that instead of growth at all costs, Fulton is trying to strategically target customers the team thinks are most in need of medical-grade insoles. "We want to avoid the premature scaling that many DTC brands have done in the past," she explained. 
"We're focusing on testing programs slowly and not growing too fast," added Fulton co-founder Daniel Nelson.
The goal is to grow profitability and diversify Fulton's acquisition channels, Motchan said, "especially because we launched around the time of iOS 14 changes — so we don't want to rely too much on digital performance marketing." 
Fulton's current distribution is still mostly centered through its direct-to-consumer website, which the founders are trying to take advantage of by building a following. The brand's products are now available on REI's website and at its five flagship stores, with more retail partnerships coming next year.
To drive people to the Fulton website, the company has implemented several online and offline marketing tactics. 
One of these is Fulton's medical professionals program, which started organically and has grown to have a presence at a few hundred clinics. Much of the program was borne out of the product's design stage. 
"A lot of the data we looked at showed that most people learn about using inserts from their podiatrists," Motchan said. "We decided to develop our insoles by working with podiatrists, physical therapists and orthotists for design feedback."
These early collaborations resulted in Fulton having a network of several dozen professional ambassadors from the get-go. 
"We worked with many of these clinicians when we were building the business and validating the product's idea," Motchan said. "They were all really invested in the concept and guided us throughout our prototyping and product development process."
By the time the launch came around, the company had several clinicians who were excited to try the finished product and start recommending it to patients. This not only helped validate the efficacy of the product, Motchan said, but also presented the opportunity to build out an official  program around clinics.
"We built a website portal for doctors to request information and learn more about the insoles," Motchan said. From there, the company sends these practices sample pairs to try and display, along with education pamphlets for clients. 
"We formally launched the program in early 2022, when we started doing more outbound outreach to doctors," Motchan said. "Now that the program has grown to a size we're comfortable with, we're ready to build on it." 
The company is currently working on a partnership with one of the largest physical therapy networks in the Northeast, due to be announced in the coming months. "We've also worked with physical therapists and chiropractor influencers on TikTok and Instagram, which has helped us generate millions of views," Motchan said.
The co-founders credit this word-of-mouth approach to the company's current revenue split, which is mostly attributed to organic brand awareness. Today, about 60% of Fulton's monthly revenue comes from owned and earned marketing — including the medical practice program — while 40% comes from paid advertising. "Another benefit of working with medical professionals is that they're also talking to their colleagues about Fulton," Motchan said.
Alex Greifeld, an e-commerce growth advisor and founder of the newsletter No Best Practices, said that ambassador programs like the one Fulton runs "can be a great way for brands to drive awareness and diversify customer acquisition away from Meta and Google." She added that the strategy also "needs to draft off of real credibility" from the professionals in order to be effective. 
"It's also helpful to leverage existing networks; ambassadors recruiting other ambassadors is just as important as recruiting more customers if the program is going to scale," Greifeld said. "Fulton is checking both of these boxes by working with medical professionals."
Tapping communities in the market 
Aside from the professionals program, Fulton is trying to reach communities looking for a more comfortable walking experience. 
Since the launch, the company's marketing tactics have focused on promoting the insoles to people who work on their feet and may be in the market for shoe inserts. "We started with hospitality workers, teachers and doctors," Motchan said, followed by reaching out to construction workers and USPS drivers. "We're also working with Trader Joe's stores in New York and offering their employees a corporate discount," Motchan said. "Tapping into these communities is a big part of our outreach strategy." 
The outreach is meant to complement paid marketing with Fulton's organic or guerilla marketing, Motchan said. For example, the company runs ad campaigns to engage active online forums known for discussing foot pain, such as subreddits like r/nurses, r/plantarfasciitis, r/bartenders.
"We're also investing in ways to bring people to our websites," Nelson said. Fulton's SEO-geared blog posts answer frequently searched questions, like "what is metatarsalgia?" and "best shoes for bunions" 
This past year, the company also ran ads on trash cans around New York City that read "your shoes suck" or "foot pain?" Similar campaigns included spray painting sidewalks with these messages, and uploading TikTok videos of people showing their walking stance. The success metrics for these out-of-home ads are challenging to measure, but Motchan said the company is using certain tactics to estimate it. For example, Fulton bought the shoessuck.com domain to redirect to Fulton's website to help measure out-of-home traffic. "We're also running post-purchase surveys asking how customers found us," she said. 
Next, the company wants to retain the DTC customers that found Fulton through their podiatrists or physical therapist.
Fulton's insoles are made from biodegradable and natural materials like cork, similar to Birkenstock footbeds. "The shoes take on a custom mold to each person's foot in a particular shoe, so we don't recommend moving them from pair to pair," said Nelson. 
This design aspect is already generating repeat purchases, he added, both from people with worn out insoles and those wanting to use Fulton in multiple pairs. As the company launches new products, such as wide and half sizes, Nelson anticipates more conversions and returning customers. Similarly, bundles and subscriptions are launching later this year.
As for the professionals program, Motchan said the foundation will help grow the brand's footprint as it expands into more clinics and offices.
"We invested heavily in building out the program throughout the first half of last year," Motchan said. But now Fulton is switching more to an inbound approach, where doctors complete a form on the brand's website if they are interested in learning about the products.