How Lalo's new baby bath collection is part of its growth strategy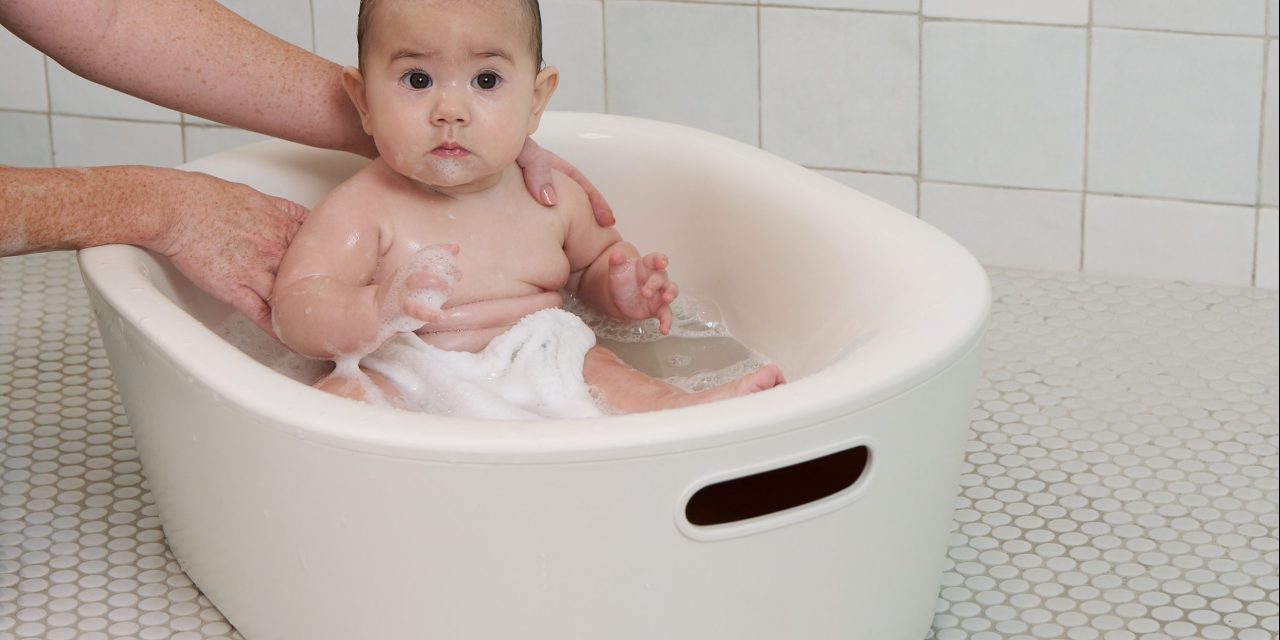 DTC baby gear company Lalo is launching a new line of bath products, part of the company's planned trajectory to sell goods for every room of the home.
Lalo launched in 2019 with a popular and sleek multi-purpose highchair. It later expanded into other small-sized furniture, like a kid's play table, and other kitchenware items.
The bath gear line launching today, priced at $15 to $60, includes a bathtub, toys, linens and other accessories. Lalo's co-founder Michael Wieder said not only were bath items the top-requested new products in customer surveys, but the expansion is part of the company's strategy to provide products across the baby care spectrum.
"There are other brands that make similar products. But there are very few that make the breadth of products that we make across the playroom, the bathroom, and the kitchen and dining room now," Wieder said. "It's very hard to point to another brand that does all of that, so we do think we stand out quite a bit."
The new collection hits at a moment of growth for the company, which has tripled its SKU count this year thanks to new tableware items and limited edition collections, like a partnership with West Elm. So far in 2022, Lalo has doubled its revenue growth and seen order numbers increase 120% compared to the year prior.
Overall, online sales of baby products is a massive sector that IBIS World estimated at $14.9 billion in 2022. The market size has grown an average of 11.7% since 2017. And while growth could slow as e-commerce overall cools off from its spike of lockdown-era shopping, IBIS World predicts "innovation in online shopping platforms" that focus on convenience.
For Lalo, the bath collection offers another way to re-engage previous customers. The number of returning customers so far in 2022 is up 40% from the year before, Wieder said, credited to the launch of new products like tableware and coloring sheets.
"There's so many choices out there," Wieder said. "If you don't have to choose and you have one brand new trust you save so much time you cut out the anxiety, it feels less overwhelming. And you can focus on the things that really matter in raising the little one."
Growth strategy
Despite its relatively youth in a crowded sector, Lalo is focused on expanding its horizons as demand for baby gear rises. Lalo closed $5.6 million in seed funding in 2021. And in June 2022, it closed an undisclosed venture investment with Spin Master, a firm focused on entertainment and children's brands.
Wieder said Lalo is poised to grow in a way that its competitors haven't due to its focus on product expansion. Many of the well-known legacy baby brands that have been around for decades focus on a certain type of product. Graco, owned by Newell Brands, has manufactured travel and play baby gear since it launched an automatic swing in the 1950s. Philip's Avent, at nearly four decades old, focuses on bottles and feeding. Carter's — which dates back to the 19th century — is a well-known stalwart for baby apparel.
"They started with a product and we started with the customer," Wieder said. "We said, 'What do our customers need? And how can we do it better?' That allows us to just approach the market and approach the customer much differently, and really react to what the customers are wanting."
The timing of the launch was also strategic. Wieder said Lalo gets "a tremendous" amount of sales from being available though BabyList, a popular registry tool. And with the first quarter tending to be the biggest season for registry building, Wieder said the fall launch is meant to gain momentum ahead of time.
"The baby space does not really act like a lot of other spaces because of the importance of gifting and showers and registries," Wieder said. "So it absolutely makes a huge impact in our business."
Kassi Socha, director analyst at Gartner, said Lalo's customers are likely to welcome a new collection due to how well its aesthetically-pleasing and high-end products have resonated with its current customers.
"They've created a brand value of quality and not compromised on that," she said.
She said brands that aim to expand their product lines need a foundation with their customers before branching out into other areas. Socha said Lalo's growth strategy is similar to that of Frida, a brand that makes health and safety products for babies plus for postpartum care.
"They've had permission to enter a variety of categories, because they've now become known as quality safety products for my child, and to take care of mom right after birth," she said.
Multi-functional design
Lalo's new bath collection squares with the aesthetic of previous launches, with smooth curves, soft yet vibrant colors and high-quality materials. The baby bath tub, for example, is a deep basin that comes with an insert for newborn support and can be used to around nine months old. And unlike many other tubs on the market, the design mimics the look of an adult tub.
"There are a lot of trends in modern home building where the primary bathroom is the only bathroom that has a bathtub," Wieder said. "So, that often ends up being the parents' bath. We wanted to create objects that were beautiful and can live in any space, not just a kid's bathroom."
Wieder said the goal of the products is to provide a high-quality and aesthetically pleasing experience for the routine, daily rituals that parents have with their kids. So far, the response is encouraging: Wieder's toddler daughter, unaware of her father's bias, has begun asking for the line's "soft towel" made from organic Turkish cotton.
"I think customers are going to really enjoy a fresh take on what kids' products can look like in the bathroom," he said. "I don't think that there's been a really good, fresh take on that."