How Needed integrated product bundles into its business strategy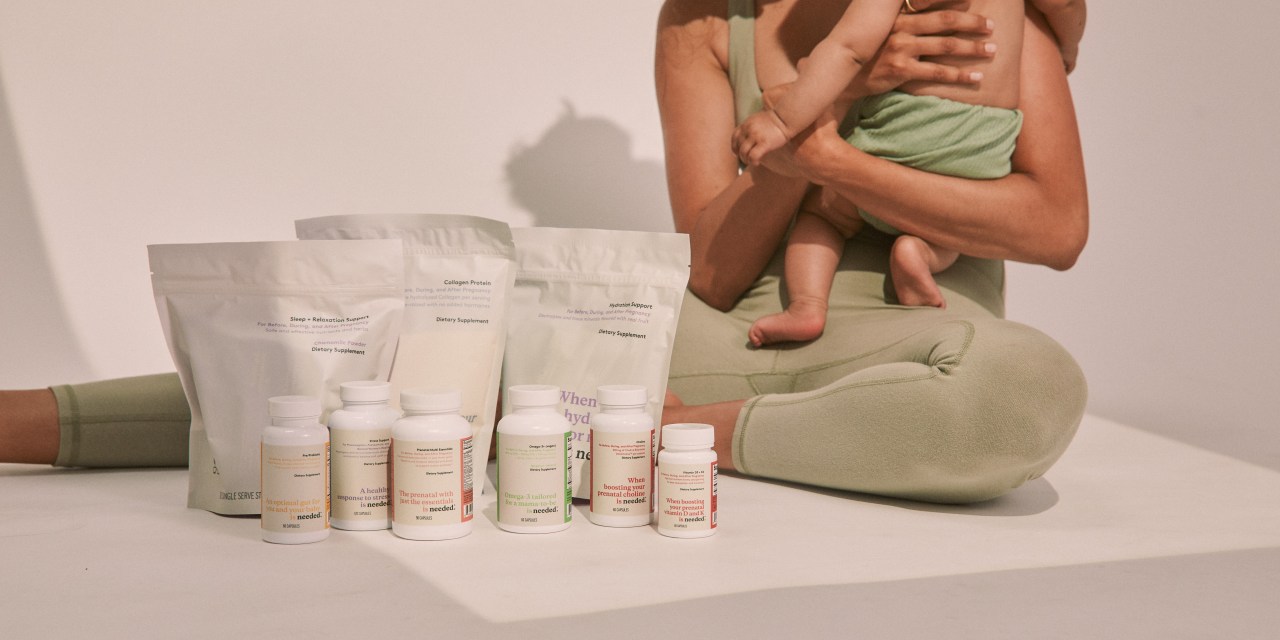 Needed
Direct-to-consumer prenatal nutrition brand Needed develops products with bundling in mind.
The company — which sells prenatal capsules, prenatal powders and men's dietary supplements, among other items — offers 12 multi-product bundles and 23 multi-month bundles. Needed has been bundling products since its launch. As the company sees it, Bundles not only churn out higher average order value but also guide the company's product development. Needed products can also be purchased individually.
Needed spent three years on research and development before formally launching in 2020, with the idea of giving women clear steps to take to complete their nutritional needs during pregnancy. The company's bundling strategy is a common tactic brands use to boost transaction sizes. Currently, subscription-based orders of the bundles, account for 61% of Needed's DTC revenue. While the company tries to push repeat customers to bundles, people can also subscribe to an individual supplement. 
"We've seen that folks really do gravitate towards our plan, our complete plan continues to be a best the best selling product for us," said Ryan Woodbury, co-founder and co-CEO of Needed. "Because our main product pairs four products together, our average order values are three to four times higher than most of our competitors."
Around 85% of Needed's revenue comes from its DTC website and the rest comes from Amazon and FullScript. The company currently has about 5,500 subscribers and is expected to end 2022 at over a $10 million run rate. Needed has raised $8 million in funding and its revenue has grown nearly four times year-over-year.
Needed's products are designed to complement each other and are informed by the company's relationships with medical practitioners, Woodbury said. She said it can be complicated for people to find prenatal vitamins that work well together. 
One of its most popular bundles, The Complete Plan, offers four products that provide health benefits for nourishment, brain health, a healthy microbiome and the baby's growth. Another bundle, called The Starter Plan, is meant for pregnant women who want to meet their basic nutritional needs but don't want the additional products that come with The Complete Plan. Needed also offers three- to six-month bundles of one product. It currently has 22 products.
"All of the bundles were basically rooted in what customers were asking for, or what our practitioners were seeing based off of their patients and communities," Woodbury said. "One of the most recent bundles, as an example, we've created is our Women's Health Plan, and that was really coming from our customers that have aged out from the perinatal life stage."
Increasing the average order value of each customer is critical for many DTC brands, especially now that the cost of customer acquisition has grown significantly, said Polly Wong, president of marketing firm Belardi Wong. Boosting the average transaction size offers more marketing opportunities for brands.
"If your average order size is $40 that means you can only spend $20 to acquire a customer," Wong said. "If you can have a $70 average order size and you can spend $35 to acquire a customer instead of $20, that gives you more breathing room to invest in marketing at a rate that will still be effective for new customer acquisition." 
This tactic has especially been popular among direct-to-consumer CPG brands recently. Men's body care brand Huron is promoting a "build your own bundle" feature to help drive sales and is giving shoppers incentives based on how much they spend. Air freshener brand Pura has been promoting bundles more than it typically does this holiday season.
However, Wong said that bundles don't always work well for brands. She said that brands should give customers a strong reason why they should purchase the bundle as opposed to individual products. 
"Everybody would be bundling if it was that easy," Wong said. "The reason that everybody doesn't do that, though, is that it can be hard to convince a new customer to commit to a bundle right away." If a bundle isn't worth the price tag, she said customers are more likely to view the brand negatively. 
To help people find the bundle that works best for them, Needed offers a quiz on its website and it has an active customer service team to answer any questions customers have. 
Looking ahead, Needed is thinking of ways to update its online shopping experience. The brand is looking to "make that website experiences tailored and easy to navigate because, while bundles simplify choice, you then have too many of them [and] that can create too much choice for the consumer."