How Snif is applying streetwear's waitlist strategy in fragrance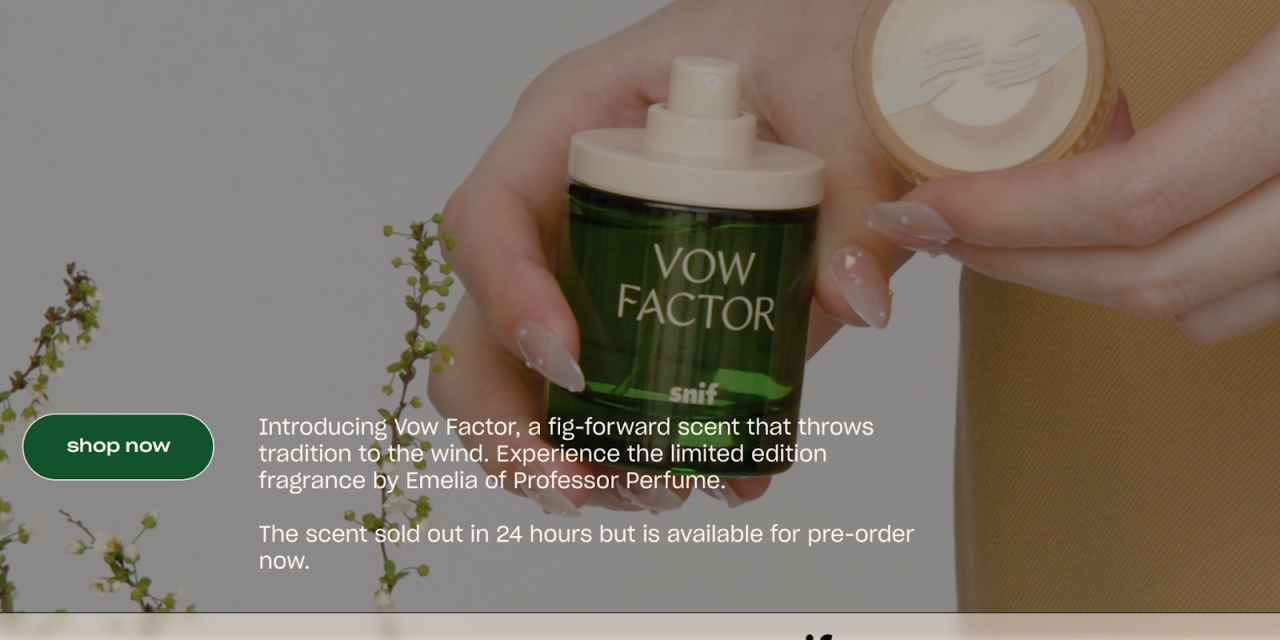 Snif
To generate hype for its new products, fragrance brand Snif is taking a page out of streetwear's playbook.
A week before its product drop, Snif will open up a waitlist and run ads to drive people to sign up. Roughly 24 hours before the product goes live to the general public, those that sign up for the waitlist will get an exclusive URL to buy the product ahead of everyone else. The company has been applying this tactic for around two years. Its most recent fragrance, Vow Factor, sold out its early access inventory in 30 minutes and sold out its general access supply in 5 minutes. 
"We took a lot of inspiration from the early success of just general drop culture that we saw within fashion and streetwear especially as we were building the brand," said Bryan Edwards, co-founder and co-ceo of Snif. "We could drive demand for the brand, demand for our products and fragrance through scarcity."
The hype-based model where people join a waitlist for a highly anticipated product has since been replicated by brands in a range of categories— including beauty. But Edwards said he hasn't seen a brand successfully apply this strategy in the fragrance industry. Now Snif has amassed a cumulative waitlist of over 250,000 people and the company can sell well over 5,000 units during its early access sales period.    
Since its founding in 2020, Snif has often refined its assortment, offering around nine to 12 fragrances and nine to 12 scented candles at any given time. The company leans heavily on collaborations with content creators and musicians, and its products are only available on its DTC channel. The company declined to share specific numbers for its funding and revenue but said it experienced a 500% year-over-year growth in 2022 from the previous year.
But Snif started holding waitlists in January 2021 for its limited edition fragrance collaboration with singer-songwriter Harry Hudson. Since then, the company has done 15 to 16 product launches, including limited-edition and hero SKUs. Snif said it had six times the number of people on the waitlist as it had bottles available for the past three product drops. 
"A big part of our growth story so far is how we've been able to leverage collaboration with creators or influencers to actually create a custom product with them, and then drop it to their audience," Edwards said. "It's been essential, really, in helping build a community of people that… need the product that the creator is putting out there."
One of Snif's biggest product collaborations was with food blogger Tieghan Gerard, creator of Half Baked Harvest, in October. The candle, called Half Baked Pumpkin Smash, sold 10,000 pieces within the first 72 to 96 hours. Leading up to its product drops, Snif runs lead generation ads on platforms like Facebook, TikTok and Instagram encouraging people to sign up for the waitlist. The company also leverages emails and SMS to inform its existing customer list. 
Product drops have now become a go-to marketing strategy for brands to build hype around limited-edition products — and for good reason. DTC leather goods brand Andar, for example, hit $1 million in sales in 90 minutes because of one product drop.
Polly Wong, president of marketing firm Belardi Wong, said that one of the biggest advantages of waitlists is that companies don't have to overly stock products. This strategy could help brands avoid markdowns or liquidations, which in turn could improve their profit margins.  
However, having to join a waitlist or pre-order a product has some disadvantages. Wong said that brands could miss out on sales or repeat purchasers because of the scarce inventory model. "The other major consumer paradigm that we're experiencing in the last decade is this instant gratification," Wong said. "You're not giving consumers the instant gratification, so it could be a turn-off for some people."
Snif's Edwards said that while the company attempts to anticipate the demand for its product drops, it's not always easy. When they end up undershooting demand, that's when Snif's pre-order system comes in handy. When the company is sold out of a particular product, people can pre-order a product and guarantee their spot in the line once Snif restocks. 
"We have a really high repeat purchase from our existing list even into like creator-specific drops," Edwards said. "There is a little bit of science that goes into how many new customers you can acquire and how many people you expect to just repeat over and over." Snif said 30% of waitlist customers have signed up for early access more than once.