Nutrafol launches multi-channel campaign to raise awareness for men's business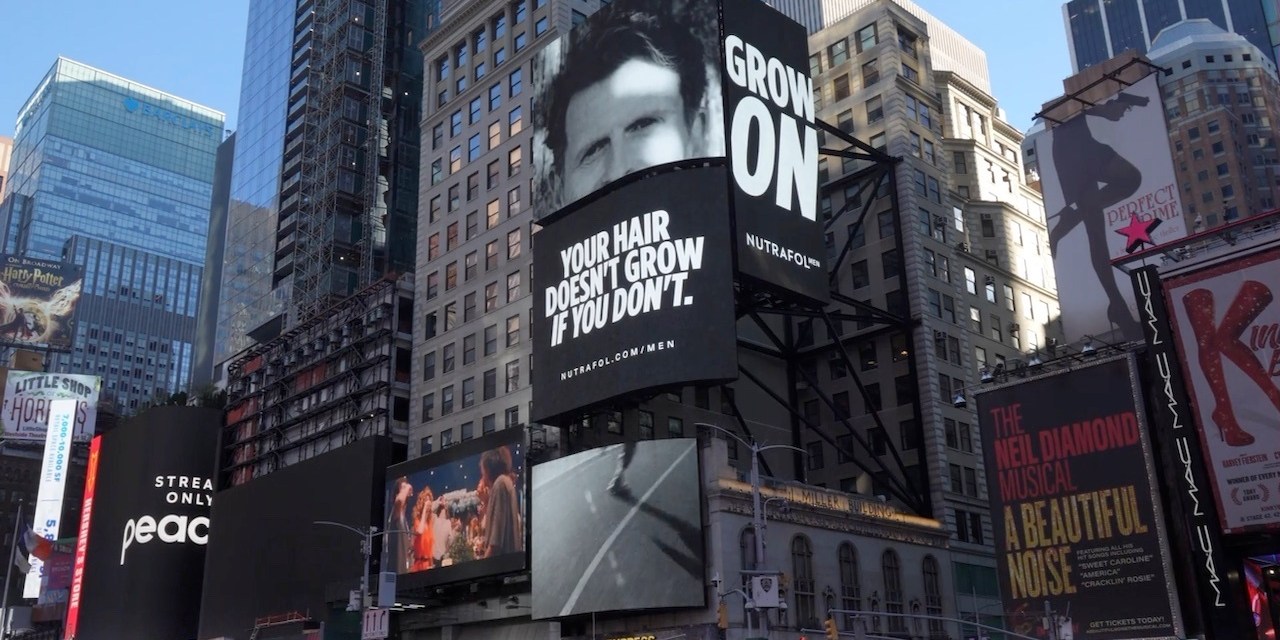 Nutrafol
After being acquired by Unilever in 2022 and entering major retailers such as Sephora earlier this year, Nutrafol wants to become a household name among men dealing with hair loss or looking for prevention treatments.
Last year, Nutrafol — founded in 2014 — split its men's and women's hair growth lines into two separate sub-brands to better target needs based on genetics and external factors. According to the company, the move has helped better direct website visitors to the right educational tools and products. As of 2022, over 80% of Nutrafol's revenue came from women — but men are also an important demographic for the supplement brand.
Now, this newly-forged focus is being reflected in the company's latest ad campaign. Throughout April, Nutrafol is running its first-ever men's focused campaign through a number of advertising mediums, including television and out-of-home. Later this spring, a large-scale influencer campaign will roll out to further highlight different people's journeys with thinning hair struggles. 
Last year, the company branded the new Nutrafol Men by spinning out a men's website and social media accounts, such as a dedicated Instagram handle and accompanying ads. The Nutrafol women's website focuses on other hair loss-related topics, such as highly impacted life stages like postpartum and post menopause. 
Honing in on male audiences
By separating the men's line as its own business, Nutrafol founder and CEO Giorgos Tsetis said the messaging is coming across more clearly to this audience. "We have seen sales increase as a result," Tsetis said.
To continue that momentum, Nutrafol Men's cross-media ads kicked off at the end of March in an effort to raise awareness around hair loss prevention and educate men on how to approach the problem holistically. With that, the media buying strategy revolved around reaching a male demographic where they're likely to consume content. These range from ads on CTV and major TV networks like ABC and ESPN, print and digital ads, Spotify clips, out-of-home and a content partnership with GQ.  "With each of these various channels, we're trying to increase traffic on the DTC men's website," Tsetis said. 
These channels were chosen based on some past experiences and new experiments. "TV is always very big for us with telling authentic stories," Tsetis added, having starred in past CTV spots highlighting his own struggles with hair loss. Then there is the out-of-home component, which includes a Times Square billboard that marks a major milestone for the brand. Over at Spotify, users will be able to add the music from Nutrafol's new commercial spot to their own motivational and workout playlists.
Through GQ's Barbershop Talks series, this month Nutrafol is running the campaign featuring a number of influential figures. It includes DJ Brendan Fallis, fashion industry veteran Nick Wooster and New York Giant wide receiver Isaiah Hodgins, among others celebrities. "The GQ partnership is about working with a trusted source – in this case stylists or barbers – to speak on the topic," Tsetis said.
Since the rollout about a month ago, Tsetis said "we've seen a great initial response to the campaign, including a consistent increase in traffic to the website site." However, the company did not share specific figures, citing the short amount of time the campaign has been live.
A new focus on category education 
The new men's campaign aligns with Nutrafol's general messaging around the root cause of hair loss and treatment with drug-free solutions. Much of the campaign creatives largely feature educational content to show how hair loss is impacted not just by genetics, but environmental factors such as diet and stress. "A lot of men are desperate and seeking cheap and quick solutions, not knowing the long-term side effects," Tsetis said. "We want to be a source along their journey of figuring out a solution, whether it ends up being Nutrafol or not."
This approach is in contrast with Nutrafol's past marketing tactics. "In the past, we were more product driven and highlighted the dermatologist-endorsed efficacy," Tsetis said. This next marketing phase, he said, is about leveling up as a company that offers tips and resources to hair health issues.
At the end of April, Nutrafol is also launching a large influencer campaign featuring creative partners posting their growth stories. "This doesn't just include hair, but showcases what growth means to them in general," Tsetis said. "All of these efforts won't necessarily sell products, but hopefully help us become top of mind to men looking for solutions."
As performance marketing becomes less precise to measure, there is a general focus on brand awareness and educational campaigns.  
Matthew Sotebeer, chief strategy officer of Digital Remedy, which helps brands develop media strategies, said more direct-to-consumer brands are shifting budgets toward awareness as they try to level up to a mainstream presence. 
"We're now seeing a mix of branding and performance campaigns, even with the macro environment that includes layoffs and cost cutting," Sotebeer said. "There is still a big appetite for awareness." He went on to say that while retail companies still consider ad conversion revenue important, "higher quality awareness channels" like out-of-home and display are increasingly entering the ad mix. "Our data shows that 54% of brands' budgets are now going to performance driven campaigns while 46% is dedicated to brand awareness," Sotebeer said.
To continue to strengthen the direct-to-consumer business while wholesale grows, Nutrafol will keep experimenting with content on its own channels. "We continue to A/B test the website and see what audiences are responding to," Tsetis said.
"There is still some work to be done on the educational aspect and how our subscription business fits into that," he said. "But I'm a believer that if you want to build a brand that's respected for years to come, it has to be a trusted resource among the category."