'The goal is to go mass': Caraa co-founder Aaron Luo on pivoting to charcuterie with Mercado Famous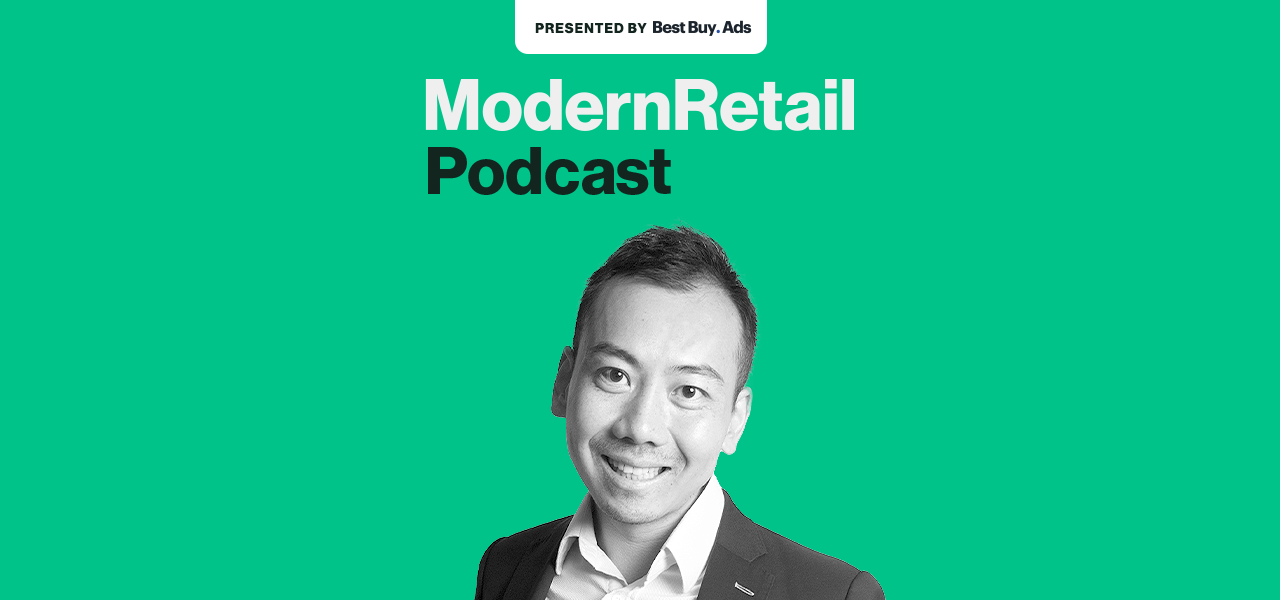 Subscribe: Apple Podcasts • Stitcher • Google Play • Spotify
Nearly five years ago, Aaron Luo co-founded the DTC luxury bag company Caraa. Now, his latest venture zeroes in on Spanish meats.
Luo and fellow Caraa co-founder Carmen Chen Wu launched charcuterie brand Mercado Famous this past summer. Both Luo and Chen grew up in Spain, and have fond memories of tapas hours with friends and family.
"The mission behind Mercado was to bring not only the best we can find in Spain when it comes to charcuterie, but change the narrative around charcuterie a little bit," Luo said on the Modern Retail Podcast. "We just felt that there's a newer and younger audience that's somewhat neglected."
The company sells meat products ranging from an $11.99 serving of sliced jamón to a $300 entire cured pork leg. While the company is selling predominately through its website right now, Luo said he has ambitions to grow other channels too. "I think wholesale will have a bigger play in Mercado Famous than Caraa, for sure," he said. "The goal for the brand is to go mass to a certain extent, if we can."
True, handbags like Caraa's are made from leather — the same material many meat products come from — but the businesses are very different. Still, Luo said the earlier experience helped prepare him for this latest one.
"The reason we felt very confident starting Mercado Famous back in 2018 is all the scar tissues and the learnings we've had in the DTC world," he said. That is, through Caraa he learned the ropes of brand storytelling and customer acquisition. And he's using all that knowledge to help grow Mercado Famous.
Some things are very different, however, than they were when Caraa first launched in 2014. For one, the VC environment is very different. That being said, Luo has long believed that most retail brands are not best for venture investing — and that thesis, he said, is being proved today. "I think it works for tech," he said, but "this is not a tech company."
For now, Mercado Famous is still figuring things out. Luo has big plans to ink wholesale deals and other types of partnerships. But, he admits, the brand is still a baby; "we're not even crawling, just moving our heads."
Here are a few highlights from the conversation, which have been lightly edited for clarity.
How Caraa's business strategy informs Mercado Famous
"Caraa, we're about 90% DTC. We work with some very strategic wholesalers such as Gap, Athleta, a little bit with Nordstrom, Shopbop and so on and so forth. And we're very proud of our partners. We select them very carefully, and we've built a great relationship over the years. But the brand was DTC. And honestly, the reason we felt very confident starting Mercado Famous back in 2018 is all the scar tissues and the learnings we've had in the DTC world; in terms of how to acquire a customer — not just how to acquire a customer, but how to retain a customer and how to tell the story once they're into the funnel, into the family or buy into the brand. That's something that we still don't know, we're still learning — it's still a continuous process. But we've had enough scar tissue to have some lessons learned to be translated into Mercado Famous."
Why Spanish charcuterie hasn't made it big in the U.S. just yet
"The goal for the brand is to go mass to a certain extent, if we can. That was the hope behind the brand. If you asked me what are my dreams and aspirations: we want to be the prosciutto — not to substitute for the prosciuttos of the world — but really be another option for that purchaser, when they go [shopping]… we want to be an alternative [for] her or him. The Italian charcuteries and salamis penetrated into the American household for a number of different reasons. I think we have a much larger Italian immigrant population in the States dating back over hundreds of years. And, of course, when those immigrants came to this country, they brought their food with them. Hence, you see the pizza, the charcuteries — all of the Italian heritage and the food being widely distributed — just because of the population that initially came. [For] the Spaniards and the Spanish, it's a little bit different. Not all of them came to the United States, a lot of them went to Latin America. The population of Spaniards in the States is relatively low. The point here is that there's a little bit of product education. It takes a little bit of time. So, our hope is to ultimately help the consumers to really understand what is in jamón, or what is chorizo… And, hopefully, if you are thinking about consuming charcuterie, [we] will be one of the strong options for you on a recurring basis."
Grocery still isn't purely digital
"It's a little bit of a gamble in the beginning, because.. the data show that over 68% of American households still shop in grocery stores. Pick your favorite grocery store, whether it's Whole Foods, Trader Joe's, wherever you shop. You essentially always gravitate towards the product that you usually go and get, and then you grab it on the go. And the data that still shows that's a prominent part [of people's shopping habits]. But, of course, Covid changed a little bit about that. And I haven't really seen any recent data post- or during Covid. So I think it's still a little bit unclear in terms of how Covid really changed the grocery purchase behavior. The reality is that we all know [there are] more and more online purchases — it's a thing for even when it comes to the grocery category. For the limited tests that we've done so far — before and now after the launch — the amount of customers that are still used to [purchasing] food online… it's still small, it's still less than 40%. To certain extent, even though the brain usually is set up to be a DTC brand — counting on the fact that, hopefully, Covid will change behavior a little bit — the reality is [that] I think it will take a little bit of time. Hence, we are going after, and probably going to nurture, our wholesale program a lot more than we initially thought."