Wayfair's AllModern collaborates with designer Jason Wu to drum up decor sales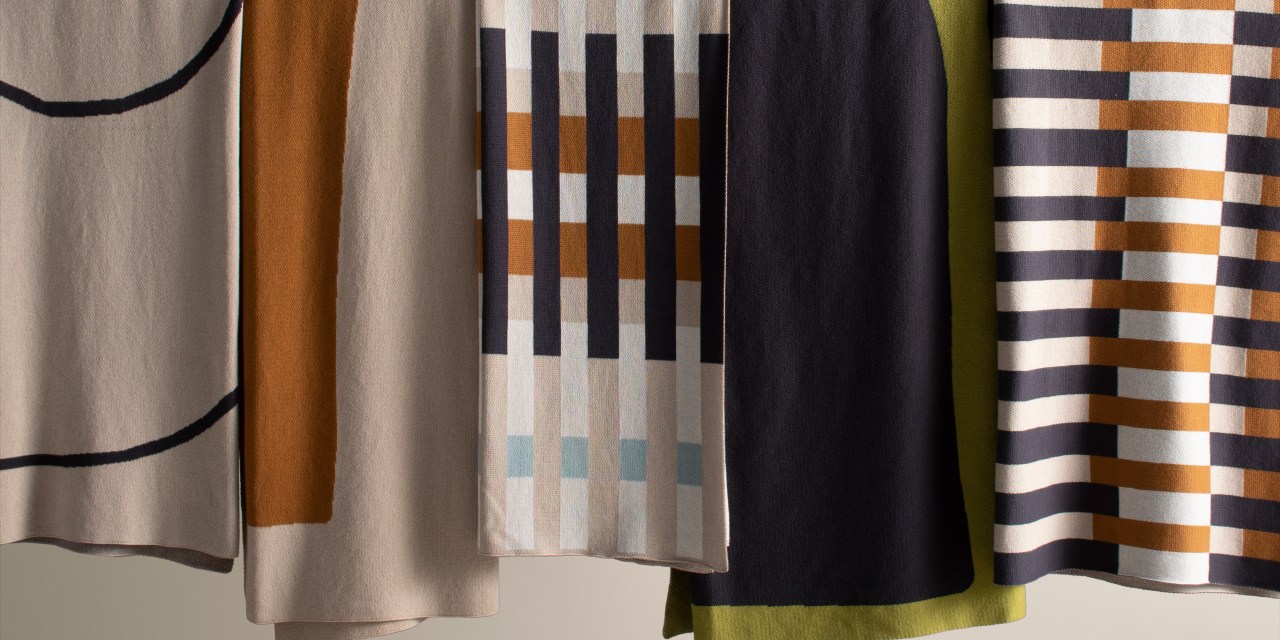 Wayfair
Wayfair's mid-century-inspired brand AllModern unveiled a new limited edition collection with designer Jason Wu on Tuesday. It's a high-profile launch at a time when the brand is desperate to drive more home good sales even as inflation is putting a damper on consumer spending. 
AllModern x Jason Wu includes rugs, throws and pillows with bold abstract patterns in earthy neutrals and colors like olive green and rusty orange. Wu said he took inspiration from mid-century modern artists like Josef Albers and Mark Rothko, while head of AllModern Reena Person called it "versatile, accessible, and aspirational," per Wayfair's news release.
The collaboration signifies the latest designer collaboration from Wayfair, an online furniture mega marketplace that's struggled to stay profitable in its 20-year history and is currently aiming to woo customers by selling more decor at all price points. But it's not the first time the company has attempted to curry favor with customers via high-profile partnerships, going back to February 2020 when Kelly Clarkson began partnering with the brand on a new line and omnichannel marketing campaign.
During the second quarter earnings call on August 4, CEO Niraj Shah outlined a number of strategies including hiring freezes and finding cost efficiencies to combat rising inflation. Wayfair saw a drop of nearly 2 million customers and income loss of $378 million for the quarter. However, repeat customers accounted for almost 79% of all orders, signaling a loyal customer base.
"The emotional connection to one's home means that interest in our category is ongoing, and we're seeing consumers remain engaged and responsive to the right combination of wide selection, great deals and satisfying service," Shah said.
He also said one of Wayfair's biggest strengths at a time of high inflation is how the company can meet customers' needs regardless of price point or style. Luxury, for instance, is performing well and helping to make up for other drops: Wayfair's high-end line Perigold grew net revenue at approximately 30% year-over-year in the second quarter, Shah said.  
"Our portfolio spans all income brackets, which is helpful since our professional, specialty retail and luxury businesses are growing well, in proving more resilient in this environment," Shah said. 
The Jason Wu collaboration reflects mid-tier pricing. Pillow covers fall between $53 to $80 a pillow cover,  for example, while rugs range from $96 for a 2′ x 3′ but as high as $1,900 for a full-priced 8'10" x 12' rug. The collection will be sold online as well as in the first AllModern retail location in Lynnfield, Massachusetts, which opened in May.
Rebekah Kondrat, managing partner at consultancy Rekon, said it's notable that the "of-the-moment" line focus on decor, rather than furniture, given the tapering off of demand for larger pieces. While furniture boomed during the pandemic, that's slowed down as people redirect their spending to travel, office wear, or tighten up budgets altogether.
"Right now, as the economy is very uncertain, people are pulling back," she said.
But Wayfair is coming into the headwinds from a relatively strong market position: YipitData on Tuesday put out its 2022 Home Goods Market Share Index which found Wayfair has the largest share of the furniture shopping market at 14.41%, though that was down a percentage point from the year before.
Typically, the furniture business runs on tight margins anyway, Kondrat said, and Wayfair may be looking for new ways to keep customers shopping during the slowdown. The Wu collaboration could bring in new customers who are familiar with his brand, and drive customers to drive repeat customers.
"If people are looking to spruce up their space but they can't afford a sofa, they're going to go for a rug or a throw or a pillow," she said. "That would be the entry point for a new consumer base, or a customer base they're trying to re-engage."