Why JanSport is going beyond backpacks for back-to-school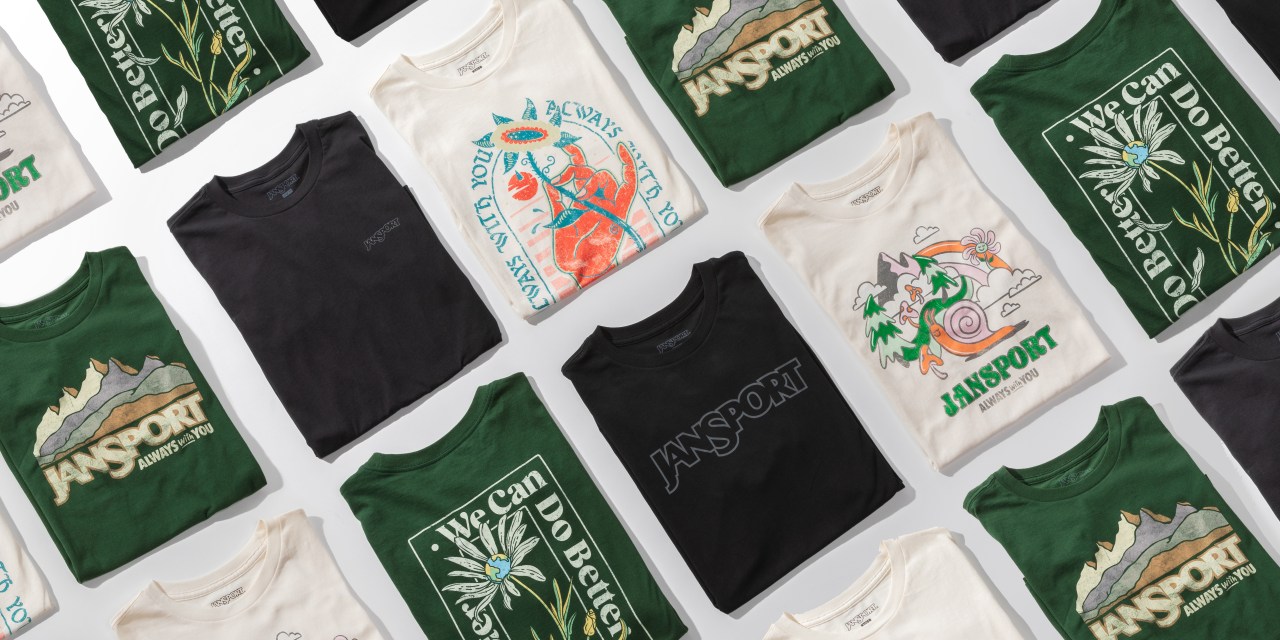 JanSport is taking advantage of Gen Z's taste for nostalgia by expanding beyond its iconic backpacks to apparel and accessories. 
With branded tees and hats in classic colors and gender-neutral fits, the new line is timed to launch with JanSport's back-to-school collection. 
And while it's not the first time JanSport has delved into clothing — it manufactured athletic jerseys for college students for over 30 years — the new collection is the first time that it's going beyond backpacks for the mass market. And the timing is ripe given the current interest from younger shoppers in retro looks and legacy brands. JanSport, founded in 1967, saw a 44% year-over-year increase in revenue for the 2022 back-to-school season, and anticipates strong growth this year.
"We have been really seeing a really large increase of interest in JanSport in general," Alexandra Reveles, vp of global brand management, told Modern Retail. "So, I think it's really an opportunity for us as a brand that is hot right now to start to test the waters in other areas."
The new collection is the latest example of how legacy brands are putting out new and reinvented products to win over Gen Z shoppers. Bath and Body Works relaunched its Cucumber Melon scent this summer for its 25th anniversary as a "throwback favorite of the 90s and Y2K nostalgia megatrend." Espirt, a brand that had its heyday in the 80s and 90s, opened a pop-up in New York City last year and plans a new flagship store along with new designs.
Gabriella Santaniello, brand expert and founder of A Line Partners, said that brands like The North Face and Vans are also launching new collections or having viral moments that bring them back in style.
"There's big appetite for these legacy brands," she said to Modern Retail. "They can ride on their popularity right now."
Brands in this category have familiarity in their favor, as shoppers may associate the name with authenticity and quality. But it's also critical that any launches are in step with what the brand is known for, Santaniello said. 
"You have to stay true to your DNA," Santaniello said. "You make the assortment very edited, it's gotta be narrow, it's gotta be tight and it still has to have the nostalgia tug. You can't be something you're not." 
The collection marries JanSport's signature simple and utilitarian style with a dash of sustainability culture. Tees feature the simple brand logo, or a floral scene with the tagline "We Can Do Better/We Must Do Better." Branded dad caps come gender-neutral colors that match the best-selling packs, like coconut and black. Corduroy trucker caps boast the classic JanSport patch. The new collection also includes a line of beanies. 
"We're leaning into our roots," Reveles said. 
Reveles said that the company's trend department typically tries to look two to three years out, "and they're constantly having to make sure that we are aligned with what's coming next." This year, bright neons and Barbie pink are anticipated to be top-selling designs on the classic backpack design used in the 1990s and 2000s. "Kidcore," or embroidered fruits and florals, are also popular. New patterns playing on digital life, like static and Anime illustrations. Mini backpacks continue to be on trend, as well as corduroy and the use of recycled materials.
Reveles said marketing the new apparel collection will primarily be a social media push aligned with the overall back-to school marketing season. The campaign has already debuted on TikTok and will also be on Instagram, Facebook and YouTube. It's also experimenting with Twitch, as JanSpot has a large gaming community as part of its customer base, Reveles said.
"We're rolling into our busiest season for backpacks," she said, "and so we see that as an opportunity to kind of lean into this moment and capture the audience when we have them at the highest peak."