Cha Cha Matcha plans to expand cafes in New York and Los Angeles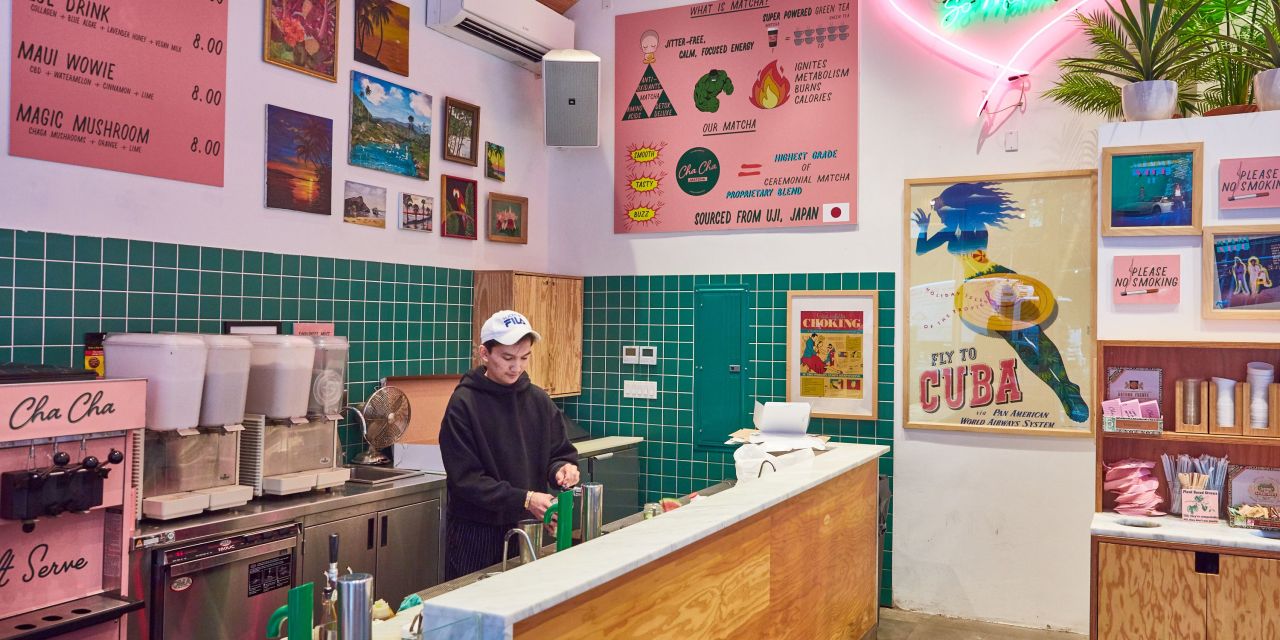 Cha Cha Matcha
Cha Cha Matcha is angling to become a first-of-its-kind coast-to-coast cafe chain selling the popular green tea beverage, with significant growth plans on tap for the rest of the year.
In late August, the matcha chain opened its seventh hub in the Los Angeles neighborhood of Century City, which joins two other stores in Los Angeles and four in New York. And it aims to add at least five more stores across both metros by the end of the fourth quarter of 2022.
Cha Cha, founded in 2016, cracked $7 million in annual revenue last year. Executives say each cafe turns a profit. But successfully scaling a niche brand won't be a cakewalk in high-priced metropolitan markets known for brutal margins.
Cha Cha is betting on cutting through based on heightened interest in matcha and an elevated in-person experience. CEO Jay Gujjar, who joined Cha Cha in December 2021 after roles with Sweetgreen and Blue Bottle, told Modern Retail that he sees growth potential thanks to a sticky product and brand curiosity — and the fact that there isn't a current dominant matcha company.
"Having done this in salad and having done it in specialty coffee, it almost surprised me that there wasn't just someone who just did matcha really well at scale around the world," Gujjar said.
Matcha is a form of green tea that uses the whole leaf ground up into a powder, rather than seeped extracts. It's often cited for health benefits, as it includes all the antioxidants contained in the tea leaf and has a slower caffeine release than coffee. And while it's long been popular in Japan, global reach is on the rise; the market for matcha powder is expected to grow at a CAGR of 14% through 2027, according to a July 2022 analysis from UnivDatos Markets Insights.
Gujjar said Cha Cha serves about 14,000 customers a week, about half of whom are new to matcha. And while the menu offers plays on the traditional drink with flavor options like strawberry or pumpkin spice lattes, Gujjar said Cha Cha Matcha aims to be an educational introduction as to what matcha is.
"We are in a position of responsibility, of making sure that the folks in North America, for now, are introduced to matcha in a responsible way," he said. "The consumer appreciates the effort that goes behind putting something really delicious and high quality in front of you."
With a bold pink and green brand palette splashed on its walls and merch, the cafes aim to be instagrammable; Gujjar said they're meant to be "accessible and fun" spaces for people to enter. And the strong branding and beverage aesthetics lend themselves well to social sharing: Kourtney Kardashian recently shared her Cha Cha Matcha pumpkin latte on an Instagram story.
"My dream is to make the pink and green super iconic, like Tiffany's blue," Gujjar said.
But building up that recognition and scale could prove challenging for a brand with such a niche product. Peter Goggi, the president of the Tea Association of the USA, said he's seen a plethora of tea cafes come and go.
"The bottom line is that the business model for a brick and mortar tea building is really, really tough," Goggi said. "You see some, but you don't see them anywhere near where they used to be 20 years ago. It's very hard to price up high enough for the amount of foot traffic that you can generate."
In order to survive, tea cafes must expand their offerings to other beverages or food items, Goggi said. A notable example is Teavana, the tea chain that launched with a cafe model that pivoted to tea accoutrement like kettles and mugs before being acquired by Starbucks then shut down in 2018.
But more recently, tea has experienced an at-home comeback during lockdowns among Gen Z and Millennials who took to the beverage as a wellness boost or moment of relaxation, Goggi said. Ordering a bevy of flavors online helped spur exploration of flavors and tea-making experiences too, he said.
Yet that popularity hasn't necessarily expanded outside of the home, Goggi said.
"You're seeing this kind of personal ceremony help drive tea consumption individually," Goggi said.
Cha Cha's Gujjar said while the brand's main focus will remain its cafes, it will be introducing more direct-to-consumer offerings. In addition to merch, people can order a bag of powder for $60 on its website. And in time for the holidays, Cha Cha will add an at-home mixing kit with a whisk and bowl.
But overall, Gujjar said the cafes will stand apart for providing a high-quality experience. While other cafes may use "culinary grade" matcha, Cha Cha sources ceremonial grade matcha from Uji, Japan, Gujjar said. Each drink is made individually by whisking the powder by hand. And the flavors in the beverages are also crafted internally – rather than a syrup, for example, Cha Cha made its own pumpkin butter and puree for the seasonal pumpkin spice offering.
"I think because of the stickiness of what we're doing and how we're doing it, as well as a curiosity in a new customer, there's so much more runway to continue to be there for those customers that want to find matcha where they go," he said.