'An everyday purchase': How startups are trying to stand out in the crowded beverage space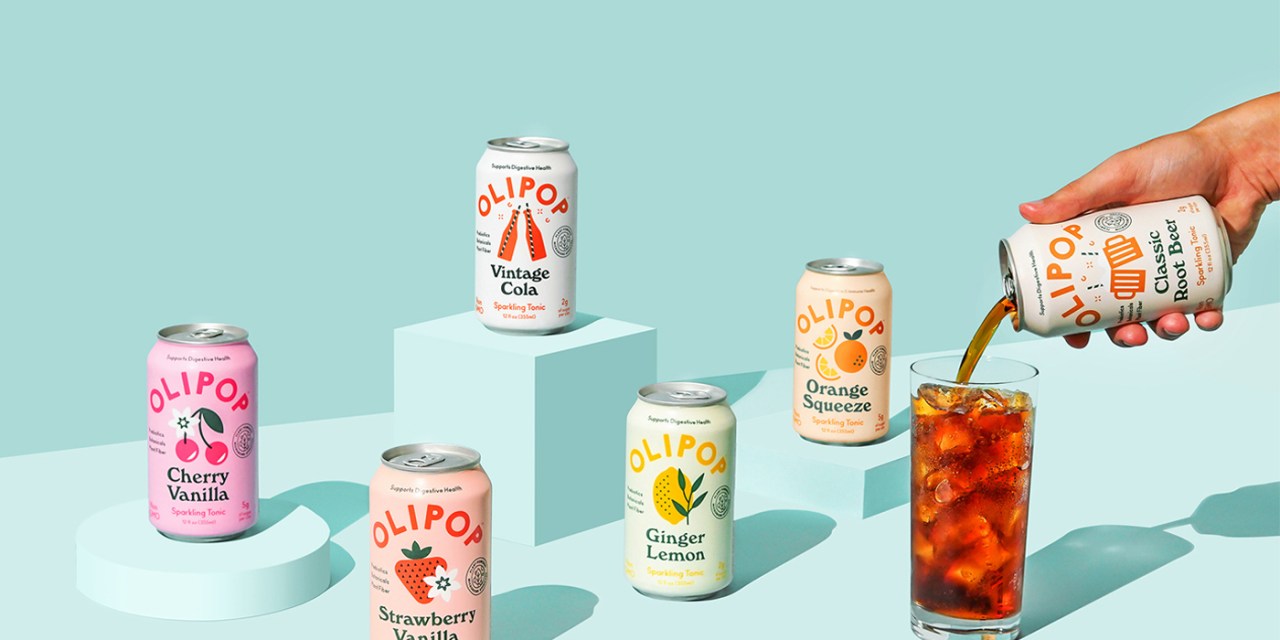 After a big year for upstart beverage brands, some are now looking for more ways to retain customers, and to take on the bigger players.
The pandemic helped brands like Olipop, Sunwink and Swoon get on more grocery shelves including Whole Foods and Kroger. These e-commerce-focused brands also benefited from more people being willing to buy beverages online during the pandemic. Now, these startups are investing in splashier marketing campaigns, and releasing new flavors, in the hopes of getting customers to stick with them as the beverage space gets more crowded. 
This summer, soda startup Olipop is going after Pepsi with a new marketing campaign that features the slogan "Delicious soda that's actually good for you. Anything else is a compromise." Olipop says its sodas have two to five grams of sugar. 
The goal of the "Pepsi Zero Compromise Campaign" is to promote product awareness by taking a bold stance against Pepsi, said co-founders Ben Goodwin and David Lester. "We wanted to break into the arena of legacy soda, and prove we have the backing to compete with legacy brands," Goodwin said.
Until now, the brand has primarily targeted sparkling water and kombucha consumers — categories it has often merchandised with in stores. Now, Olipop's primary goal over the next 24 months is to reach traditional soda drinkers.
The company is also betting on more flavors to keep customers coming back. In May, Olipop found success with its latest flavor launch, Orange Cream, which it released in Whole Foods and via an SMS campaign. According to the co-founders, the texting strategy yielded over $30,000 in sales in less than 30 minutes via its SMS subscribers. And in the coming weeks, the brand will be releasing another new flavor, which will be available in over 2,000 stores and online by August.
To coincide with the anti-Pepsi campaign, Olipop is running several sales this summer. Recently it had a Prime Day deal offering 20% off site-wide, and will do the same for the July 4 weekend. The brand is also organizing a series of summer BBQ pop up events, in July and August, in collaboration with chefs. 
Zero-sugar beverage maker Swoon is also hoping to retain customers with summer sampling events. The brand's lines of lemonade and iced tea are currently sold at national retailers, such as Stop & Shop, Kroger and Whole Foods. 
Co-founder Jennifer Ross recently told Modern Retail the company will be sampling its line of drinks throughout New York City, including Union Square and the Hudson River Park, where the company will use QR codes to get customers on their SMS list. Swoon is also starting to partner with local gyms and fitness centers to test out in-studio sampling.
Diversifying distribution
Tonic brand Sunwink has also scaled its physical distribution over the past year. Now, the company is focusing on retaining customers it gained through discovery channels, such as quick-stop restaurants, cafes and grocery shops.
E-commerce plays a big role in its retention strategy. Sunwink co-founder and CMO Jordan Schenck said that launching on Amazon this past spring was a big part of it. While Sunwink's single-serve tonic bottles can be found in many grocery stores' fridges, Sunwink decided to sell its powder mixes on Amazon. Schenck said that Sunwink wanted to start with powders because they are cheaper and easier to ship than the company's Sunwink's glass bottles — though its bottled tonic will eventually be added to the Amazon store, Schenck said.
Schenck added that Sunwwink is also doing a "subscribe and save push" on both Amazon and the Sunwink website to retain customers — customers who subscribe via its site can save 10% of every order. Schenck noted that 50% of the site's subscribers are first time customers, and that "we've retained a 35% return customer rate of those acquired during Q1, which is our busiest quarter." 
On the marketing side, Sunwink is investing in out-of-home campaigns this summer, along with digital, which still makes up the majority of its budget. "And with in-person events being back, we'll be back on the sampling front starting with festivals this fall," she said.
The premium beverage space is getting increasingly crowded. Large companies are taking note of the premium category's growing popularity, and developing their own versions. Last year, Pepsi got on the wellness bandwagon by launching Driftwell, a relaxation-geared drink.
Meanwhile, new startups are getting savvier, and relying launching with big partnerships early on to generate buzz. A recent example is Barcode, a hydration drink brand that launched this past spring, and has inked a pilot partnership with the National Basketball Players Association. Barcode's founder and CEO is Bar Malik, a former New York Knicks trainer, who launched the brand in partnership with Los Angeles Lakers star Kyle Kuzma. While the brand is still new to retail, founder CEO Bar Malik said the goal is to be a healthier alternative to Gatorade.
As the growth many of these brands experienced during the pandemic winds down, the challenge is in maintaining a loyal customer base. While premium drinks have been deemed an occasional treat by many consumers, "we'll continue to position ourselves as an everyday purchase," Sunwink's Schenck said.