As people stay home, Pinterest is teaching retailers how to use its platform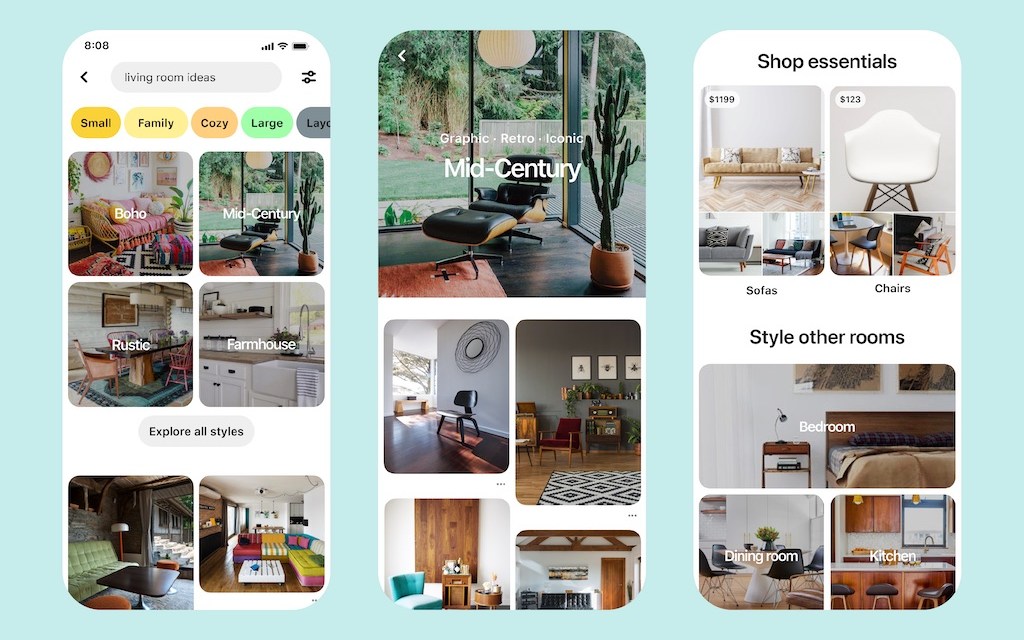 Pinterest's move to become more e-commerce friendly is in full swing. 
As part of its long term strategy to support retailers' diversified marketing efforts, the social platform this month revealed its latest updates to retail pages' shopping features. These are "Shop from a Board," in which a user is shown a personalized shop tab inspired by their activity; "shop from search," allowing for easier shopping for in-stock products via search; and "shop from Pins," which takes users right to the product's checkout page.
According to Pinterest's global head of retail Amy Vener, the company has been "sharing insights with brands on how to communicate with pinners during this time," as a way to help with up-to-date content decisions. 
Since shelter in place orders shut down brick and mortar in March, the retail partnerships team at Pinterest has been sharing data with retailers "on a weekly basis" to help give them an idea on the kind of content customers are searching for. It's a move by the platform to capitalize on people stuck at home while they increasingly browse social media. Meanwhile, Pinterest says it's seeing record usage.
This is also part of Pinterest's strategy to grow its commerce arm. While advertising competitors like Facebook and Google have grown to gargantuan heights, Pinterest has remained a niche choice. Still, the company said it has been attracting more retailers by growing its Verified Merchants program and its suite of shop-able features.
Pinterest has been trying to pitch itself to marketers as a channel that leads to increased conversions. Earlier this year, the platform was credited with helping drive sales for brands like MVMT Watches and Bombas Socks. Meanwhile, Pinterest has added new programs over the last year like conversion bidding and shopping catalog tools. According to Pinterest's latest earnings, this has resulted in retailers' catalog feed uploads increasing by 144% in the first quarter of 2020.
While Pinterest is known as an image-heavy discoverability platform, Vener said the real-time, nuanced insight is especially useful at a time when customers' habits are changing on a daily basis. For example, what began with a spike of search for home office and kids DIY projects has evolved into home improvement and self care ideas in recent weeks, she explained. Vener named DTC rug brand Ruggable and Room & Board as recent successful retail partners in the home decor space, with their respective traffic resulting in an increase in online sales.
According to Pinterest, the rolled out updates helped increase retailers' shoppable Product Pins by 2.5x since 2019, as well as drive a total increase in traffic to retailers' websites by 2.3x. The company added that the number of users engaging with e-commerce features has increased 44% year over year. 
One example is Kohl's pandemic-related Pinterest content, in which the retail chain is curating quarantine friendly wardrobe styles as well as announcing real-time updates about store reopenings and curbside pickup options. Others include McCormick-owned French's offering tips and recipes for at-home lunches and Native deodorant, which used Pinterest's insight and Pins' text overlay to launch its 14 day natural deodorant transition challenge.
Kat Ferrari, digital marketing specialist at marketing agency Adlucent, told Modern Retail that Pinterest's updated tools contributed to clients' — including brands in the luxury and home decor space — campaigns, leading to increased Pinterest spending in April.
Since shelter-in-place began, one brand client "experienced close to a 100% increase in traffic month-over-month from Pinterest organic," said Ferrari. The agency used insights from the increased organic traffic to then make recommendations for a paid campaign, including paid pins. "The campaign saw nearly a 3% clickthrough rate" to the retailer's website, she confirmed.
With many non-essential retailers still closed, shoppers won't be wandering around stores for the foreseeable future. This led to an overall e-commerce activity during the pandemic — as well as to Pinterest, said Vener, who confirmed the platform is currently seeing "all-time highs in usage" and an increase in saves and searches. 
As planning for upcoming seasons takes place, Pinterest said it will help marketers with future strategies. As in: figuring out how to market "back to school" season as "back to home schooling."