Asutra CEO Stephanie Morimoto on growing a wellness brand with Venus Williams' help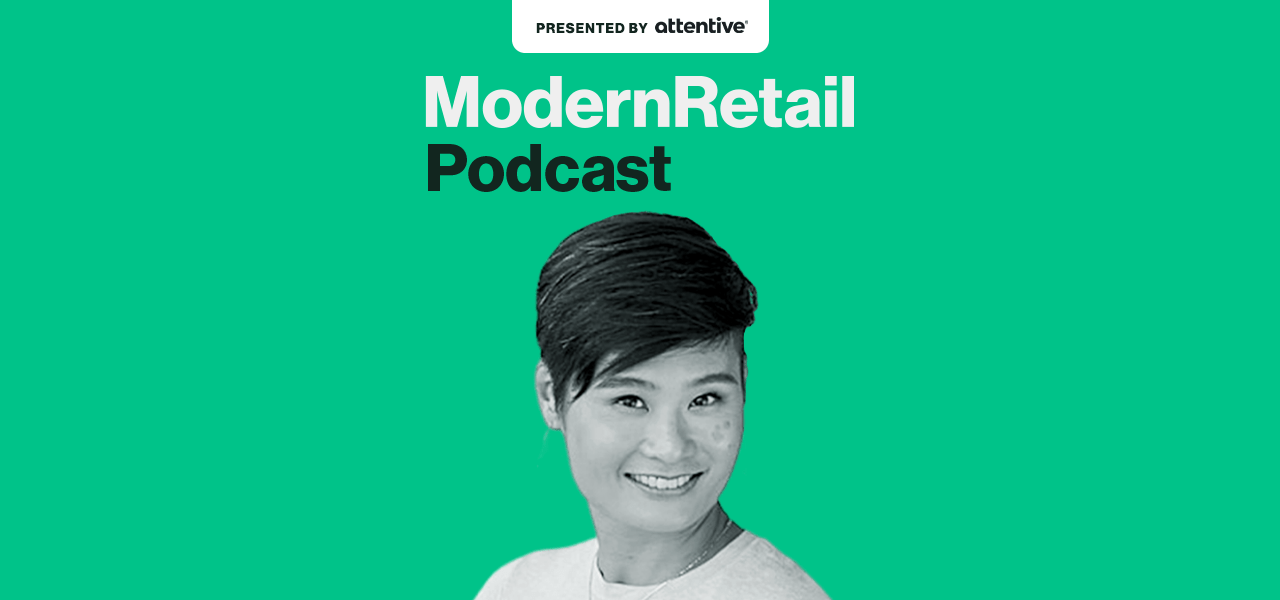 Subscribe: Apple Podcasts | Stitcher | Google Play | Spotify | RSS
It's good to have celebrity boosting your brand.
That's what self care wellness brand Asutra, which sells products like soaps, sleep aids and anti-aging serums, learned when Venus Williams reached out to the company asking how she could be involved. After some meetings, Williams became the chief brand officer and the company's most prominent spokesperson. "She talks a lot about active self care and Asutra in the press and on social and makes big announcements for us," said CEO Stephanie Morimoto on the Modern Retail Podcast. She added, "we obviously did not set out to have a celebrity partner — we frankly would not have done it if Venus had not come to us."
Celebrity spokespeople aside, Asutra has had a wild few years. In 2018, Morimoto bought the company, which first launched in 2015. She described the original owners as "serial entrepreneurs" who put the business up for sale when she was looking for her next business venture. At the time, Asutra sold most of its products on Amazon, and she believed should could help transform it into a DTC wellness player. Part of that has been about rebranding the company as "active self care," as she described it.
Another big part has been on diversifying channels. "Our big focus as a team has been to diversify our revenue channels so that we're not so reliant on Amazon," Morimoto said. "Hopefully, depending on how a couple of retail partnerships go this year, we'll probably go from 99% Amazon to about 60% Amazon — with a good chunk coming from retail, and then also from what we consider DTC, which is our own website."
Retail has certainly been an interesting nut to crack. Asutra's first major retail partnership was with CVS. While it gave the brand widespread distribution, Morimoto learned a few things about matching customers with products. "People mostly go to CVS to fulfill their prescriptions and use the pharmacy," she said. So it was hard to catch shopper's eyes when they weren't necessarily thinking about self care products.
But one recent retail partnership is proving to work better: Target. "We just launched in Target about a month ago, which has been awesome," she said. "Target was really our holy grail goal."
Now, the focus is on making the Target partnerships work, as well as inking more retailers as well. Two new retailers Asutra is working with are Athleta and Grove Collaborative. But, for now, she's thinking about making current partnerships work.
"The rest of the year, we're really focused on making Target a success so that we can continue to grow with Target over the next couple of years," Morimoto said.
Here are a few highlights from the conversation, which have been lightly edited for clarity.
On rebranding Asutra
"I bought Asutra in 2018, and one of the first things I did was invest in deep market research. We actually worked with a small firm in New York City. And they helped us do this really unique qualitative research where, online, we could talk to hundreds and hundreds of people every day about what they were doing for self care, what they felt was missing and what was appealing to them about the different ways that we could share Asutra with them. And what came out of all of those hundreds and hundreds of conversations was this concept of not just self care, but active self care. The people we were talking to said, you know what, I work out a lot; I'm a working mom; I'm a student who also has a side hustle; I'm a grandma who loves to garden and play with her grandkids; Whatever it might be. There are all these people who loved getting the most out of life and really understood that in order to do that, they also had to take care of themselves proactively. They had to set aside time to take good care of them versus having self care being an afterthought."
Being a wellness brand in CVS
"I'll be honest, if we did it over again, I probably would not have started with CVS. Sales velocity in drug is just much slower than sales velocity in Target. A lot of people go to Target every week and buy a lot of different things. And people mostly go to CVS to fulfill their prescriptions and use the pharmacy — or to get the random things they need while they're also probably fulfilling their prescription. What really attracted us to CVS at first was [that] they pitched us on the idea that they were focusing more on well care versus sick care. They really wanted to bring more wellness into CVS, rather than just being the place to get your scripts. We loved that idea — and the set they were putting together for wellness reflected that. It was our stuff, there were some teas and there were some other stress relief things. There were some products that were really innovative — new formats, new ingredients that really were focused on proactive wellness rather than being drugs. I think, unfortunately, I'm not sure that that the team that was focused on innovation was able to spread that vision across the whole store."
Asutra's revamped social media strategy
"We don't have a huge following, but we have a very engaged following. We have intentionally not bought followers. Every follower who follows us is because they actually want to follow Asutra. And we've shifted in the last few months from just promoting products to really providing tips and education on self-care to our audience. So we did a big campaign around magnesium and how good magnesium is for you. We've now started to focus on sleep because we're hearing from a lot of our customers that it's tough. People are working from home, in front of screens all the time, there's no alone time. And so they're struggling more with sleep. So we're providing more tips on that. And then, of course, we also integrate Venus. I mean, we'll integrate her into what we share with our audience. And then she obviously posts about Asutra as well. "