At-home fitness brands are investing more in marketing as competition heats up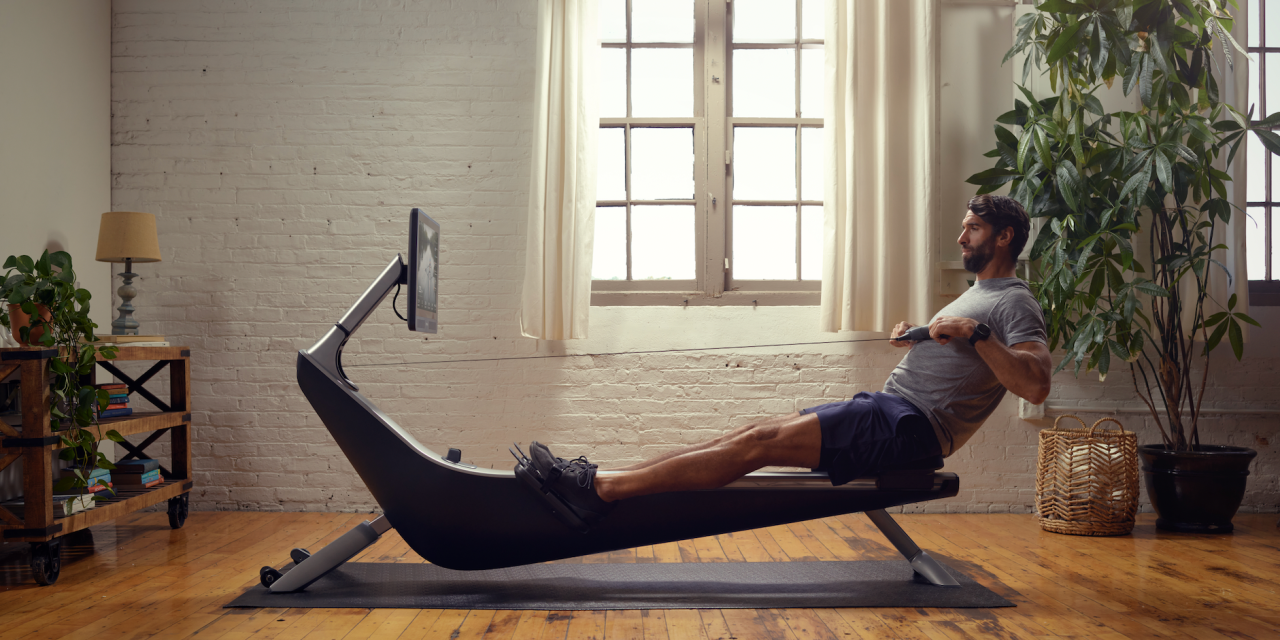 Hydrow
In 2021, at-home gym brands have to work harder to court fitness consumers in an increasingly crowded space.
Last year, at-home fitness boomed. Smart bike giant Peloton, for example, doubled its users and increased revenues 172% to a total $1.8 billion in its fiscal 2020 compared to the year prior. Last week, however, Peloton's revenues decreased quarter-over-quarter for the first time in two years and the brand announced a 20% price cut on its bike.
Peloton's struggles aren't fully endemic to the at-home fitness industry at large — other peers in the at-home fitness space report continued sales growth into 2021. However, competition in the space is increasing, leading some at-home fitness brands to invest in splashier marketing campaigns after a year in which they had trouble simply keeping product in stock.
An increase in paid acquisition
Last year, at-home fitness brands benefited from captive consumers as well as traditional gyms' struggles to maintain consumers amongst temporary closures, capacity limits, mask ordinances and stay-at home orders. Last year, Peloton had virtually suspended all marketing investment, said Jill Woodworth, the company's CFO in the brand's earnings call last week.
However, over recent months, social media mentions (a proxy for broader consumer interest in the brand) have declined, according to consumer insights firm Likefolio. Now, Peloton and peers are faced with the need to move from organic word of mouth acquisition back to traditional marketing once again, particularly as they compete with one another.
Sales and marketing expenses at Peloton were $229 million this quarter, a 172% increase year-over-year. The efforts, explained Wordworth, are focused on promoting Peloton's newly released "lower priced" treadmill and to increase "incremental subscribers."
Peloton isn't the only one dedicating more time and money to paid marketing. In May, SoulCycle released a new ad campaign on social media and digital channels to highlight its at-home bike. In July, Lululemon's Mirror hired its first ad agency of record, Known, for a campaign across TV, audio, out-of-home, and social set to run in October this year.
Rowing machine brand Hydrow's chief commercial officer Gretchen Saegh-Fleming told Modern Retail that the brand plans to release a new campaign this holiday season to grow its member base. She said the company experienced a 500% year-over-year increase in sales in 2020.
 "Competition is rising across connected fitness," BMO Capital Markets analyst Simeon Siegel told CNBC. "Peloton discounting the Bike and upping marketing is a clear signal that the cost to acquire customers is rising after being the only player in the market last year."
Looking for more ways to stand out
Not all at-home fitness brands are reporting declining sales this year. As competition in the space increases, however, brands are looking for more ways to remind customers they exist — whether that be through partnering with gyms, celebrities or expanding more into retail.
Echelon Fitness, a smart gym brand with bikes, mirrors, rowing machines and treadmills as well equipment free memberships is focused on expanding products and partnerships said CEO Lou Lentine. Echelon often uses price as a selling point — its least expensive connected bike costs $840 compared to Peloton's least expensive bike, which now costs $1,495.
Lentine said that the brand has managed to sustain growth into the new year, even as competition rises, stating that the brand is on track to approach $300 million in revenue in 2021.
Last year, the brand released five new products, including an exclusive bike for one of its retail partners, Sam's Club. Last month, the brand partnered with Disney for a Jungle Cruise-themed ride, and the month prior, partnered with Ride with Pitbull content channel and a co-branded bike.
"Going forward we will be looking to develop new products and partnerships to enable expansion and improvement of our online community, our in-person studios, trainers, experiences, hardware… and our aesthetics to appeal to different [consumer] demographics," Lentine said.
The other major way in which fitness brands are planning to increase their name recognition is by expanding their brick-and-mortar presences. Lululemon, for example plans to roll out Mirrors to 200 shop-in-shops in the brand's stores by the end of the year. Echelon plans to partner with two new "major big-box retailers" for new SKUs and store-within-stores by the end of the year on top of preexisting partnerships with Dick's, Best Buy, Amazon, Costco, Sam's Club and Walmart.
"In a time when most brands are retreating from brick and mortar and going virtual we've expanded in both online and offline presence," said Lentine.