Brands are cashing in on pickleball's rising popularity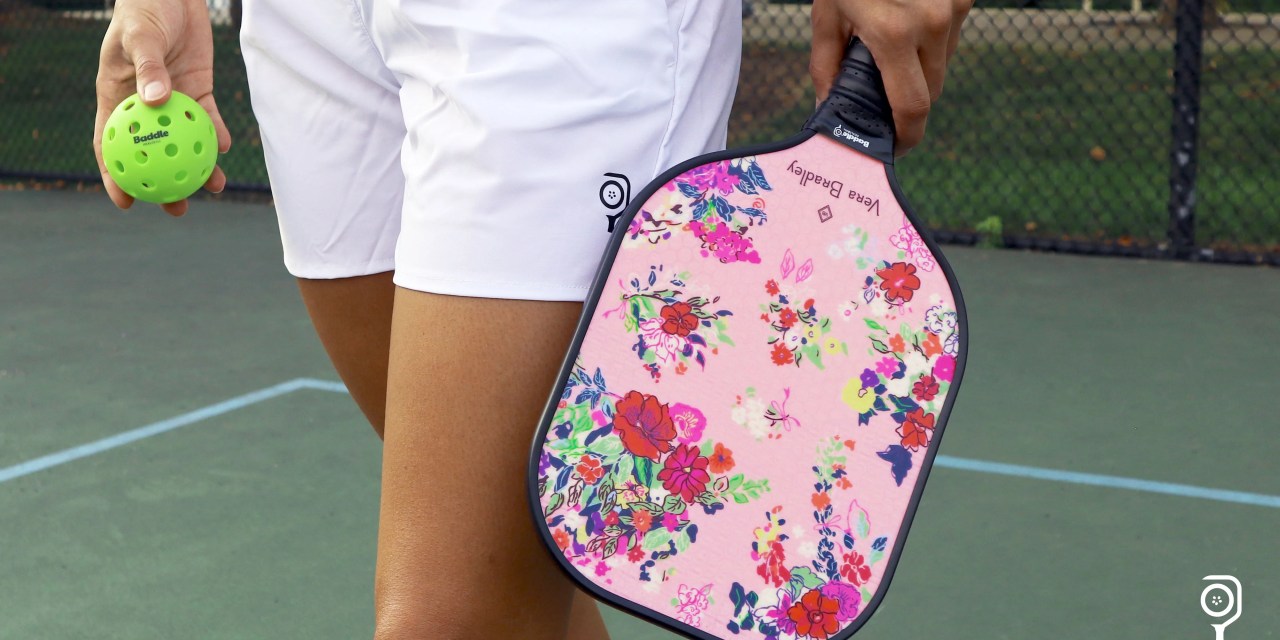 Baddle
Pickleball is turning out to be a smash hit and brands are looking to cash in.
Footwear brand Skechers announced in April that it signed two top-ranked pickleball athletes, Tyson McGuffin and Catherine Parenteau, as brand ambassadors. That same month, table tennis brand Joola also signed a pickleball player, Ben Johns. Even bag and luggage company Vera Bradley collaborated with pickleball gear brand Baddle Pickleball in October to launch a line of designer pickleball paddles and paddle covers.  
First invented in the 1960s, the paddle sport, where players aim to return the whiffle ball within the opposing team's side of the court, had emerged as one of the winners of the pandemic. Pickleball has seen an 11.5% average annual growth rate in the past five years with the number of players growing to 4.8 million U.S. players in 2021, according to data from the Sports & Fitness Industry Association. The sport's momentum has not gone unnoticed among brands. Startups, athleticwear retailers and more are increasingly seeking to sponsor pickleball athletes and launch products in order to get in on the ground floor of what they think will continue to be a hot new sport in the years to come. 
"It's a matter of saturation and competition," said Eric Dahan, CEO of marketing agency Open Influence. "If you look at the bigger sports, those are the sort of big low-hanging fruit that a lot of brands go after, and it's really noisy and saturated." 
Pickleball among other emerging sports has historically been an underserved market, experts said. But over the years, and especially during the pandemic, the demand for the sport has grown as more people were looking for activities that they could do outdoors, that required little new equipment. The demand for pickleball has grown so much that developers across the country and the parks department in cities like Arlington, Virginia are mulling over ways to accommodate the sport's growing demand by adding pickleball courts.  
The sport has caught the attention of numerous sports retailers in recent years. Babolat, a brand that has strong roots in selling tennis and badminton equipment, released its own brand of paddles in 2020. Outdoor Voices also offered paddles with pickleball brand Recess at one point, although it is now listed as sold out on its website.
Sara Aiken, owner of paddle manufacturer Eastport Pickleball, estimated that when her products were first approved by the USA Pickleball Association (USAPA) in 2016, there were around 50 to 60 certified paddle manufacturers. She estimates there are now hundreds of manufacturers vying for market share.  
Although she describes her company as a small business, Aiken said she had benefitted from pickleball's pandemic-driven boom. In 2020, her sales were up 20% from their usual 5% to 10% growth. "That was that was my best year," Aiken said. 
The entry of these large manufacturers had been a big driver of the growth of the sport. Whereas back in 2016, Aiken said that many people she encountered didn't even know what Pickleball was. "Believe me, I used to answer that question more than not."
Some brands have now begun sponsoring pickleball clinics. Along with training to improve their game, a clinic dubbed Nike Pickleball Camp in Hilton Head Island, South Carolina is offering all campers a Nike camp t-shirt. Sports retailers like Head have also sponsored pickleball organizations that promote the sport like the Professional Pickleball Registry.
Others prefer to sponsor competitions. Skechers, for example, is the official footwear sponsor of the 2022 Minto U.S. Open Pickleball Championships. Even Flex Seal, a brand known for its rubberized sealants and tapes, sponsored the 2021 Davie Summer Pickleball Classic Tournament. 
"There's a lot of opportunities for brands to connect with their local communities. I'm thinking specifically where their headquarters are or in underserved communities," said Julianna Kirschner, lecturer for the Annenberg School for Communication at the University of Southern California. "Pickleball is growing partially for that reason, because it's such an accessible sport."
Kirschner said that brands' investment in emerging sports like pickleball can be a great way to boost brand awareness and the payoff can be dramatic if they choose to invest in a sport early on. However, these retailers also run the risk of their investment going south if the sport loses momentum.
"The financial risk could be that they put enough capital towards a sport that isn't as successful or kind of fizzled out, then it's essentially an investment that turned out not to be a good move," Kirschner said. "For those that are sort of hesitant, that's kind of their rationale."
Still, pickleball doesn't seem to be slowing down anytime soon. In March, it was announced that CBS Studios, Spartina Productions and Funny or Die are preparing to launch a celebrity pickleball special, called Pickled, later this year. 
Eastport Pickleball's Aiken expects more brands to step into the sport in the coming years. "With the growth, you would be crazy not to."