Podcasts
// December 30, 2021 ■ 3 min read
Chain Reactions: Oats Overnight's Brian Tate on building a CPG plant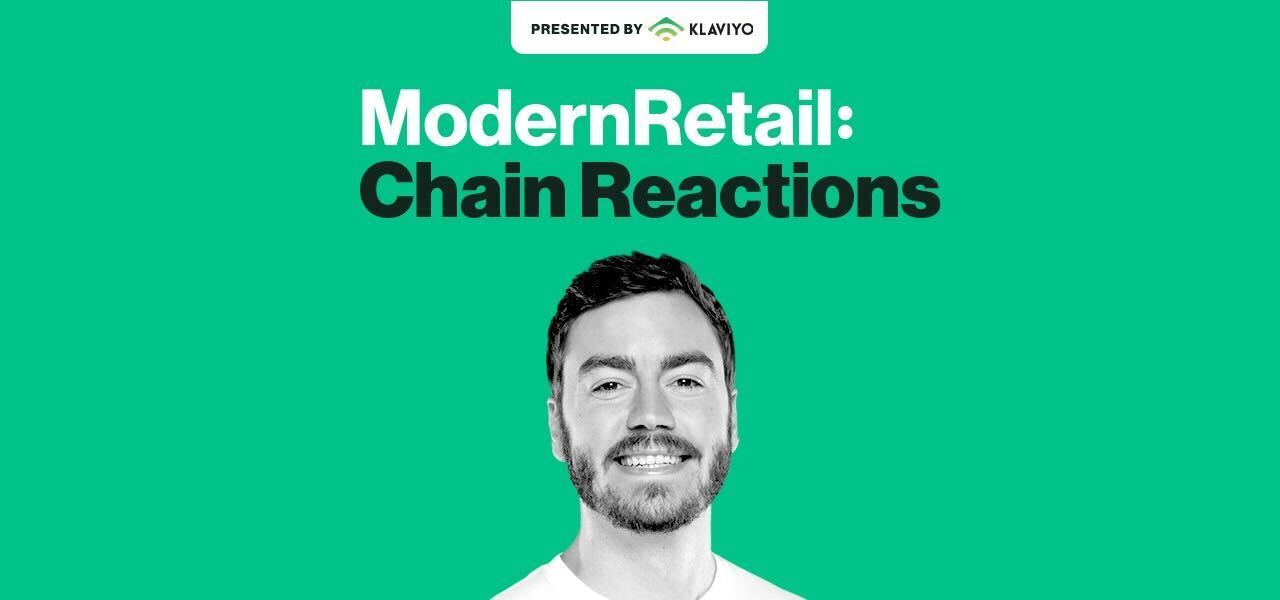 Subscribe: Apple Podcasts | Stitcher | Google Play | Spotify | RSS
Oats Overnight, a spoon-free, protein-based drinkable oatmeal, has been made in-house since the company began. Founder and CEO Brian Tate started Oats Overnight in 2016 out of his kitchen, and after about a year of formula development, began selling the bottled oats via the brand's website. 
Part of the decision to vertically integrate production was due to difficulties Tate found in securing manufacturers for the product's unique formula. "At a very, very early stage, we opted to do it [production] ourselves for the flexibility," Tate said on the Modern Retail Podcast. 
Fast forward five years, Oats Overnight has a growing customer base and new partnerships with Wegmans, Whole Foods and The Fresh Market. The brand tripled its active direct-to-consumer subscribers — from 10,000 to 42,000 —  during 2021. This year, the company is up 150% in revenue year-over-year, hitting $25 million in sales in November.
As a result, the company's existing 20,000 square foot Arizona plant wasn't cutting it. With that came the need to upgrade to a bigger oats-blending plant, said Tate.
This year, the company has grown to over 100 employees — including 40 on the production line — and is in the process of moving to a 50,000 square foot facility. But running a food plant isn't as simple as it seems, and requires a lot of financial capital and labor to run smoothly, Tate explained.
This conversation is part of Modern Retail's Chain Reactions series, in which we explore the quick and long-term investments retail brands are making amid the supply chain woes. 
Here are some highlights from the conversation, which have been edited for clarity.
The challenges of running your own manufacturing
"We've encountered a lot of differences since the beginning of the whole Covid situation in early 2020. It was really threefold. There were labor concerns; we have a full staff on-site and so safety of course is the number one priority — making sure everybody feels safe to come to work and work in a production-run cleanroom. Then there were shipping and logistical challenges in getting these items to our facility. Additionally, pricing and scarcity with some of the crop items that we buy directly from farms. And [oat] mills, of course, were subject to natural challenges. All three of those really hit at once in 2020."
Scaling up a CPG plant
"We started in a really small facility in Tempe, Arizona that was about 2,000 square feet that was just a few other friends. At a very early stage, we engaged an advisor — and I spent many hours googling FDA, GMP [Good Manufacturing Practices], hassle compliance, you name it. But ultimately, it really does take experience to get something complete and get a facility compliant. It was a lot of work. We then transitioned into where we're at now, which is a 20,000 square-foot facility with about 100 teammates total; two-thirds of those are on the supply chain and fulfillment side. There are a few cleanrooms and a full fulfillment operation. And as we've grown, we've had to use off-site storage at times. And so, we are moving to a larger facility nearby in Q1 of 2022."
On building out a labor force
"I think the biggest thing is that we don't treat this [facility team] as a separate department. Supply chain, manufacturing fulfillment, they're all part of the team and we're all in the same building working out of our facility. They're so crucial to the operation. We're seeing that now more than ever, although we've noticed this since the foundation of the company. It's [production line] just a tough job, it's tough work. And we want to make sure that everyone's incentivized, and just here for a short period of time — but that they can see an opportunity for their career here. So we offer incentives like good pay and full health insurance for all employees, which of course is expensive. But we feel the investment for the long term health of the company, and consistency in production and fulfillment, is so key."