Podcasts
// December 9, 2021 ■ 5 min read
Chain Reactions: Scout's Deb Waterman Johns on implementing a pre-book wholesale model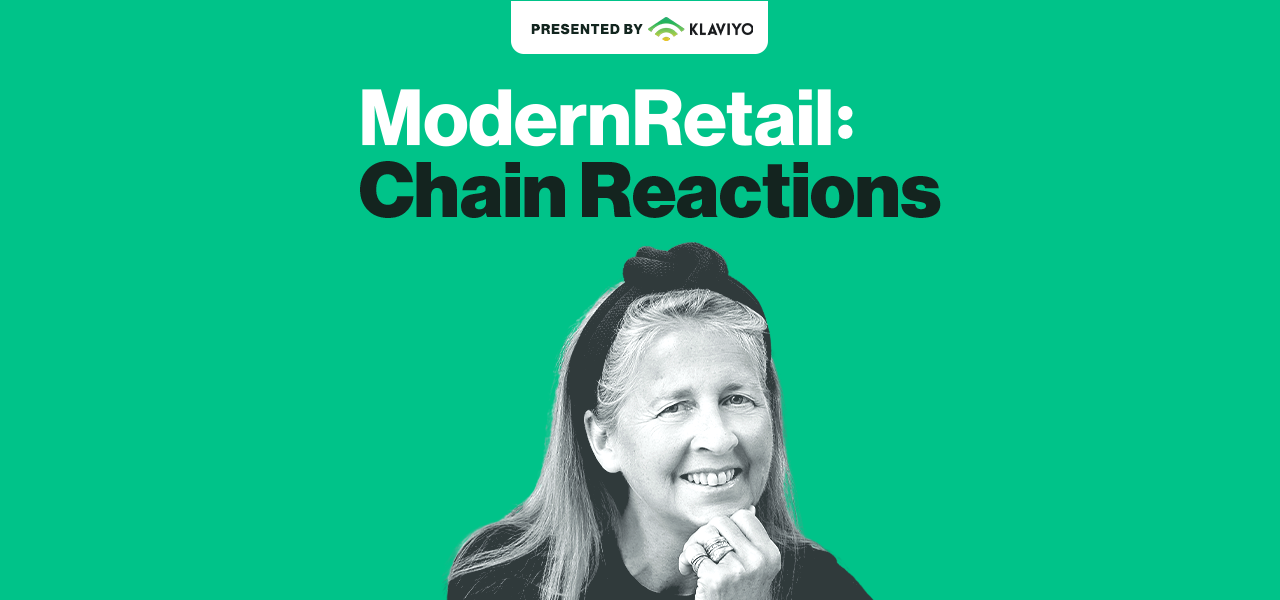 Subscribe: Apple Podcasts | Stitcher | Google Play | Spotify | RSS
If a boutique wants to carry products from handbag maker Scout, they are going to have to plan ahead. 
In mid-2020, Scout transitioned to a pre-book wholesale model, which entails giving retailers an opportunity to secure their orders "almost a year in advance," founder Deb Waterman Johns said on the Modern Retail Podcast's new series: Chain Reactions. Previously, Scout took retail orders on an as-needed basis and by estimating demand for their upcoming seasonal designs. "It's a commitment on our part, as well as on their part," she said of the upfront booking and payment transactions, Waterman Johns said.
Wholesale retailers are a major part of the company's business. Scout, which launched in 2004, and sells its handbags across roughly 50 stores, including local boutiques, gift shops and drugstores.
This episode is the first in a series where Modern Retail explores the quick fixes brands are making as a result of the supply chain craziness experienced over the last year-plus. Chain Reactions will dig deep into short-term decisions that had longer-term effects. For Scout, its big change was to the way it handles orders.
Waterman Johns said that because of the pandemic's impact on these smaller accounts, Scout wanted to create a better system for wholesale orders. The shuttering and restructuring of many boutiques and gift shops — where Scout sells its tote designs — prompted Scout to want to better understand how it produces and distributes its inventory to wholesale partners, Waterman Johns said.
For a business, selling out of products is usually a great thing. However, Waterman Johns said the company wanted to transition into a more efficient "newer normal," in which Scout ensures its retail partners have access to the merchandise they want while the brand has better insight into its in-demand styles and patterns.  
So far, the results have been positive, Waterman Johns said. With advanced pre-booking, Scout can also better communicate inventory volume to its overseas manufacturers. Whereas previously, the company was "guesstimating" its wholesale demand (and selling off excess to off-price retailers in later seasons), the new pre-book model has helped avoid over or underestimating demand.
Here are a few highlights from the conversation, which have been lightly edited for clarity.
Creating streamlined pre-book out of necessity
"One of the silver linings as a business was understanding the flow of inventory, the commitment to inventory, the accessibility of inventory. And we know that's been a certain challenge for many businesses. When we looked around at our amazing customer base — we have, obviously, e-commerce customers — but also a massive, wonderful array of gift and accessories stores who buy our totes and all of our products. They were shutting their doors, at least at the beginning of Covid. As a result, we pulled back on our inventory for the seasons because we didn't know what the future would bring. And when we went into those seasons, with a little less inventory, we sold out nearly everything, which for our business is kind of a great thing. But for a [wholesale] customer who's hoping to get part of that merchandise for their shelves, it's a tough thing. So we looked at how we were coming out of the pandemic or into the newer normal. We said: alright, what can we do to ensure that our retail partners really have access to the merchandise that they want. And then we'd also have the insight into what was the most popular pattern and style of our accessories and bags. And so we came up with this pre-book model where we very early in the process of the season — meaning almost a year in advance — offer an opportunity to our committed retailers. We say 'listen, if you want it, we'll get it for you.'"
Hiring the right people to build out a portal
We're a small business. So we have a lean and mean staff and great capable people. What we did at the beginning of the pandemic was really look hard at our organization to understand where we were lacking in the experience quotient. And we hired a number of really, really capable people to work with our team that was currently evolving at Scout. And that was in the areas of operations and the areas of wholesale in the areas of marketing, in their areas of product development. All of these things were happening at Scout, but they were not leading us to the next level of growth, nor were they able to really lead us out of the pandemic in the healthiest way. We had incredible team members who had learned at Scout, how to do various things we weren't managing through it. But with new lenses coming in, and new experiences coming in with people that were experts in the field, we were able to navigate a much stronger strategy in order to move toward that pre-book model. So it took the expertise of additional people along with our original staff, it also took time because we had to work backwards with our factories and say.
Streamlining production to avoid excessive inventory
"Previously, we didn't really ask people to put money down… Now, it's a much more positive situation for everyone because they know what they're going to get and we know what we need to produce. Prior to that, we had great information, but it wasn't nearly as specific. And so we would sort of 'guesstimate' a little bit more. We were pretty good at it most of the time, and then sometimes we just weren't. We would be stuck with more inventory that we then needed to look at another way to sell off to a lesser marketplace during the off-season. But that's not what we want to do with our merchandise as a rule. We'd like to keep it amongst our better retailers. So it definitely made us better at that part of our business. No question."