'Collab culture is the way to innovate': McCormick's Alia Kemet on the company's influencer strategy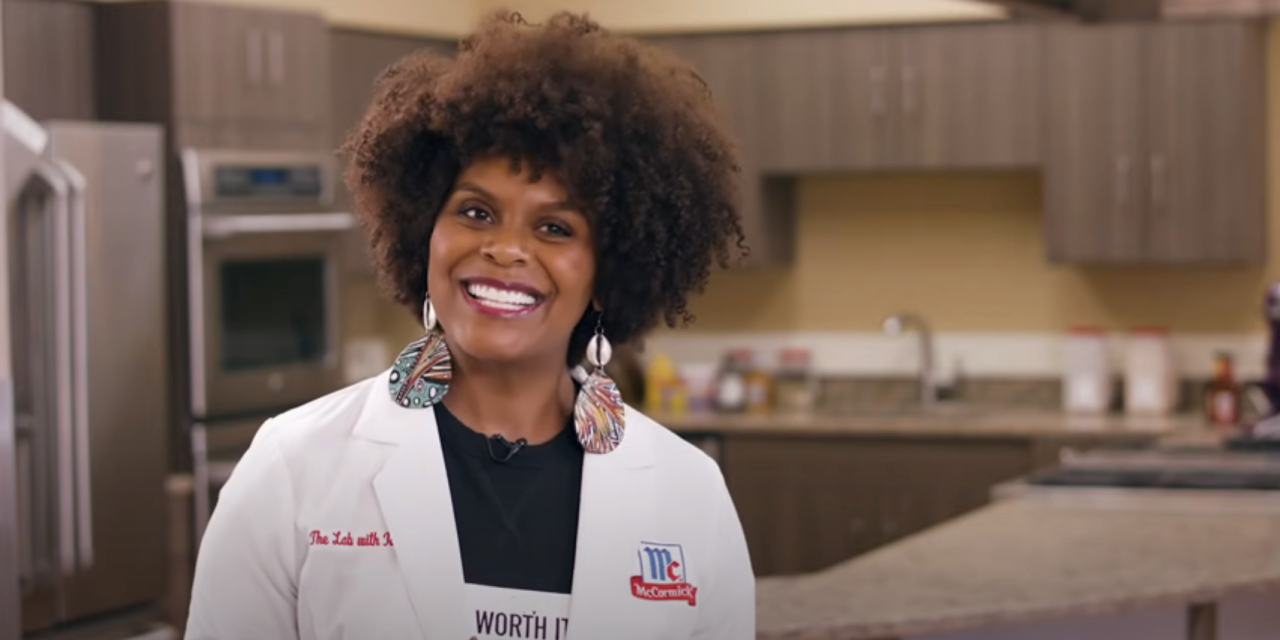 McCormick YouTube
Spice and condiments giant McCormick is taking a big step into the influencer space.
Earlier this month, Tabitha Brown — a food influencer who first became popular making vegan recipes on TikTok — partnered with the company to launch her own seasoning brand, called Sunshine All Purpose Seasoning. It sold out within an hour.
It was the first time that McCormick partnered with an influencer to create a new product. Although fashion and beauty brands have forged similar influencer partnerships for years — the D'Amelio sisters' fashion line with Hollister is one rough equivalent — McCormick's partnership with Brown is one indication that the model of influencer-branded products is spreading into other industries.
The McCormick launch might be a sign of much more to come, according to Alia Kemet, the vp of creative and digital marketing at McCormick. The Tabitha Brown partnership, she explained, comes at a time in which brands selling spices and seasonings are increasingly leaning into social platforms in order to gain traction.
Modern Retail spoke to Kemet about the role that influencers are playing in the future of McCormick. This interview has been condensed for clarity.
How did the Tabitha Brown collaboration come about?
At the beginning of the pandemic, we ended up re-evaluating the content we were making. We started more directly talking to our fans, encouraging them to cook alongside us, and a lot of that happened on Instagram initially. We were doing a Cook With Us series literally every day, cooking out of our pantry.
At the same time as this was happening, consumers all over the country were really falling in love with Tabitha Brown on TikTok, and our team was also experiencing that. We quickly identified her as someone that we really wanted to work with. Instead of telling people you had to [cook] her way, she would say, that's your business. We just loved that. We felt that her messaging resonated with our brand tagline.
Our first project with her was a Facebook Live. She brought everyone virtually into her home and created a garlic lovers' pasta using McCormick products. It was super engaging. We saw some of the highest metrics we've ever seen on any Live, and we knew we wanted to do more with her and work with her again.
In that process she had expressed that one of her dreams was to have her own seasoning, and so that felt like a really great way in. We thought, wow, this would be awesome, we think we could make this happen. So we worked internally to do so and to launch the Sunshine Seasoning.
Have you ever done anything like this before, where you have a celebrity design a product for McCormick?
It's actually a first. We've worked with notable people in the past to market existing products, but this was our first actual co-developed flavor.
As we got to know Tabitha through our content and first hand, we were able to identify some of her favorite flavors, and presented her [with] some high-level concepts. But she really gave the direction and personally visited our lab and worked with our R&D [research and development team], worked with our test kitchens, to fully be involved in the final flavor. Her face is on the bottle. It was really important to us that this was a true co-developed product, that she would be proud of having her name associated with ours.
Do you see the spice industry taking on some of the components of the fashion world, where influencers design their own product lines for existing brands on a regular basis?
I think the correlation you are making between food flavor and fashion is spot on. I think that at the center of all of that is culture and things that people have attachment for. While you have a serious intense attachment for clothing, I would offer that people are just as — if not more — passionate about the food they eat and the flavors they love.
When you think about cooking and eating, it's really a part of your everyday life, so while we are a flavor company, we consider ourselves to be a lifestyle brand. We lean into those insights [on social media]. We pay attention to what's happening in culture to better understand our consumers. We've done other things in the past, like our French's mustard ice cream or our French's beer, or we developed with Campbell's the Frank's RedHot goldfish. That was because we saw on social media, people were asking for Frank's Goldfish. This goes back to paying attention to what's happening in the social space and being ready to be innovative based on the things that you see.
Do you expect to do more partnerships like the one with Tabitha Brown, centered on co-developing a product? Or is this a one-off for now?
I don't want to limit it to a person. I think collab culture, trend identification is the way to innovate in today's modern retail world. It just is. I think that what you will be seeing more from McCormick is, how do we accelerate trends and that could be through working with individuals to co-develop a product? But I think there are a lot of other ways to get at that as well. It could be broader [than a single influencer]. I just don't want to limit us.
Have you seen any numbers showing that a co-developed product like Sunshine Seasoning offers a viable path forward for McCormick? Or is it too early to measure?
Oh no, it's had an impact, and it's not too early to say that this has been extremely successful, has met and exceeded all of our goals. If you look at just direct-to-consumer, in our direct-to-consumer business, we were able to exceed our revenue from all of 2020 just on launch day with this McCormick Sunshine Seasoning by Tabitha Brown.
Beyond just [that] people love Tabitha Brown, it says to me that we should continue to lean into culture and cultural moments and the things that people are passionate about and connect them to our brand. I think we'll continue to do that.
How important, in your mind, is a platform like TikTok for selling McCormick products?
I think all of these platforms are important. We have an in-house content studio, and because of that, we're able to produce all of our digital marketing materials ourselves. Our food styling, video production, editing, motion graphics, hybrid photography, it really is an asset that allows us to be agile and cost-effective.
We really try to lean into cultural moments. Our team does a really great job quickly adapting trending hashtags or concepts to be relevant to our brand. What we've seen in TikTok is that our engagement rate is really high. It's 288% higher on TikTok than any of our other channels, and I think it's because this platform really maximizes their algorithm to organically serve videos to users' For You page. I think for us we're going to continue with TikTok in particular.
To what degree are viral moments on TikTok translating into actual sales?
I don't know if I can answer that specific to TikTok, but what I can say is more broadly, you can launch products fully in social media. This product with Tabitha Brown was launched entirely through social, and we saw record-breaking sales results. We launched our Old Bay Hot Sauce two years ago entirely on social media, and again we had same-day sellout. I think social in general has the power to deliver you significant sales results if done strategically.
When people see these types of executions, I think they tend to think of it as a stunt, or just as a campaign. [But] they really are business drivers.