Hot tubs and hardcore gamers: How Twitch is trying to stay brand-friendly as it expands beyond gaming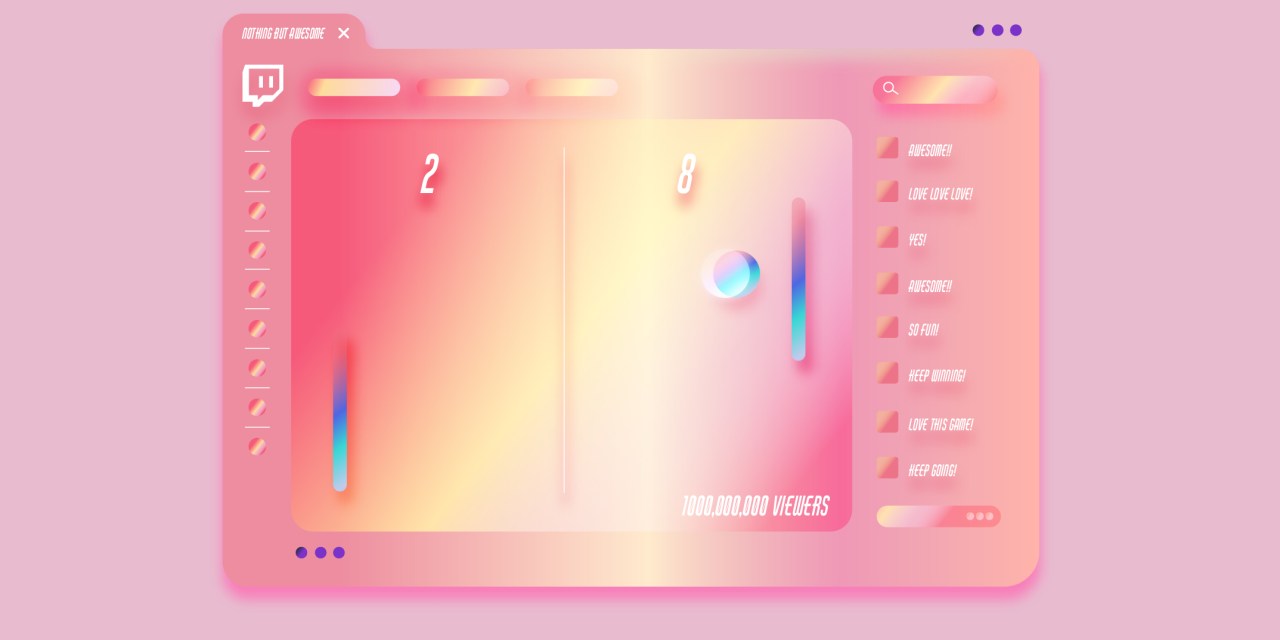 Ivy Liu
Once the domain of hardcore gamers, Twitch evolved into a fully realized lifestyle streaming platform during the COVID-19 pandemic. In July, hours watched on the Amazon-owned service rose by 23% year-over-year, according to a recent report by StreamElements and Rainmaker.gg. This jump was partially fueled by stunning increases in the number of people watching non-gaming categories, such as art, "Just Chatting" and music.
Though these non-gaming categories existed on Twitch prior to the pandemic, their viewership respectively increased by 149%, 173% and 325% between January 2020 and July 2021. Collectively, the roughly 300 million hours watched in non-gaming categories accounted for nearly 20% of Twitch's viewership for the month of July. 234 million of those hours came from Just Chatting, making it by far the most popular category on Twitch.
In addition to art and music, Twitch users spent a good chunk of 2021 watching women in hot tubs. The past year saw the rise of "hot tub streamers," who go live in bathing suits and offer fans donation incentives such as writing fans' gamertags on their bodies. In May 2021, Twitch formally responded to the moral panic around hot tub streaming, creating a dedicated category for hot tub streamers and promising not to ban them from the platform. Less than a month later, it re-sparked the controversy by temporarily suspending hot tub streamers Kaitlyn "Amouranth" Siragusa and Jenelle "Indiefoxx" Dagres.
This situation is emblematic of the growing pains Twitch has experienced as its user base widens. As the Twitch audience grows, so too has the platform's need to more closely moderate the content it offers. Not long ago, Twitch was a livestreaming Wild West, featuring questionable content ranging from thinly veiled piracy to videos of mass violence. Now under more scrutiny than ever before — and in its seventh year under Amazon ownership — Twitch is cracking down on potentially controversial content as it prepares for continued expansion. The company has made a significant investment in its moderation system, not just to smooth over a long-standing source of frustration among Twitch creators but to create the most ad-friendly environment it possibly can.
Specifically, Twitch is hiring more professional moderators to oversee its content. The company's Safety Ops team has doubled in size over the past year, allowing Twitch to reduce its median user report response time by 96%, according to its internal transparency report. Since the first half of 2020, the number of "enforcement interactions" on the platform — bans, suspensions and other rule violation punishments — has increased by 41%, reflecting both Twitch's growing user base and its efforts to further educate users about its moderation and reporting processes.
"It's about brand safety," said Tom Morris, a gaming insights analyst at consumer research firm GWI. "There's a lot more brands interested in being a part of gaming, and the last thing anyone wants to do when they get involved is align with someone who doesn't necessarily reciprocate their values."
On a platform whose audience is at least 21% minors, the aforementioned piracy and violence are obvious no-nos. A more significant challenge for Twitch as it tightens its moderation policies is content like the hot tub streams, which dance on the edge of acceptability. "I think that Twitch is maturing. As it grows and becomes more popular, it becomes a more integral part of both creators' and viewers' lives," said Doron Nir, CEO of StreamElements. "They are challenged with the edge cases of free speech — and where does a company like them, and Amazon at large, stretch the line and say this is going to be bannable or not?"
One reason why Twitch bans can be controversial is that the platform has historically provided users with very little clarity about why or how they were banned. This makes it difficult for the streamers expanding into newer types of lifestyle content to know what is permissible on the platform. In June 2020, Twitch permabanned the wildly popular streamer Herschel "Dr DisRespect" Beahm for reasons that still remain unknown to the public. Petra "Tofusenshi" Zemánková, a popular art streamer, speculates that she was once suspended for drawing an image of a woman wearing a bikini. "The Twitch art rules are not so developed so you don't know where the line is," Zemánková said. "I was just drawing a character in a bikini, and I got banned for pornography."
In August, Twitch responded to protests about the opacity of its ban system by promising to start informing suspended users about the specific date and time of their rule violation — another sign that its moderation processes are becoming better attuned to its role as a wide-ranging content and lifestyle platform.
For Twitch, the controversy stirred up as it adjusts its moderation policies is a necessary sacrifice to make the platform more appealing to potential brand partners and advertisers. "We've made a huge investment in our infrastructure and continue to update our policy," said Twitch CMO Doug Scott. "Ultimately, Twitch is writing a lot of the book on how to do livestreaming at scale, so we're encountering and addressing those challenges as we go."
This is more of a preemptive strike than a response to any specific brand's discomfort with Twitch's content. By all accounts, Twitch has been successful at bringing on potential advertisers: in the first half of 2021, ad spending on the platform increased by 21% year-over-year, according to Standard Media Index. Many brands now consider gaming and streaming to be a core element of their marketing strategies. "It's a key part of our spending," said Pringles Europe digital marketing specialist Stephen McSweeney. "Twitch doesn't get all that money, but it is one of our main partners."
Still, said Malph Minns, managing director of agency Strive Sponsorship, "something bad's going to happen at some point for a brand — they're going to have a bad experience. I don't know who that will be or where that will be, but that will be the catalyst for other brands." For this reason, Twitch's move to crack down on controversial streamers is necessary despite the dearth of serious brand pushback thus far.
Under COVID-19 lockdown, Twitch transformed from a game-streaming service into a lifestyle platform, with creators expanding from gaming-specific content into politics, art and even psychotherapy. As the pandemic recedes, these new types of Twitch streamers aren't going anywhere. If Twitch wants to hold onto the gains it's made since March 2020, it's going to have to invest a lot more money — and thought — into how it polices its platform and its creators.
"Twitch has grown exponentially over the last decade," Scott said. "More people were exposed to the experience of livestreaming, and that experience met a critical need for human connection. That's going to drive our growth for a long time yet."