How brands are designing loyalty programs with data in mind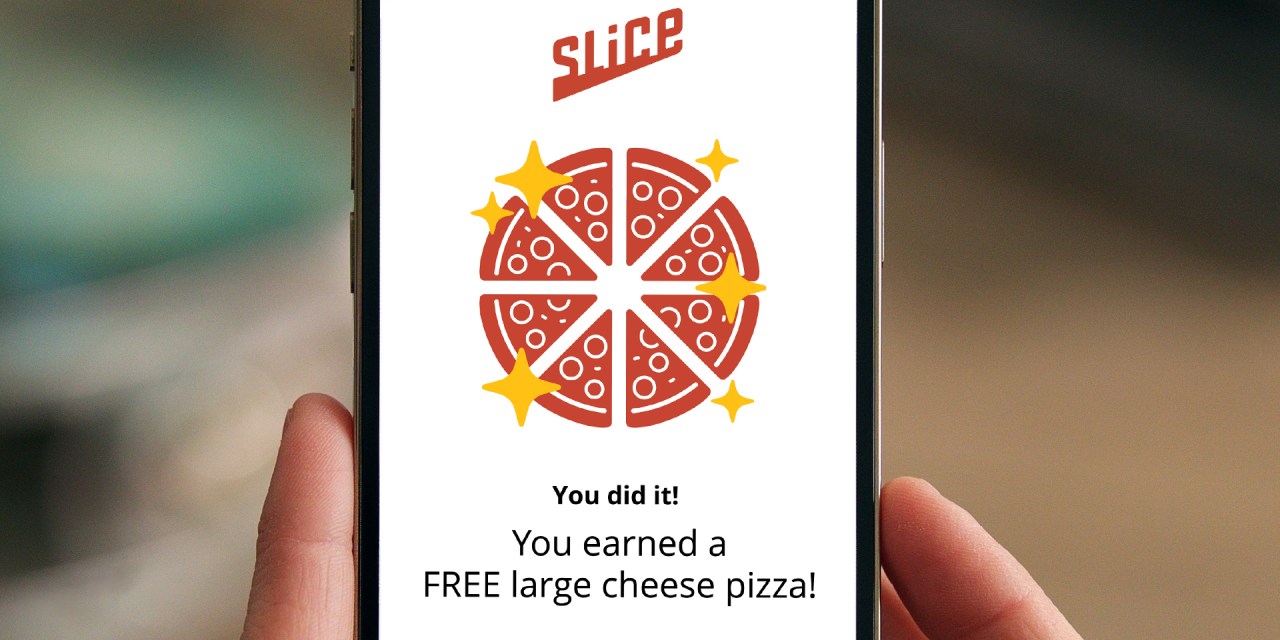 Image via Slice
In-house rewards and loyalty programs continue to rise in popularity, as brands are seeking out new ways to collect first-party data.
There are a few reasons why data collection is becoming the dominant factor in developing loyalty programs. As iOS 14 and the death of the third-party cookie continue to impact retailers' access to consumers' information, more brands are considering a direct approach to marketing. Additionally, some brands also see loyalty programs as key to helping collect data that can better inform future product development. As a result, they are no longer looking at loyalty programs solely to drive repeat purchases, but also to get better insight into their customers' behavior and interests. 
The type of customer data that brands and retailers collect depends on the company's business model. For pizzeria marketplace Slice, they are rolling out a rewards program this month across its national network of restaurants and shops that's designed to help these mom-and-pop businesses get insights on their customers' preferences that would be difficult for them to collect on their own.
Clothing brand Frances Valentine rolled out its FVIP Loyalty Program at the end of 2019, in tandem with launching reviews and referrals features on the site. The company launched the loyalty program after noticing that returning customers spend 67% more per order compared to first time customers, said Frances Valentine's vp of e-commerce Betsy Seale.
The Frances Valentine rewards program has three tiers — silver, gold and platinum — with customers getting more potential store credits when reaching a higher tier. In addition to earning 100 points for joining, customers also earn a point for each dollar spent. After that, a user can earn 25 points for leaving a review, following the brand on Instagram, along with liking and sharing its Facebook page. In exchange for information like birthday and email address, members receive early access to sales and new products.
A year in, FVIP has resulted in redeeming customers making twice as many purchases as non redeemers, with a 55% higher average order value.
"Our rewards program is a large part of our initiative to focus on first party data and decrease our reliance on third party data such as Google and Facebook," she explained. The company is able to use information gained collected from the program to better personalize and segment communication with customers through all marketing channels, particularly email and SMS channels, Seale said.
Based on the 15,000 independent partners Slice works with, Slice Rewards is set to surpass Domino's as the largest pizza rewards program in the country, according to Slice chief product officer Preethy Vaidyanathan. For context, the Domino's Piece of the Pie rewards program currently covers the chain's 6,126 U.S. storefronts. The Slice program is straightforward, with customers earning a free large cheese pizza after eight orders of $15 and over.
Slice is covering the redemption reward cost, in order to incentivize shops to join the marketplace-wide program, Vaidyanathan said. Rewards are also a way for mom and pop shops to gain a better idea on who their repeat customers are via Slice. In participating in the program, operators get to see their repeat customers' taste preferences and order frequency, which can help Slice says can help shops inform daily kitchen prep down the line. The program follows the recent launch of Slice's Pizzeria Score feature, which gives restaurant owners consumer insights like popular items and peak ordering windows.
Many independent pizzerias don't have the capacity or budget to launch their own in-house rewards. "So opting into Slice Rewards allows them to keep customer retention high while complying with digital updates like Apple's latest terms and conditions," she said. 
Privacy is a big factor for brands that specialize in personalized offerings, especially in the health and wellness space. Probiotics supplement maker Seed, which touts clinically-developed studied products, has a rewards program in the works. 
"We're trying to take a mindful approach to building a rewards program," said Seed co-founder Ara Katz.
As part of Seed's rewards program, set to launch in May, customers will be asked to read blogs, take quizzes or share anecdotal feedback on products and packaging, in exchange for rewards like science-based educational courses and access to health experts. "It's a way for them to contribute data points to our research," Katz said. Since launching, Seed has incorporated customers' demand and previous feedback to develop new products.
While Seed has a subscription service, the program will also be open to non-subscribers in the hopes that learning more about the products and Seed's science-based approach will encourage them to subscribe.
To date, Seed's first-party data collection has involved AI and crowd-sourced photography to assess customers' gut health. In the past, the company launched a campaign asking thousands of people to share photos of their stool to build a "microbial health database." Katz said that from Seed's experience, customers are more likely to share feedback when questions are framed within the context of research and development.
More brands and retailers are moving toward asking for data in exchange for rewards, said Len Covello, CTO at Engage People, a loyalty program solution provider for companies like Priceline and Best Buy. Not only do points-based rewards result in repeat purchases, but detailed user profiles help quickly track and solve customer issues, he said.
In most brands' case, the data collected consists of simple information like name, email and address or zip code. "When done well, loyalty programs are subtle and personalized," Covello concluded. Brands can use this information to release timely push notifications, customize customers' carts and develop future products, he said.
Frances Valentine sees its program as a reciprocal relationship. "We're finding that customers like to share their opinions and preferences with us via our rewards community," said Seale. "It's been a great way to learn more about our customers."