How Haven's Kitchen is using QR codes to get more people visiting its website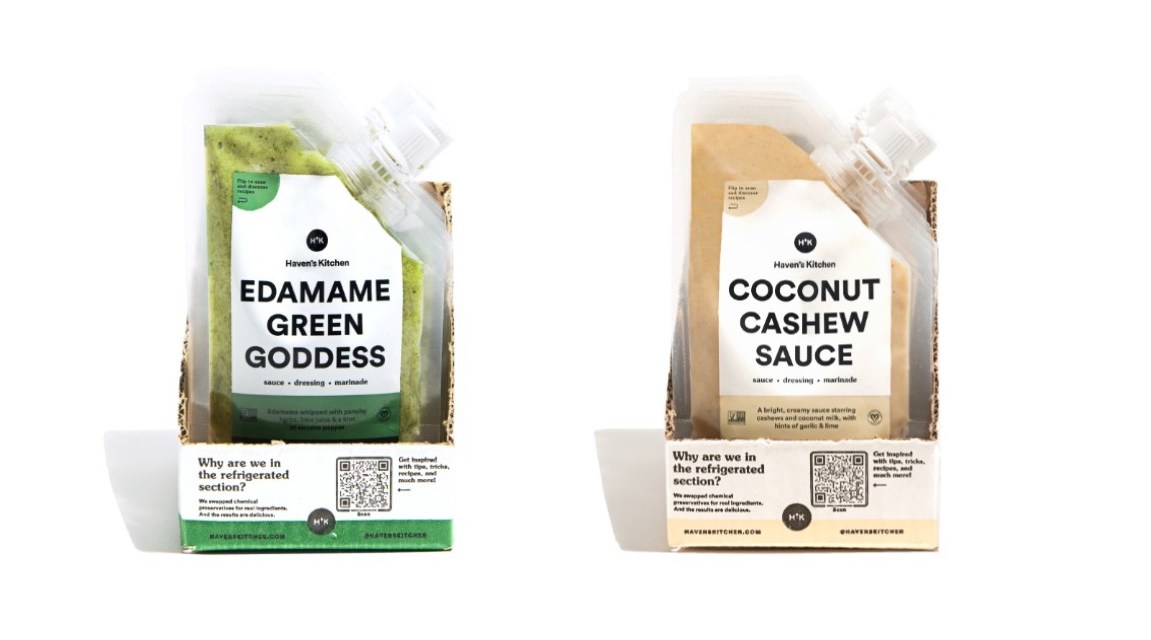 Image via Haven's Kitchen
When the pandemic began, businesses ranging from restaurants to retail stores started embracing QR codes. One CPG brand called Haven's Kitchen has been using QR codes as a way to grow site traffic.
According to a Juniper Research report, about 5.3 billion QR code coupons will be redeemed by the end of 2022 — a figure that has been bolstered by Covid-era usage. In the past two years, some consumer brands increased their usage of QR codes on packaging as a way to trace consumer behavior. Others, like beer company Stella Artois, used QR codes to run brand activations that allowed for social distancing. 
For Haven's Kitchen, which sells marinades, dressings and cooking sauces, QR codes play a more important role in its retail marketing efforts — and gather helpful data about customer behavior. Haven's Kitchen has overhauled its packaging to feature QR codes, which drive customers to a spate of original cooking videos the company has recently started producing. As the food brand draws more customers to its website, it's gaining more insight into how and when they use Haven's Kitchen products.
The Haven's Kitchen line, which first launched in 2018, is currently sold through 2,000 doors in national chains like Whole Foods Market and Target. As Haven's Kitchen expanded its retail presence  — 1,500 of those doors were added in the past two years — sales spiked massively. Sales grew 500% year-over-year in 2020, and 80% the following year.
Now that consumers are accustomed to cooking at home more, founder and CEO Alison Cayne said the brand wants to be a staple in its customers' weekly grocery haul. "Being a refrigerated product, it's hard to scale through DTC," Cayne added. "So we always knew we had to create repeat purchases through convenient recipes." 
In turn, at the end of 2021 Haven's Kitchen began to phase in new sauce pouches and cardboard shelf containers that featured QR codes, which lead back to its website. On each of Haven's Kitchen eight SKUs, a QR code takes the customer to that sauce's tailored recipes and potential ingredient list. The QR codes are also featured on the retail shelves' corrugated boxes, prompting scans for customized recipes. Cayne said the strategy is also in line with food brands increasingly swapping physical ingredient labels for digital QR codes that showcase agriculture sourcing and traceability.
According to Cayne, who began the company as a cooking school, "food content has taken many turns over the past couple of years." With more home cooks turning to outlets like Food52 and social media feeds, there is opportunity for food brands to cut through the noise by making recipes less overwhelming.  
Seeing if customers would actually take a picture of QR codes that contained recipes was an expensive risk to take. "The repacking was a big investment for us, especially because it doesn't necessarily lead to instantaneous new sales," Cayne said. Over the past four months, the company had to redesign and ship out new pouches to retailers. Furthermore, the internal team also created the accompanying recipes in-house at the company's New York test kitchen. "We produced 150 cooking videos to build out an ecosystem around our SKUs on our site," said Cayne.
But early signs show the strategy is working out. Since rolling out QR codes in January, Haven's Kitchen's website is experiencing a week-over-week traffic increase coming from retail shoppers, Cayne said. Engagement with recipes also increased by 70% over the first 30 days the new pouches rolled out, she confirmed. 
New customer behavior data
Currently, Haven's Kitchen isn't primarily using QR traffic to track new sales, but to measure online engagement Cayne said. 
Through QR code-derived traffic, Cayne said the marketing team has noticed some surprising consumption patterns throughout the week, based on scan times. "For example, Saturday and Sundays are two of the biggest days on the site — that goes against my original thesis of when our customers are using our recipes," she explained. Furthermore, traffic also typically spikes around 7 p.m., which indicates customers are already at home looking for a recipe for the sauce SKU they picked. 
Haven's Kitchen has also tested different marketing languages for call to action. For example: instead of "scan for hundreds of recipes," Cayne said they found the simple "400 recipes" to be more eye-catching. "In a few months, if we see dinner time scanning solidify in one direction, we'll adjust our content for it," Cayne said.
On the other hand, some QR usage is reinforcing the company's value proposition, said Cayne. "The QR scans are in accordance with each SKU's sales ranking," she said. For instance, Haven's Kitchen's Golden Tahini and its new Coconut Cashew sauce are popular traffic boosters as well as top sellers. On the other hand, Gingery Miso has few scans but is a popular seller — showing that "people have decided what they're doing at the store," Cayne said.
"Over time, we'll be able to evaluate which recipes and shopping lists people download the quickest and tailor future content for them," she said.
For grocery brands with a small DTC business, retail insight can be hard to come by. This is pushing them to come up with creative ways to figure out who their customers are. 
Rachel Tipograph, founder and CEO of e-commerce analytics platform MikMak, said QR codes are a cheap and effective way for brands to fold physical shoppers into their digital channels.
"The explosion of e-commerce, coupled with channels such as branded video and social advertising, are creating the golden age for QR code-based engagement that's shortening the path to purchase," Tipograph said.
Tipograph said that many CPG brands began including QR codes on product samples so that shoppers can learn and buy more, as well as using them in CTV ads to unlock access to special pricing and promotions; Tipograph pointed to recent MikMak campaigns for Monster Energy and Arizona Sunrise as examples. "We've even had brand partners use them on billboards and advertising within airports," she said.
For Haven's Kitchen, after years of growth, staying relevant on retail shelves is the next challenge.
"Everyone is trying to figure out the nexus of content, commerce and community," Cayne said. "We're trying to build a grocery brand using digital content customers can come back to every week."