How Old Spice takes cues from Harry's and Bevel with its new barbershop-style content studio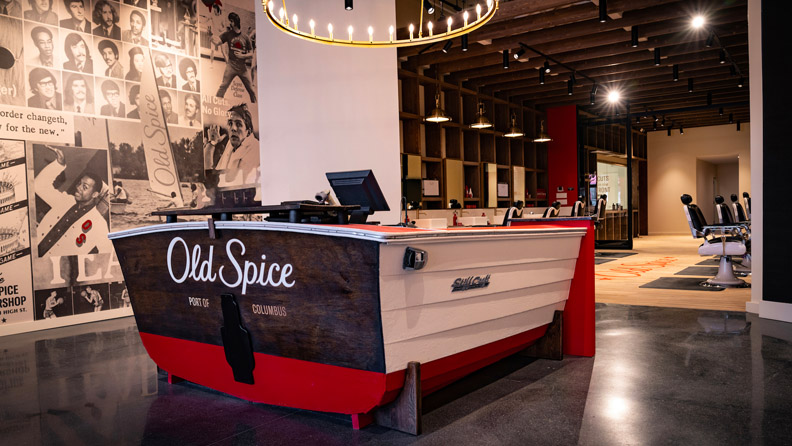 Old Spice is bringing its grooming products to a flagship barbershop.
Next month the Procter & Gamble owned brand will open a digital content-focused studio near its headquarters in Columbus, Ohio that doubles as its first barbershop. In the announcement, the brand said the location will serve as a digital content studio, retail store and testing lab. Old Spice said it will bring on celebrity hairstylists via a residency program; Other influencers, including entertainers and athletes, will also be recruited to appear in or create content at the shop.
This program takes pages from pre-coronavirus experiential marketing playbooks, and looks similar to some launches from earlier startup retailers. For example, it follows in the footsteps of challenger grooming brands, like Bevel and Harry's, in creating a popup physical space in which customers and creators can interact.
This comes as the brand faces some headwinds. Over the last year, Old Spice reported decline in sales due to a lower demand for replenishment during the pandemic. Despite seeing a surge of bulk buying of coronavirus-focused products like toilet paper and soap, Procter & Gamble cited more frequent laundry loads and at-home cleaning as reasons for lower toiletries sales. By July 2020, P&G's beauty and healthcare segments — which include brands like Olay, Pantene and Crest — grew at 3% and 2% slower rates compared to earlier in the fiscal year.
Despite ongoing Covid-19 restrictions, Old Spice Hair's brand director Leif Edgar told Glossy that the company expects 50,000 visitors at the store during the first 12 months. The brand is also hoping to capitalize on the dense college town demographic, thanks to nearby campuses like Ohio State University.
The move is a testament to the impact that direct-to-consumer brands' marketing strategies have had on big CPG conglomerates. In past years, both Harry's and Bevel have opened branded salons to cater to their respective customers' shaving needs.
Harry's opened its New York City barbershop in 2013, offering customers haircuts and shaving services using Harry's products. Ultimately, the concept store closed in 2018; a year later the company's co-CEO described the experiment as "marketing for us."
Meanwhile, Bevel launched its pop-up barbershop in early 2019 inside Brooklyn's Barclays Center as a brand awareness driver during highly trafficked events. Old Spice's barbershop follows a similar strategy, in that it's located on main shopping street next to Ohio State University.
Norm Chait, director of out-of-home at marketing platform Ubimo, a Quotient brand, said that Old Spice's pop-up initiative aligns with the latest physical retail trends. "Even with the upswing of e-commerce, many savvy marketers recognize consumers still largely prefer shopping in the physical world when it comes to CPG brands," Chait explained. He added that a centrally located barbershop "presents a viable way to encourage increased and localized engagement."
Consumers are looking forward to a post-vaccine world. According to HRC Retail Advisory's latest report, "the second half of 2021 will see the unleashing of pent-up demand for entertainment, eating out, travel, work apparel and other discretionary categories that have been hardest hit." "Experiential initiatives will be a welcome reprieve," Chait said.
Chris Walton, a former vp at Target and co-CEO of retail co-working space Third Haus, said that, ultimately, this is a way for Old Spice to both pique consumer interest and beta test new products. "I can also foresee potential branded partnerships or retail shop-within-shop concepts," he said.
Walton added that there are also growing opportunities for CPG brands to establish presences in the service space. For example, detergent maker Tide has found a franchising niche in licensing its products at dry cleaning and laundromat operations.
Like other legacy CPG brands that have experienced with concept stores, Old Spice is looking for new ways to make the brand more relevant to consumers. Past examples include Coca Cola's opening of the World of Coca Cola tasting room and museum, which also sells branded merchandise. But, of course, it likely won't be a permanent program."At the end of the day, I doubt Old Spice is getting into the barbershop business longterm," Walton said.