Inside the rise of digital sampling sites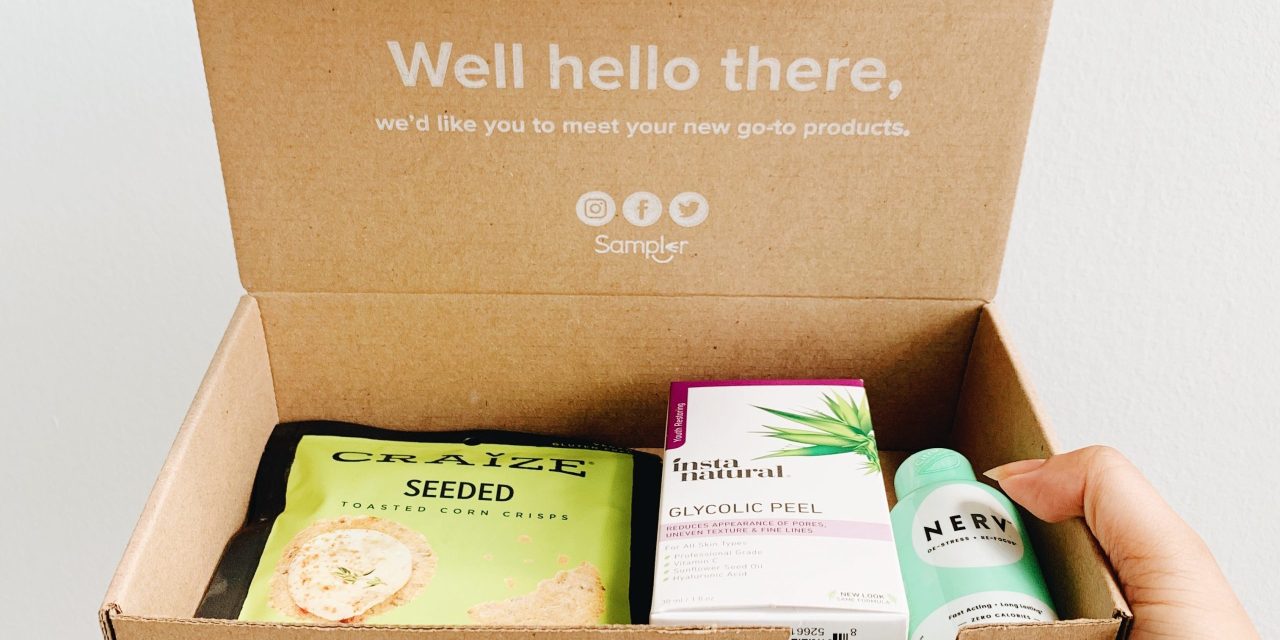 Image via Sampler
Food and beverage free sampling is going beyond the in-aisle table. 
Among other in-store shopping features, the coronavirus pandemic wreaked havoc on free sampling — particularly in the food and beauty spaces. While in-person samples have returned in modified forms, some brands are trading product stands for a more data-based approach. 
Several online vendors, such as Social Nature, Sampler, PinchMe and Sample Source are offering samples to customers at home in exchange for insight to be shared with the brands. This strategy is a departure from traditional retail sampling, which can draw distracted shoppers offering little to no feedback. And, according to these companies, CPG brands are increasingly turning to them for their services. 
These websites work in different ways to get samples to users' homes. For instance, Social Nature offers users free product coupons for products that they can redeem at local retailers. Others, like Sampler, send customers a box of free product samples based on their interests. The companies charge brands a fee for being on the platform in exchange for consumer insight. Meanwhile, customers must consistently rate and review their products in order to continue receiving new ones.
A more effective way to offer samples
Social Nature, a digital sampling site that offers users product vouchers in exchange for feedback, says it's seeing increased interest from CPG brands. "Digital sampling allows brands to give out free products while capturing honest reviews," said Jessica Malach, vp of partnerships and insights at Social Nature. "We also help point retail buyers to concrete customer data." 
The idea is to make sample more targeted — seeking out a more fitting audience, as opposed to collecting reactions by giving out free samples, "which tend to be anecdotal," Malach said. "We can target more specific users based on their dietary preferences and product interest." For example, a Social Nature user interested in receiving keto products is only served coupons for keto-friendly items. 
After trying the product, Social Nature users are then asked to rate and review it, along with answering questions on whether they're likely to repurchase the item. The reviews can also be integrated across the brand's other point of sales sites. 
Social nature finds new users via SEO searches for healthy products, reviews and social referrals from online users. The company also gets in-bounds user signups from brands' own promotions, which point customers to Social Nature for free samples. Social Nature's user base grew from 550,000 in January 2021 to 710,000 as of October 2021.
The format is getting popular among CPG brands; to date, the website has had about 500 brands use its service.  Since 2019, Social Nature's revenue has tripled, Malach said. "We've also doubled our team size to meet demand."
Using sampling data to attract retailers
Tyler Mayoras, co-founder and CEO of frozen wrap brand Cool Beans, said that when the brand launched in 2020, there were virtually no in-store product demos occurring. That was one of the reasons the company went to Social Nature for digital sampling, Mayoras said. "As a young unknown brand, you have to get product into consumers' mouths to drive brand awareness and trial," Mayoras explained. However, he agreed that in-store sampling tends to be "quite wasteful and hard to track its effectiveness." 
Since debuting on the platform, in tandem with a launch in several grocery chains, Cool Beans has received early feedback through its Social Nature page. The survey asked testers questions such as what other products they've tried, why they chose Cool Beans and whether they'd buy it again. "In-store, you might get some of that from conversations, but very little of that info will make it back to decision-makers like buyers and distributors," said Mayoras.
So far during 2021, Mayoras said "we've received over 6,000 reviews of our products," with around 85% of those being positive reviews. "We can send retail buyers, investors and partners to the site so they can see what people think about Cool Beans," he said. "With that much positive trial, we're hopeful that we're building a large cohort of repeat purchases."
Another startup that used the service, Sweet Nothings, said the data from digital sampling helped it get inside retailer doors. Sweet Nothings, which sells spoonable smoothies, was forced to pivot to retail when the pandemic hit. Going from servicing corporate workplaces, like Apple and Goldman Sachs, to launching at retail stores, created a new challenge, said co-founder Jake Kneller. An initial sampling campaign nearly 32,000 Social Nature "interested in trying" sign-ups.
According to the company, this helped the brand launch in West Coast-based Erewhon earlier this year and into Kroger stores in August. "The data helped us show retailers that their customers are interested in our product," Kneller said.
Many different ways to offer free samples
Sampler, which offers users monthly sample boxes in exchange for reviews, says it has also seen growth in the past 18 months. Sampler works directly with brands — such as Nutella, Annie's and Dove — and has recently begun partnering with retailers. In turn, consumers receive between three to five free samples, which they can then rate and review within a few weeks of receiving. 
Christine Smith, director of client success at Sampler, told Modern Retail that while safety is a big concern, their users use it to discover new products from the comfort of their homes. "We recently found that 76% of our users use Sampler to try new products they normally wouldn't buy, compared to 70% in 2020," Smith said.
"Digital sampling democratizes the experience for small brands competing with large CPG companies," said Smith, pointing to the service's latest offering, which is comparable in pricing to in-store sampling. The platform has worked with 570 brands and has a potential reach of 50 million consumers, she said.
While Sampler promotes its own service via search ads, the company also relies on media partnerships and affiliate links that drive users to its site. The app also has an active social media presence, where customers are encouraged to share photos of their products. Smith said that there is no penalty for negative rating and reviews. "We also have 'freebie blocking' on to prevent websites from claiming free samples." 
Despite the innovation in the samples space, the solution isn't replacing traditional samples. It's also not the be all, end all for driving sales, Smith said. "We caution brands that these campaigns aren't necessarily instant conversion metrics," she said, explaining that for young brands, Sampler is presented as another marketing play. "I don't think in-store samples will ever go away, but digital is becoming another solution."