'The consumer of the future': Luxury brands place their bets on Gen Z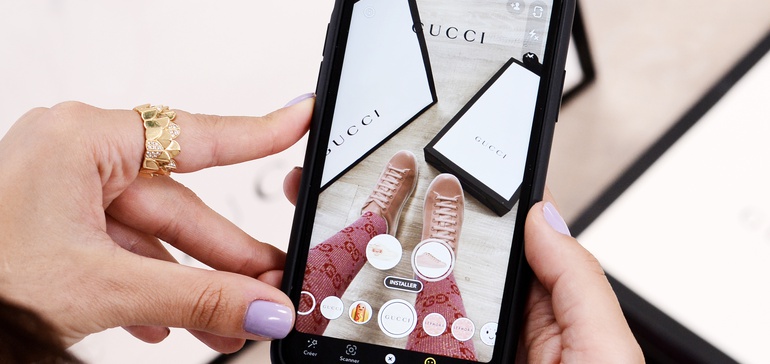 Luxury has its eyes set on the Gen Z.
SK-II, a Japanese luxury skincare brand known for its $185 facial treatment essence recently released a new marketing campaign, featuring Gen Z celebrities like K-pop star Mina of Twice. Gucci has been planning a virtual world for Gen Z consumers in the metaverse, recently purchasing an undisclosed amount of land on digital real estate platform The Sandbox. YSL Beauty announced in February that it tapped actor and model Indya Moore to be its newest U.S. brand ambassador, as part of a marketing campaign to reach Gen Z consumers.  
Gen Z's influence on brands is growing, including luxury. That's driving brands to tap into new digital marketing channels and experiment with new concepts like the metaverse, in order to reach this cohort with growing purchasing power, experts said. In The RealReal's 2021 Luxury Resale report, Gen Z was the demographic with the largest buyer and consignor growth at 33% and 86% year-over-year, respectively. Eyeing the opportunity, luxury brands are increasingly seeking the favor of Gen Z consumers, a demographic they've historically ignored.
"This is really the consumer of the future," said Hana Ben-Shabat, CEO and founder, Gen Z Planet and author of the recently published book, "Gen Z 360: Preparing for the Inevitable Change in Culture, Work, and Commerce." "We already have a substantial number of Gen Z globally in the workforce. They're starting now to earn their own money and to make their own spending decisions, and that means that there's going to be a pool and a wallet to tap into," Ben-Shabat said.
Gen Z consumers' disposable income has reached an estimated $360 billion, according to a study from research and advisory firm Gen Z Planet released late last year. Prior estimates indicate Gen Z's spending power is at $143 billion, underscoring how the opportunity to cater to this demographic has been overlooked, the study indicates.
Alex George, chief product officer at Emplifi said that the growing influence of Gen Z consumers came from a more recent shift of wealth within demographics. And even if some Gen Zers can't afford luxury products, brands can at least build brand loyalty. "As with every young generation, if they are acquired while they're in their early 20s, they're much more likely to be brand loyal over the next 20-30 years," George said. "Building their brand loyalty early is incredibly important to all of these brands, especially luxury brands."
Brands attempting to woo younger consumers is nothing new. Luxury brands like Gucci, Saint Laurent and Louis Vuitton, have previously utilized social media — particularly Instagram —  to attract millennials the same way they're doing now with Gen Z. Millennials and Gen Z are expected to make up 50% of the total luxury market by 2025, according to 2021 data from market intelligence company NetBase Quid.
But what has changed is which platforms members of  Gen Z are spending the most time on. Brand partnerships with Snapchat and teaming up with TikTok influencers have become common ways for brands to reach Gen Z quickly and cost-effectively. In a Pew Research Center study from last year, 65% of 18- to 29-year-olds said they used, while about 48% said they use TikTok. 
"Brands are finding that, especially in collabs with Tik Tok or Instagram or other such channels, they're able to kind of build a following then have a level of virality to them," George said.
Versace, for instance, has grown a following of over 661,000 on TikTok, posting runway show content among others. Meanwhile, Burberry has over 1 million followers on the short-form video-sharing app. 
Gen Z's purchasing power is also evident in how many luxury items have sold out after going viral on platforms with a large Gen Z user base. Kate Spade's heart-shaped bag, for example, sold out last year after going viral on TikTok last year, despite its roughly $349 original price point.
Luxury brands have always invested in in-store experiences, but as of late, they're also looking to invest in more unique online shopping experiences. Last year, Farfetch partnered with Snapchat to provide an immersive AR shopping experience, utilizing technologies like 3D Body Mesh and voice-enabled controls. Prada and Gucci have also entered similar partnerships with Snapchat. 
"The clientele [these brands] are marketing to, the younger generation, have a tendency to go online," Joe Ayyoub, chief revenue officer for IT service and consulting firm Search.io said. "They're more online-friendly than the other generations." 
Ayyoub said it is easy to lose the attention of Gen Z consumers, especially if the digital shopping experience isn't smooth. "In other words, if the consumer, especially the more techy and the more device friendly [ones], is on the site and they cannot find what they want easily and quickly, they can quickly abandon the site."
Getting Gen Zers to spend
The demographic's disposable income may be a good enough reason for brands to dedicate a portion of their marketing budgets towards attracting Gen Zers, but getting them to spend is another challenge. 
For one, many Gen Z consumers are value-based shoppers, which means they tend to shop with brands that align with their personal beliefs such as sustainability, Gen Z Planet's Ben-Shabat said. 
In response, several brands have been influenced to embark on planet-friendly initiatives. The Armani Group, which houses brands like Giorgio Armani and Emporio Armani, announced in December that it is banning the use of angora wool as part of its fur-free policy.
"We are seeing a lot of luxury players talking about how to decrease the impact they have on the environment," said Ben-Shabat. "A lot of those talks are not there five or 10 years ago, and I think a lot of it is thanks to Gen Z.
Additionally, not all marketing tactics are effective. In ​​Tiffany & Co.'s attempt to court Gen Z last year, the luxury jeweler unveiled a campaign, dubbed "Not Your Mother's Tiffany." The company received backlash from its followers, who felt like the brand was dissing its current customer base, saying they didn't need moms as customers anymore.
"Brands tend to think that the strategy that worked for them really well with millennials can be replicated with Gen Zers," Ben-Shabat said. "This is a big mistake because Gen Z is not millennials… or any other generation on repeat. They are unique and you really have to understand their point of uniqueness."