Podcasts
// September 2, 2021 ■ 4 min read
'The perfect storm': How Brunt is building a DTC apparel brand for trade workers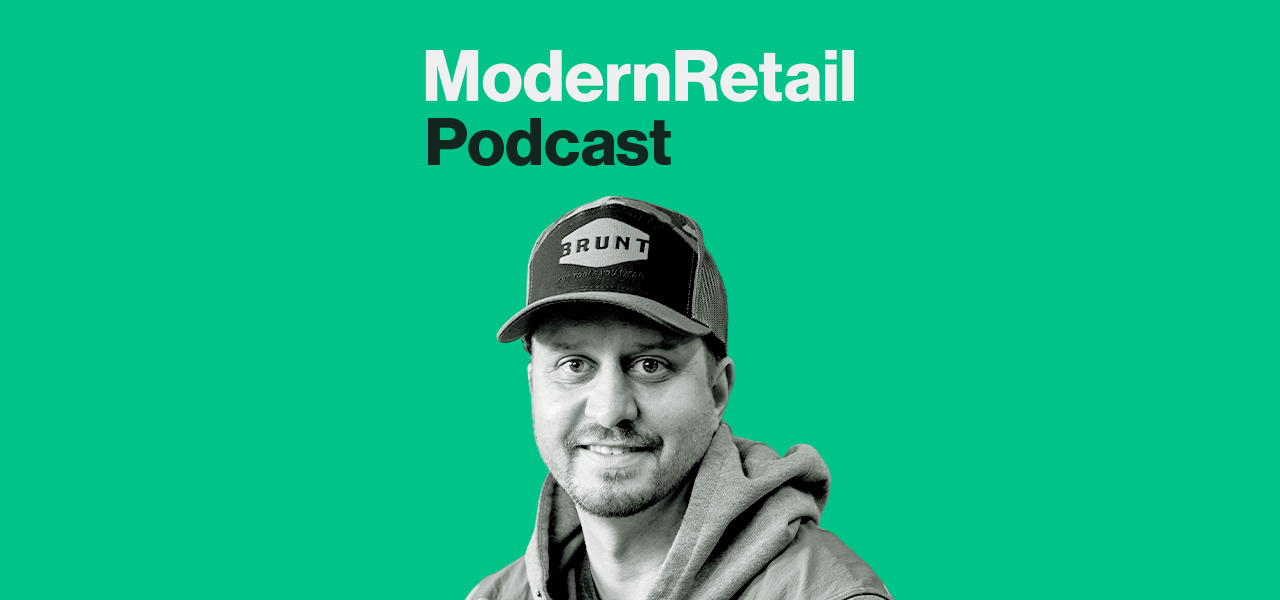 Subscribe: Apple Podcasts | Stitcher | Google Play | Spotify | RSS
Eric Girouard hadn't planned on launching his company during a pandemic, but that's what ended up happening.
Girouard is the founder and CEO of Brunt Workwear, an online apparel company that began selling its first products — work boots — a year ago. While Brunt had been in the works well before the coronavirus first hit, Girouard was faced with a decision in March 2020 of whether or not to delay the launch. Ultimately, he decided against it — and, in fact, did the opposite and ended up launching earlier than planned.
He joined the Modern Retail Podcast this week and discussed how the last year has gone.
Sales thus far have been good. "We've consistently grown 63% month-over-month since we've launched," said Girouard. Brunt was able to grow because people in the trades have had to continue working, pandemic or not. "There was about a two-week [work] hiatus," he said. "And then a lot of our core customers — the real construction worker, the trades worker who was really building the economy in the country during one of the most challenging times — were deemed essential." What's more, most of these people had purchased their work gear in person at stores, but they were forced to find new products online. Those two issues meant that Brunt had a possible way to enter the market.
Another big facet of Brunt's strategy is its brand ambassador program. Before Brunt launched, Girouard spent hundreds of hours seeking out influencers in the trades. These weren't your usual Instagram-famous accounts — they were people who recorded themselves doing grueling work and amassed an audience of fellow workers. These are the accounts Girouard wanted repping the Brunt brand — and this growth strategy, he said, has worked.
While Girouard is happy with the current trajectory, he's excited to get Brunt's name in front of more people. "At the end of the, day being less than a year old, less than 99% of the country knows Brunt Workwear exists yet," he said. "We're just so early in our life cycle."
Here are a few highlights from the conversation, which have been lightly edited for clarity.
On launching during the pandemic
"[When the pandemic first hit], some of my investors were calling me telling me to freeze everything, to keep whatever money we had left in the bank to ride out the pandemic, and then to pick things back up afterwards… [But] we also had industry information from our partners who help us on the boot side that boot sales weren't slowing down at all. It was [just] shifting from going into stores to online. So this customer who might not have wanted to buy online before is now finally testing out the world of e-commerce… It was like the perfect storm… So, instead of launching right before the holidays last year, we accelerated and were trying to get the business launched sooner. We actually ended up getting it technically shipping in early September, and we had some pre-marketing in August."
TikTok is the next social frontier for the trades
"I'm really deep on Instagram — it's kind of like my bread and butter. We had both Facebook and Instagram [when we first launched]. Now customers are pretty voracious on TikTok — especially my buddies. They kind of were late to the Facebook and Instagram game, [which was] led by fashion and food and all those pretty pictures that you've seen. When TikTok came out, they kind of went crazy. A lot of these guys can shoot [videos] while they're driving around from job site to job site — so they can shoot them on the job. They have a lot of interesting stuff going on. [When we launched] the business, it was mostly Facebook and Instagram, but if I were to do it today, TikTok would be a critical part of that, because [the trades] have adopted it in droves."
How Brunt sourced its brand ambassadors
"It started with me spending tens of hours per week — especially last summer — just going down rabbit holes… After you spend enough time, you eventually start to navigate how all these different worlds work: Here's who the players are, here's [someone] who — maybe they're not huge — but they create incredibly good content, and they spent a lot of time on editing and all that stuff. I wish I could say there was an easy answer. But it's just literally putting in hundreds and hundreds of hours over the course of a couple months to really understand the landscape."