West Elm is launching a new influencer network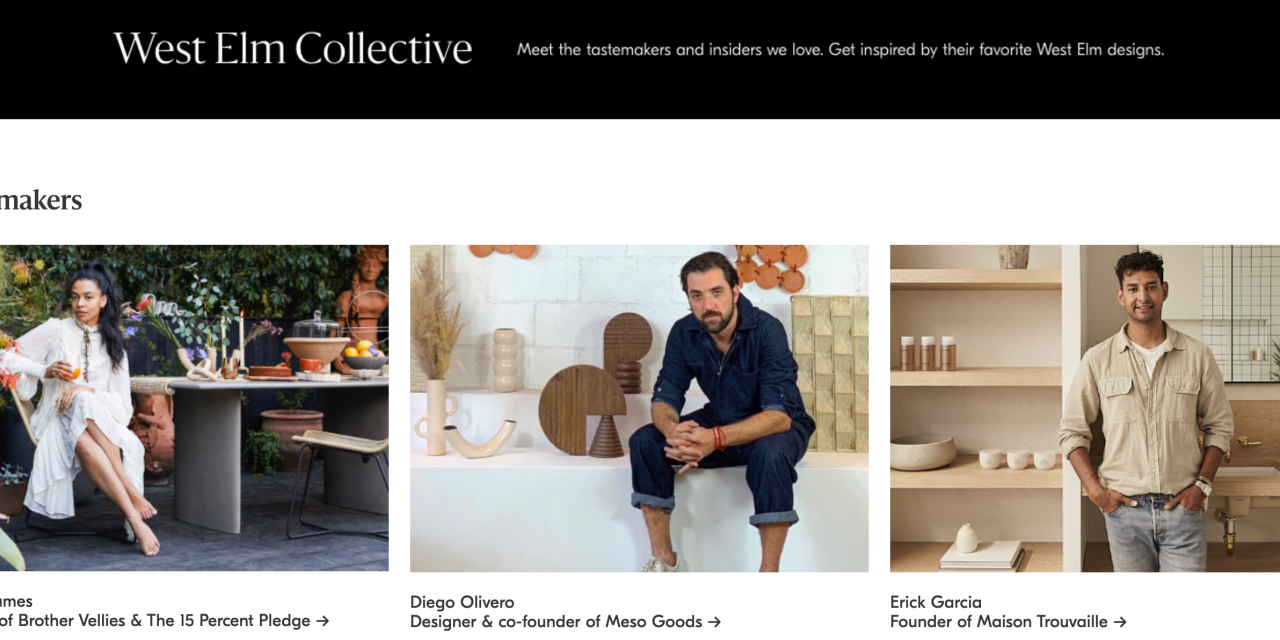 West Elm is doubling down on its influencer strategy.
Today, the Williams-Sonoma-owned homewares brand announced a program called the West Elm Collective. The company described it as an ambassador program that will allow both bigger and smaller online celebrities to create their own storefronts on West Elm's website, featuring their favorite items.
"This is taking our influencer marketing strategy and building upon our legacy of being a digital first brand," said West Elm's vp of PR and marketing Dru Ortega.
The ambassador program consists mainly of two developments. One involves a network of influencers that West Elm works with. Now, these personalities not only run social campaigns with West Elm but have their own standalone shops on the West Elm website.
Second, West Elm is launching a new portal that lets anyone apply to be part of this ambassador program as it expands. For the application, the company asks potential partners to connect their social media accounts as well as answer questions like "What mantra accurately describes you?" (Provided answers include: "I want to experience as much as possible throughout life and embrace the unknown" and "Life is trial and error. Don't fear learning and sometimes failing in the process".)
The questionnaire also asks about the applicants' current living situation (house, apartment, townhouse or condo), along with other personal tidbits like sexual identity and relationship/pet owning status. All this criteria is used to determine if the person would be a good fit for the ambassador program.
West Elm groups its influencers into two buckets: tastemakers and insiders. Ortega described tastemakers as authorities on certain topics — from cooking to fashion to philanthropy. Currently, West Elm is working with Aurora James, founder of the 15-percent pledge, as well as Maison Trouvaille founder Erick Garcia.
Ortega said insiders were "everyday creators." That is, they likely have smaller followings than tastemakers yet are still successful online personalities.
Follower counts for both tastemakers and insiders range from as few as 23,000 to over 200,000. In a follow-up email, West Elm said it determined influencer partners based on "their distinct style and points of view."
Both of these groups are able to curate their shops on the West Elm website and earn a commission on any sales transacted through them. The company would not disclose its commission rates. "The beauty of the program is that it's not prescriptive," said Ortega. "We allow them to select their personal style." With that, ambassadors get early access to product launches and catalogs, giving them the ability to add new items to their shops.
Over the last few years, West Elm has been working at updating its partnerships and marketing strategy. It has announced collaborations with DTC brands big and small — such as weighted blanket brand Bearaby and puzzle maker Piecework Puzzles — as a way to freshen its merchandise and include other brand voices that haven't traditionally been represented by the brand.
These programs seem to be working out. At its most recent earning, Williams-Sonoma said that West Elm saw 25.2% comparable revenue growth year-over-year in the fourth quarter of 2020, and that e-commerce for the entire umbrella brand grew 47.9% year-over-year as well. At the earnings call, Williams-Sonoma CFO Julie Whalen described West Elm as "our largest growth initiative."
West Elm isn't the only brand that's focusing on bridging e-commerce and influencer marketing more systematically. Lingerie brand AdoreMe, for example, has built out its own self-serve influencer platform as a way to forge deeper connections with online talent.
These developments, said Igor Vaks, founder and CEO of the influencer marketing platform CreatorIQ, are indicative of brands more clearly understanding integrating influencer campaigns. "What used to be shiny experimental budgets with influencers has become part of the mainstream performance programs," he said. "It used to be that people measures [campaigns] with vanity metrics, now they are expecting metrics that start with dollar signs."
As a result, Vaks said, "we're seeing a blending of big media programs and a blending of traditional influencer programs." E-commerce, he went, is the tying bind of it all.
According to Ortega, the ambassador program is still in its infancy. With this first crop of influencers, the hope is to test it out and see what works. "What I love about the program is that it will evolve," he said. "We're already thinking about [future] programming — what does IG Live look like? What does a live selling platform look like?"
The idea is that with a codified program, influencers will have more skin in the game. "We created this program to say we can go a little bit deeper and offer them our platform," said Ortega.