Why brands are going all in on direct mail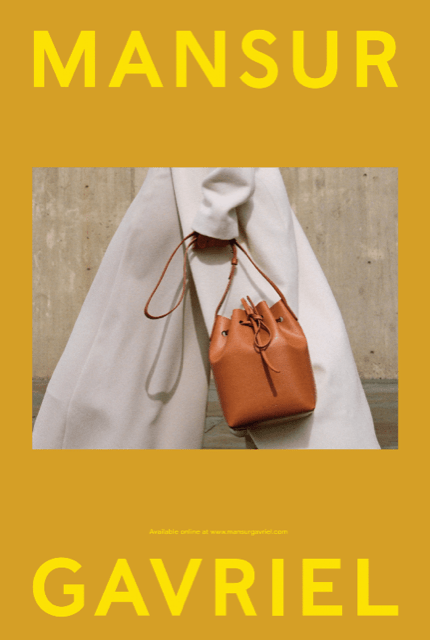 Mansur Gavriel
Direct mail continues to be a popular choice for digital brands.
For example, nearly a decade after launching its designer handbags, Mansur Gavriel is debuting its first direct mail campaign. This month, the brand is sending out a 32-page, 6×9-inch direct mail book. It will feature past and present editorial campaign imagery, as well as original artwork inspired by the brand's flagship bucket handbag.
"As more brands get online, the business reality is that the cost of digital is rising significantly," CEO Isabelle Fevrier told Modern Retail. In turn, digital has made it harder to tell the full brand's story without continuous spending, she explained. 
Indeed, more brands are turning to direct mail as a way to diversify from other advertising channels. Polly Wong, president of marketing firm Belardi Wong, which specializes in direct mail, said there is more appetite for the medium than ever before. Over the years, Belardi Wong launched over 200 DTC brands' direct mail strategies, working with brands like UnTuckit, Bombas, Birkenstock and Arhaus Furniture. This year, Wong said, the brand added many new brands to its client roster.
"We're up double digits because there's a major targeted at-home audience right now," Wong said of the pandemic. Wong cited the "volatile and expensive digital marketing scene, which can increase in cost anywhere between 20% and 40%." In contrast, direct mail catalogs have a standard set rate; For example, a mini catalog costs about 48 cents to mail, including postage. "That's still much cheaper than a Facebook click," Wong said. According to the agency, in 2020, 93% of direct mail clients reported an increase in year-over-year sales. This year, 73% plan to increase marketing spend, while 23% plan to increase promotions.
Direct mail isn't new for digitally native bands — many well known companies have embraced printed mail material over the years. Several DTC brands, including furniture seller Article and DTC bedding brand Brooklinen, have said in the past that the marketing medium has been an important part of their advertising arsenal. 
One of the biggest issues with more analog advertising campaigns is attributing a sale. But brands have been getting creative over the last year in assessing the conversion, Wong said.
The digital advertising market has been in a state of constant flux over the last year. The cost-per-Instagram, for instance, has continued to rise, averaging around $0.80 but can reach up to $3.00. Meanwhile, according to the Out of Home Advertising Association of America, national out of home campaigns can have some of the highest ad costs, with $3.38 to $8.65 per thousand impressions.
Brands are also seeking advertising alternatives as a way to prepare for upcoming privacy changes such as iOS 14. The changes, in which app developers will be required to ask iPhone users' permission to track their data across the web, is set to make it more challenging to target users digitally. All these factors are giving retailers more reason to seek out more diversified advertising strategies.
Andrew Gifford, chief marketing officer at Naked Cashmere, told Modern Retail that print lends itself well to fashion photography while mimicking e-commerce branding. "It legitimizes a brand to a high income household much more effectively than Instagram could," he said. The decade-old company first pivoted from wholesale to direct-to-consumer in 2016. One year in, the brand decided to test out direct mail; it now makes up 30% of Naked Cashmere's overall marketing budget. Naked Cashmere recently added printed QR codes to easily drive and track the customer journey from print to e-commerce.
Last spring, when the coronavirus outbreak began, women's fashion brand Frances Valentine released its first catalog. The rollout was planned before the pandemic, but with the brand's three stores closed, the timing was perfect for capturing both existing and new at-home customers, said co-founder and CEO Elyce Arons. "We're seeing many older shoppers come to the site via the direct mail material," she said. "We've also had to do less e-commerce discounting because of it." 
Frances Valentine ended up exceeding the catalog's original forecast sales by 215%. The company then quickly released September and November lookbooks, which both performed double the expected conversion rate. The plan is to continue releasing direct mail more regularly, including twice the number of catalogues planned for 2021 compared to last year.  
The latest direct mail campaign — arriving on March 15 — mirrors the demographics of the brand's best customers, Mansur Gavriel's Fevrier explained, which are young women in major cities and nearby suburbs. The strategy is to hit 60% of prospective and 40% of existing customers' homes. This is based on past customers' data, as well as indicators like zip code and household income demographics. "We expect impressions to rise significantly in the coming weeks," she said, with plans to then pivot or amplify direct mail depending on ROI rates. 
Direct mail marketing is gaining momentum among newer and older brands, especially as tracking is improved. Right now, the field is still ripe for brands to test the method out — before mailboxes become overcrowded. "Obviously, if every brand was doing direct mail, we wouldn't be as successful at it," Naked Cashmere's Gifford said.