Why non-alcoholic beer brand Athletic Brewing is tapping college athletes as influencers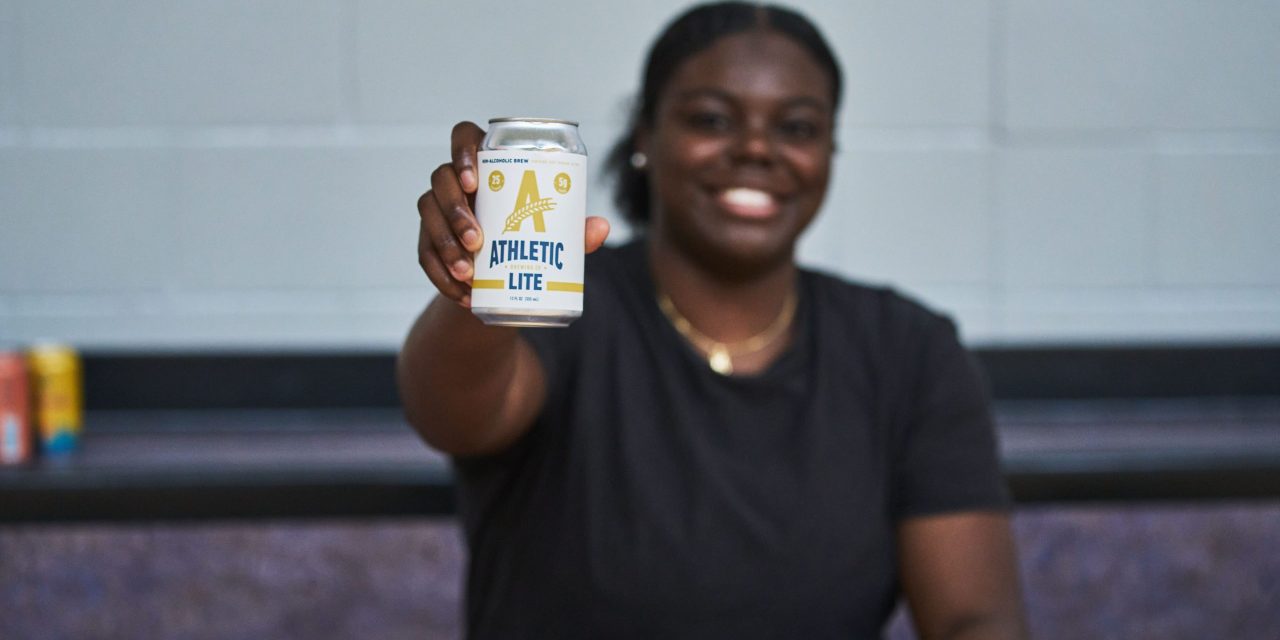 Athletic Brewing
Scroll down the official Athletic Brewing Instagram page, and plastered throughout its profile are the familiar faces of some of the top college athletes in the country. 
The non-alcoholic beer brand formed partnerships with Texas Longhorns running back Bijan Robinson, Ohio State quarterback CJ Stroud and South Carolina women's basketball guard Brea Beal. On Instagram, some of these college athletes can be seen holding a can of Athletic with "paid partnership" written beneath their usernames.
Less than a year ago, partnerships like this that would allow college athletes to profit off of their names, images and likenesses (NIL) weren't possible for any brand. A mix of new state laws and a policy change from the NCAA that took effect in July allowed these deals to take place. Athletic Brewing had been one of the brands that jumped on the opportunity early on, allowing it to snag influencer-like deals with top college athletes to promote the brand and drive engagement.
"We always want to try and be first," Athletic Brewing chief marketing officer Andrew Katz said. "We're not afraid to try things and have them not turnout. But the thing that we don't like to do is sit on the sidelines."
Established in 2017 as a company catering to individuals who maintain an active lifestyle, the company sells a variety of non-alcoholic brews, including Athletic Lite, Trailblazer Hoppy Helles and Cerveza Atletica. The company declined to disclose its revenue in 2021, but Athletic's sales in 2020 grew 500% from the previous year to about $15 million in revenue, according to Bloomberg. Athletic has raised $67.5 million in funding to date.
Athletic began working with college athletes in the fall en masse, starting with football players like Isaac Taylor-Stuart, Bredan Galloway and Darien Rencher. Then the company began enlisting men's and women's basketball players. Athletic has had NIL deals with at least a dozen college athletes and 50 professional athletes.    
Katz said the contractual agreements for every player can vary, but typically, Athletic does photo shoots and video shoots with players. The company has made promotional videos with Stroud and Isaac Taylor-Stuart, for instance, where they are seen training and talking about why consumers would be interested in Athletic beers.
Other times, Athletic will invite these college athletes to its podcast, called Without Compromise, where guests can share intimate personal stories. For example, South Carolina's Beal shared how she discovered her talent in basketball in a podcast episode in March.
When looking for college athletes to partner with, Katz said Athletic looks for student-athletes whose values align with the brand in addition to having a broad social reach and influence. "We're a very mission-driven company, and they have to subscribe to that, in order for us to want to work with them in the first place," he said. "I think it's easy to see, especially these days, when something is just purely a transactional relationship."
Forming partnerships with college athletes is part of Athletic's broader strategy to build brand awareness. These athletes appeal to a lot of Gen Z, millennials and sports fans, which is a target demographic for the company, he said.
Ryan Detert, CEO of influencer marketing firm Influential, said that some college athletes may have a lower follower count than a typical influencer, but their engagement rates can be equal or higher than some social media personalities because of the buzz happening on campuses and sports fans commenting on their performance. Unlike influencers, however, college athletes may need more guidance on how to create content.
"You have a highly engaged college athlete that has both national appeal and really importantly, local appeal," Detert said. "When they become the big man or woman on campus, they have a tremendous amount of clout."
Other brands are also vying to ink deals with college athletes. Columbus, Ohio-based apparel retailer Express last week named Ohio State's Stroud and Jaxon Smith-Njigba as its first collegiate athlete style ambassadors. Adidas also unveiled a new NIL network in March, that would let 50,000 college athletes be paid affiliate brand ambassadors. 
Some NIL deals are worth millions. In August, Ohio State freshman QB Quinn Ewers signed a $1.4 million NIL deal with GT Sports Marketing. Last month, sports publication The Athletic reported in March that a five-star recruit had signed an NIL collective that could pay the student $8 million by the end of his junior year in college.
Hannah Cameron, head of corporate communications at influencer marketing platform #Paid, said that finding student-athletes to partner with is growing increasingly competitive for brands. 
"It's getting more and more competitive because everyone knows who the top schools are and who the top athletes are," she said. "So you can imagine how many brands want to work with them."
Experts say partnering with student-athletes is attractive for brands who want to establish a relationship with these athletes early on before they go on to be professionals. Brands are estimated to spend up to $579 million in NIL deals in its first year, according to data from Front Office Sports.
In the long run, Athletic's Katz said that the brand is open to teaming up with college athletes from more niche sports. Whether Athletic extends its partnerships with students after college depends on how their relationship with the athlete pans out, he said. "We'd love to be able to continue to be a part of their story as they evolve from college athletes to professional athletes, but I think all of those relationships are very much two-way streets."