Why White Claw used Twitch for its latest campaign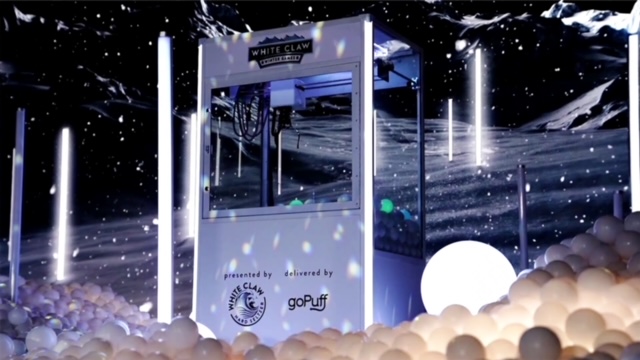 As brands attempt to find new ways to execute live online events, Twitch is increasingly getting a second look. 
Take for example the latest digital activation by canned hard seltzer brand White Claw and delivery platform goPuff, which recently partnered to host a series of interactive games via the Amazon-owned streaming service. The event, dubbed the White Claw Winter Games, consisted of participants digitally controlling an arcade-style crane "claw" to win prizes. 
More brands are trying to find ways to engage new customers in their homes — especially those that have relied on on-premise sales. For White Claw, Twitch — known mainly as an outlet for esports and gamers — presents one way to find a new audience to interact with its content and drive online sales.
The nightly sessions took place from Dec. 21 through the 23rd, and were held for the Philadelphia, Boston and Miami metro areas. Each night, goPuff delivered the winners their prizes — which included branded merchandise and Playstation 5 consoles —  to their home within 30 minutes.
According to the company, the three-night event drew "thousands of total viewers," with hundreds of Twitch users winning prizes. The Winter Games marked a new marketing frontier for White Claw, as it was the first time the brand utilized Twitch for a live online event, said John Shea, CMO at Mark Anthony Brands, which owns White Claw and Mike's Hard Lemonade. 
It's been a big year for White Claw's e-commerce channel. Shea said the brand has doubled sales growth every year since 2017, and the pandemic further pushed it to experiment with off premise marketing, including e-commerce and delivery platforms. With that, White Claw deliveries on goPuff alone grew 340% year-over-year in 2020.
For White Claw, Twitch presented a new way to reach its target audience. Typically, about a third of a beer brand's sales come from on-premise, Shea said. However, with the hard seltzer and the rest of the Marc Anthony brands portfolio geared toward retail and at-home consumption, quarantine presented a chance to experiment with new types of marketing, Shea explained. "There is a huge overlap between our consumers and Twitch's core audience," he said.
Marshall Osborne, head of business development and experiential marketing at GoPuff, said that goPuff looks at gamification as a creative way to advertise the platform's snacks and drink-heavy assortments "without it feeling like a typical CPG banner ad." Another advantage with this type of advertising, Osborne said, is that it catches gamers during times when other delivery services aren't available. "We're interested in leaning into off-hours interactions," he said. "Most delivery platforms aren't chatting with customers at 2 a.m."
White Claw isn't the first beverage brand to experiment with Twitch. Over the past couple of years, brands like Red Bull and Mountain Dew leaned into reaching younger audiences by testing out the gamer-heavy platform. In December, PepsiCo.-owned Mtn Dew announced a partnership with pizza chain Papa Johns on the streaming service. The rollout unveiled a branded Mtn Dew x Papa John's game controller, which features a button for gamers to order pizza. And last month, Campbell's Chunky soup partnered with Target to sponsor a virtual esports tournament on Twitch.
Many traditional marketers still aren't looking at Twitch for opportunities yet, said Andrew Lipsman, e-commerce analyst at eMarketer. That's because it's still a fairly new advertising channel, especially compared to social platforms Instagram and Facebook, he said. "But they should be," he said, as Twitch's audience is primed to make e-commerce purchases. He said the on-demand delivery aspect of White Claw's campaign, in this case goPuff's prize delivery fulfillment, "perfect for this demographic." Twitch's audience, which skews young and male, is "very engaged and open to CPG brands on there," Lipsman said.
For White Claw, new platforms like Twitch present a way to grow online sales and reach new customers. "The e-commerce channel is just emerging for categories like CPG and alcohol," Shea explained. "It's a different type of consumer that's open to these types of experiences."