Shoppable video is filling a physical retail void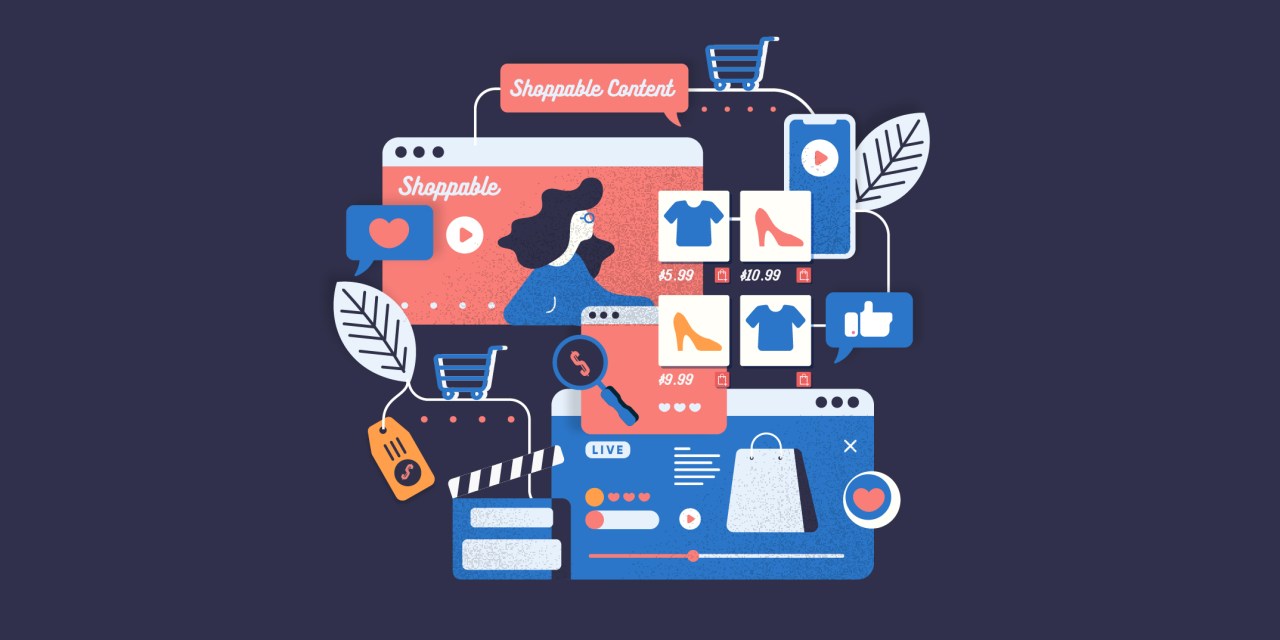 With the physical and social aspects of shopping stripped away due to various lockdown restrictions around the globe, shoppable social media is poised to fill the void.
In a recent example, Instagram launched its Reels and Shop tab for users to connect with brands and creators — and to discover products. The social media platform will further merge the two functions by allowing product tagging on Reels so that people can buy the products shown in the video.
"Shoppable content is not new, but there's no question it's gained more traction over the last year as consumers move online in their masses amid ongoing coronavirus restrictions," says Olly Johnson, managing director of commerce at Jungle Creations. "Live shoppable video has been around since the days of TV channels like QVC."
However, he adds, outlets such as Amazon Live have allowed shoppable video to enter the "big screen" of online, and it's now "a proven concept."
As Johnson puts it: "Trendy buzzword or not, headless commerce is truly enabling publishers and media brands to monetize their content. Adding 'buy buttons' within the content itself makes transactions seamless for consumers."
Livestream shopping is taking off
Instagram rival TikTok also launched shoppable video ads and is testing a shoppable livestream experience.
Emma Chiu, global director at Wunderman Thompson Intelligence, says: "Livestream commerce is really taking off, as shoppers' appetite for in-person and spontaneous live experiences, usually found in brick-and-mortar stores, are being adopted by digital platforms." She says: "Offering live and interactive content to e-commerce is becoming the new way to browse 'in-store' in real time."
It's a trend that's booming in China, where social e-commerce is ahead of the Western world. "Shoppable media is doing very well in China, where they do major content drops with influencers that drive massive sales," says Jidé Maduako, CEO of influencer marketing agency Yoke Network.
Maduako gives the example of China's top livestreamer, Viya, who sold $30 million worth of New Zealand products in hours. He says: "It's still in its infancy in the West, but it will boom over the next few years: TikTok just entered the market in December by doing a deal with Walmart to showcase a fashion livestream using creators who have a big audience on the platform."
Consumers are comfortable shopping via social media
The appetite to buy via shoppable media is growing. New research from Tipser — surveying 332 consumers in the U.S., U.K. and Germany — shows that when asked if they would be open to purchasing products from Instagram if offered direct checkout, 58 percent said yes. And 35 percent said the idea of shopping via livestream is an appealing prospect.
Further to this, 74 percent said they look to social media for inspiration. Shoppable media is another way brands can provide consumers with an opportunity to purchase products at the point of inspiration. With stores either operating under restricted measures or closed, people will be searching for alternative shopping experiences, ones that include the social aspect of browsing or learning about products before they buy.
The content in commerce matters
Social commerce has been growing for many years, but as TikTok and Instragam promote a rising cast of creators, it shows a move towards content that's fit for purpose.
"Everything is about content now, and that is transferring to shoppable content," says Maduako, at Yoke Network. He says there is a platform war happening where the likes of Disney and Netflix and Instagram and YouTube are "fighting for creators and their audiences" and using them to promote product drops "is really taking off."
He says: "Any new e-commerce brand is going to launch with shoppable content, and by doing it with creators, you build engagement with your brand and your products because you're seeing them in the right context."
The future is shoppable, according to Johnson, at Jungle Creations. He says: "I've no doubt shopping directly through social platforms is set to take off exponentially in 2021, with increased engagement and personality cutting through via video from brands and influencers alike."
As the pandemic continues, brands and media platforms will continue to experiment with ways of reaching, inspiring and converting consumers in the path to purchase. Shortening that path via shoppable video looks set to be the next evolution in e-commerce.