This post-holiday season, gift recipients are opening new pathways to first-party data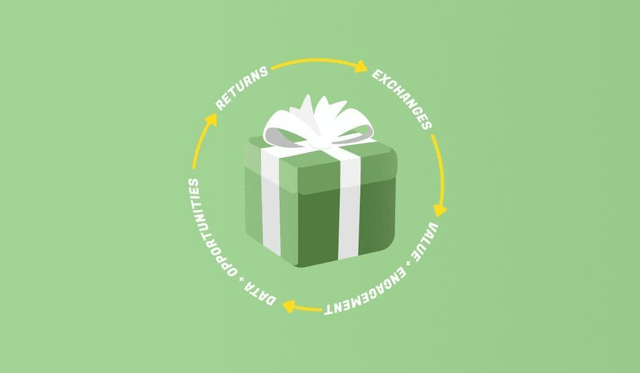 Sponsored by LiveRamp
Shoppers are back in a decidedly different mindset this holiday season than 2020–21. Holiday spending is expected to increase up to 10.5% over last year, and shoppers are creating a new surge of touchpoints at a moment when the first-party data those interactions create is on every retailer's mind. 
This is true for the holiday season itself, between Thanksgiving and January, and for the next phase — the inevitable returns and exchanges that begin after the decorations come down during the post-holiday months. 
No matter the time of year, harnessing every opportunity to collect first-party data has typically been a challenge for which retailers were underequipped, especially in terms of activating it at scale. However, thanks to the rise of retail media network (RMN) solutions, increasingly accessible to retailers of all sizes due to the accelerating growth of RMN technologies and providers, that's changing. Retailers know their first-party data is valuable. As they set their sights on the value of the RMN — empowering them to activate it with trusted external parties — there are vital data types at the heart of the post-holiday season that they can't afford to miss.
"I think it's a new horizon," said Michelle Dooley, managing director of Safe Haven strategy at LiveRamp, speaking about the timing of a data-rich postseason coupled with expanding approaches to activating first-party data. 
"We know retailers need to be able to capture the first-party data because we know that building retail media networks is incredibly valuable," she said. "We know that there's this opportunity with data collaboration because our suppliers are demanding it. To get there, we need to better understand the customer within this particular retail environment."
Understanding the customer means understanding the returns and exchange experience and the mindsets that come with it. For retailers that can, untapped first-party data opportunities unfold.
First-party data opportunities are at the heart of returns and exchanges
There are two vital players in the holiday and post-holiday season data game — gifters and recipients. Retailers have an opportunity to capture first-party data from both. Data generated by the initial sale to the giver is one pathway, but there are also the opportunities that come with returns and exchanges.
"If you have a recipient come back in with a return or an exchange," Dooley said, regarding that post-holiday segment, "is there an opportunity to engage with them and capture them as part of your first-party data, and what does that look like?"
One answer revolves around the digital transaction at the register or on the retailer's site.
"For example, I'll give you this 10%-off coupon if you sign up for my SMS messages; now I've captured a phone number and I've got a new data point that is allowing me the connectivity to market to that person in the future," Dooley said. 
Loyalty strategies — and the data they help generate — also come into play across the post-holiday season. This is true even for those who may not seem at first to be a target audience for retention. 
Customers returning or exchanging gifts do not always start from a position of cheerful satisfaction. They would likely appreciate and take advantage of extended post-holiday returns windows — whether in-store or shipped. Free shipping offers for recipients who'd prefer to handle the whole process without a trip to the register allow retailers to capture repeat customers and their loyalty.
As eMarketer reports, 96% of digital buyers say they'll give a retailer more business if their returns experience is a happy one. Within the context of that mindset, providing a loyalty card sign-up or offer-notification prompt turns the positive post-holiday experience into the start of a brand new cycle of data in the first-party mix.
Also, when it comes to new horizons in 2022, given this year's persistent drumbeat of supply chain and delivery challenges, the post-holiday season represents a moment for retailers to soothe some potential gifting woes. 
For in-store and e-commerce shoppers that end up not finding or getting their intended gift delivered in time for the holidays, engaging those disappointed givers with, say, a 50%-off offer on their next purchase stands to change the narrative and unlock new first-party data, loyalty and relationships to boot. 
An identity strategy audit for getting the season's data into play
Whether a retailer is building out first-party data resources for its own brand or a network it's building, Dooley posed several questions that can help define a successful approach. 
The shortlist for an internal audit this season, as Dooley sees it, includes the following steps that the marketing team can take to assess where their first-party assets stand.
Identify what's in the retailer's first-party assets and where it's housed (i.e., an enterprise data warehouse or a cloud environment, etc.).

Assess the quality of the PII with which it's associated — and what permissions come with it.

Determine how much cleanup is required to put the first-party data into action.

Address concrete connections to the retailer's technology, legal and privacy teams to stay responsive across first-party and RMN processes.
At the end of this cross-functional exercise should be a clear path to knowing where the retailer's first-party data is and how it can be best organized to benefit internal stakeholders and external partners.
Adding to that, a recent webinar featuring Dooley and Diego Vaccarezza, senior director of enterprise media at CVS Health, highlighted one other vital approach to identity strategy audit — remaining nimble and agile, whatever the audit reveals.
"You may go into it thinking it's going to be one way and then quickly find that you need to turn left instead of right," Vaccarezza said. "So I think you need to be in a position to make that move. And importantly, you need to have partners within the organization that are willing to fly a little bit by the seat of their pants until you can figure out the right solution."
Post-holiday strategies continue beyond the return or exchange
In pursuit of the RMN, the post-holiday season offers a range of opportunities to do right by the recipient and then build a first-party conversation with them. 
From the purchase data that starts the journey to email addresses, phone numbers and opt-ins for future offers and value when the return or exchange goes well, each is a step in the process of helping retailers better understand customers and their journeys. Each is a conduit to invaluable information to the retailer's thousands of suppliers. 
Moves like these are part of a year-round narrative, one in which meaningful brand experiences contribute to a solid and growing data foundation. When it comes to shifting into high-growth, that's a top outcome on every retailer's list, all year round.