DoorDash adds SNAP payments as grocery delivery grows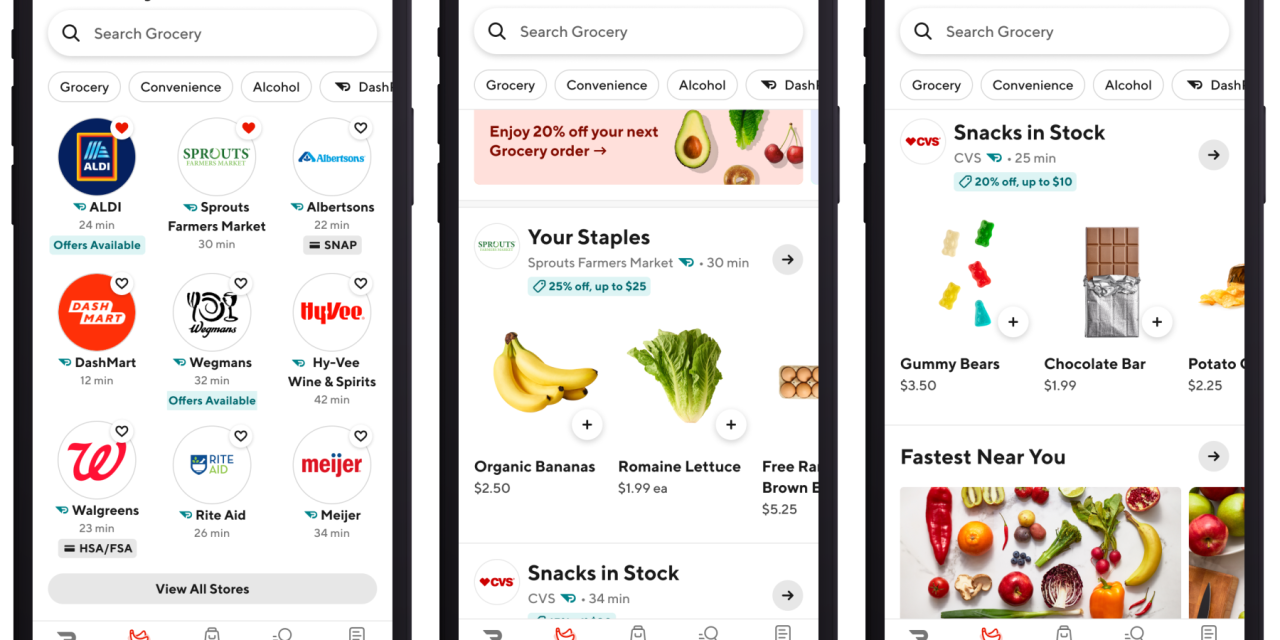 DoorDash
DoorDash will accept SNAP/EBT benefits as part of its newest app upgrade, another step in a broader movement to expand access to online grocery delivery.
App-based delivery service DoorDash on Wednesday announced what it described as its "biggest app updates" in its 10-year history. Among other design and interface changes, it includes the ability to accept payments for the Supplemental Nutrition Assistance Program (SNAP).
Those enrolled in SNAP — around 12% of the U.S. population — can now use their SNAP cards for eligible purchases at Aldi, Albertsons, Safeway, Meijer and select 7-Eleven stores. Users can load their electronic benefit transfer (EBT) card information into the payments section to pay for SNAP-covered items; any other purchases will default to another method of payment.
"Affordability and accessibility of all the selection that we have on DoorDash is a key priority for our product team," Rajat Shroff, head of product and design at DoorDash, said during a media conference.
But DoorDash isn't the first app-based delivery platform to open up its services to SNAP payments, and the addition follows years of efforts from advocates, retailers and the government to expand availability. The U.S. Department of Agriculture, which oversees SNAP, piloted online acceptance in March 2017 in select states and retailers. By 2020, when more states came into the program, delivery platforms like Instacart began accepting the payment type. By early June 2023, the USDA had broadened access to all 50 states.
Nearly 3.7 million SNAP households used their cards to buy groceries online in April 2023, compared to 35,000 three years earlier, according to USDA data.
Josh Trautwein is the co-founder of About Fresh, a Boston-based nonprofit that aims to combat food insecurity. It recently launched a nationwide effort called Fresh Connect, which allows health insurers to prescribe fruits and vegetables by giving shoppers a specialized debit card to use instead of their own cash. He applauded DoorDash's move as one more option for people to get healthy food.
"Optionality and convenience and flexibility are important to anybody in how they go about accessing food," he said. "We can't have too many retailers or e-commerce partners participating."
The proliferation of online grocery delivery services has exploded since the start of the coroanvirus pandemic, and shows signs of continued growth. In the first quarter of this year, DoorDash saw the number of overall orders grow by 27% to 512 million from a year before. Uber, which operates Uber Eats, saw gross bookings from its delivery business grow by 8% year over year to $15 billion. Instacart, which is anticipated to go public, reportedly had a 39% growth in revenue for 2022 to about $2.5 billion, according to The Wall Street Journal.
But such services might not be accessible to those on a lower-budget due to delivery fees;  such services can be too expensive for those on a tight budget, or Instacart offers free delivery for the first three SNAP -based purchases of $35 or more before levying a fee, which usually starts at $3.99 an order.
In the case of DoorDash, SNAP beneficiaries will get two months free of DashPass to have fee-free delivery, which is usually $9.99 a month. Shroff said the company would evaluate whether to expand that benefit.
"We want to see how people are using it," he said. "We're looking at all the various aspects of it, and then we'll evaluate it, what is the correct type of benefits that we want to provide to this particular product.
Gina Plata-Nino, SNAP deputy director for the Food Research and Action Center, said online grocery shopping is particularly helpful for SNAP households in food deserts, or for beneficiaries who don't have access to transportation. "People automatically assume you have a car and people assume there's public transportation," she said.
Plato-Nino, who works with retailers and the government to find ways to expand access, said it can be a lengthy process for retailers to become eligible to take SNAP. Often, smaller stores or services aren't able to navigate the paperwork – which makes it all the more important when services with a nationwide presence open up to SNAP.
In general, "we always welcome authorized retailers and the private sector in creating more access points," she said.
"There's always access issues," Plato-Nino said. "It's up to those companies to figure out what they mean."