How Catch is billing itself as an alternative to buy now, pay later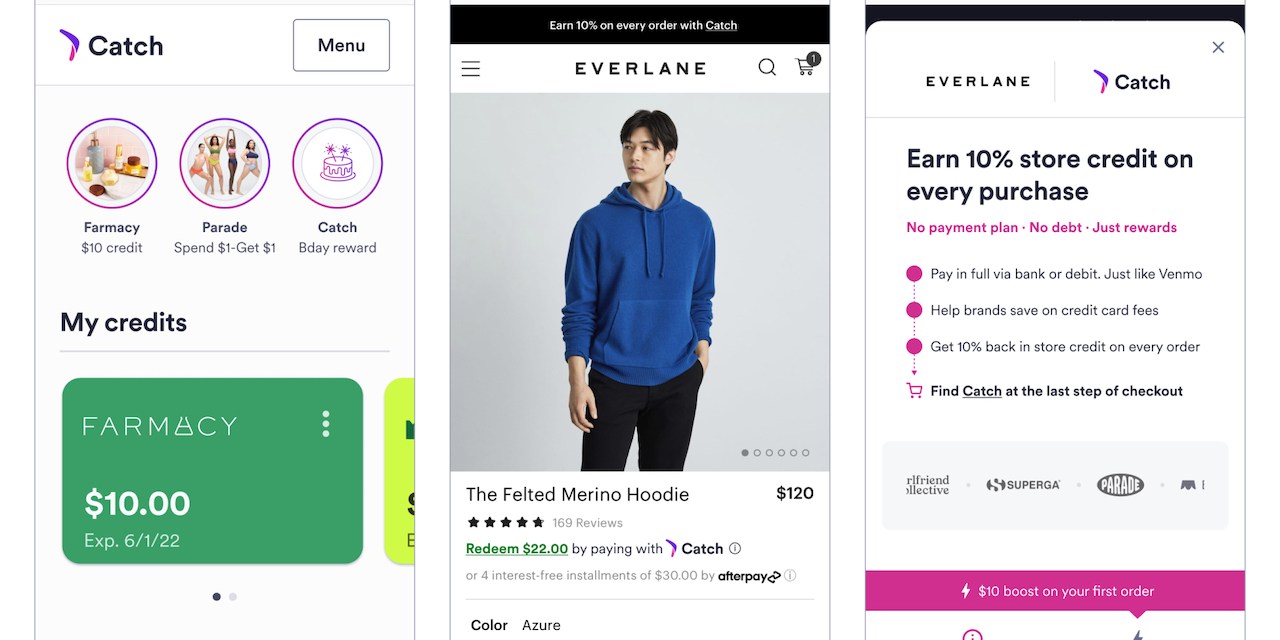 Catch
Checkout payment processor Catch wants to get shoppers to ditch buy now, pay later for the old-fashioned debit card. 
Founded in 2020, Catch says the number of merchants it works with has more than doubled this year as it is gaining traction. Catch works with direct-to-consumer brands like Everlane, Lunya and Parade, and also recently added SoulCycle and PacSun.
Here's how the service works: At the checkout page, shoppers are enticed by messages like "earn $2.46 by paying with Catch." If they choose Catch as the payment option, they link their debit card or bank account to receive 10% of their purchase back in store credits for future use. Catch users can only redeem the accrued credits at the brand where they earned them.
The concept is to reward customers for using their debit card, while encouraging them to buy again from a particular brand. Catch makes money by charging brands a fee when a customer returns and redeems a Catch-earned store credit. Catch says its model helps brands save on credit card transaction fees while, at the same time, bringing customers back by rewarding them with credit back for paying with debit. It also comes at a time when there is a growing concern that buy now, pay later could encouraging overspending without clearly outlining credit risks. In turn, services like Catch are trying to capitalize on this backlash to buy now, pay later, and reward people for other types of purchasing behavior.
Catch currently has "hundreds of thousands of users," with the majority having discovered the checkout option through shopping at participating brands. According to Catch, partner merchants see a 43% faster repurchase rate and increase retention by 46%. 
Catch co-founder and CEO Nico Perdomo, a former product manager at Affirm, said "working in BNPL, I got a firsthand view of how young customers are looking to change the way they pay after decades of credit cards dominating payments in the U.S." However, he added that "debt is still a problem that even buy now, pay later hasn't solved." 
For the next generation, Perdomo says there is an opportunity to offer access to premium rewards and perks without credit debt.
Catch's solution mainly caters to young online shoppers — its demographic is generally between the ages of 18 and 34 and skews female. In turn, many of Catch's retail partners fall in the beauty and fashion categories. In the past few months, Catch struck partnerships with beauty brands Farmacy, Ouai and Vanity Planet. The younger side of this demographic, according to Perdomo, tends to be new to credit cards or not have one at all. By giving them store credit back for purchases up front, Catch says it's creating an opportunity for repeat purchases and loyalty. 
Early on, Catch met with fashion retailer Aritzia, which showed interest but wanted to see the startup establish its tech with smaller companies first. "So we started to test with young, digitally native brands that are more nimble and can take on some risk," Perdomo explained. 
The first DTC company to sign on, in 2021, was activewear brand Girlfriend Collective. "We did twice the transactions and volume of Afterpay during the first month, and started courting bigger brands," he added. 
Catch's revenue is also tied to its ability to get users to return. "Basically, we don't have a business unless we help merchants retain customers through repeat transactions," said Catch co-founder and COO Denia Ebersole. She added that this has made Catch an appealing payment partner for merchants, "given that every online retailer is trying to figure out how to increase retention right now." 
Fitness gear brand Bala was an early brand partner of Catch, having used the checkout option on its DTC website for the past 18 months. 
Bala's head of growth, Sam Wilson, told Modern Retail the company was interested in testing Catch as part of its larger goal to increase loyalty among its big Gen Z customer base. "Our customers who use Catch have double the retention rate than those who don't," Wilson said. "So we've been able to prove Catch's hypothesis from a brand perspective." 
Matt Schulz, a chief credit analyst at LendingTree who covers personal finance, said debit use is especially welcome at a time when people are accruing debt by paying for everyday purchases with BNPL loans. According to an April LendingTree survey, 21% of Americans say they've used a BNPL service to pay for groceries. 
"Debit card rewards used to be a thing, but have vanished in the last few years," Schulz said. "Clearly there is still demand for them among people who prefer to pay in full upfront." 
He added that while BNPL use helps increase retailers' basket sizes, from his perspective "it doesn't offer customer loyalty for the merchant — it's the service that keeps the relationship with the users." 
For retail brands, collecting all-cash payments while encouraging repeat purchases is a win-win at this time. "Any platform that can boost retention in this era of trying to acquire customers at a profitable rate is pretty critical," Bala's Wilson said. Other tactics over the past six to 12 months have included the relaunch of Bala's digital fitness subscription plan.
In the next couple of years, Perdomo said Catch plans to partner with bigger retailers to reach more customers. Over time, the roadmap also includes becoming a more consumer-facing brand and social features like sharing store credits with friends. "We're building a mobile app to show users where else they can shop and earn with Catch," he said.
In the long term, Perdomo said the company's vision is to be available in thousands of locations, both online and at local shops. "We can't get there right away, but there is no reason we can't build a payment network that helps both the retailer and shopper benefit," Perdomo said.