How retailers like Claire's and Walmart are going all in on Roblox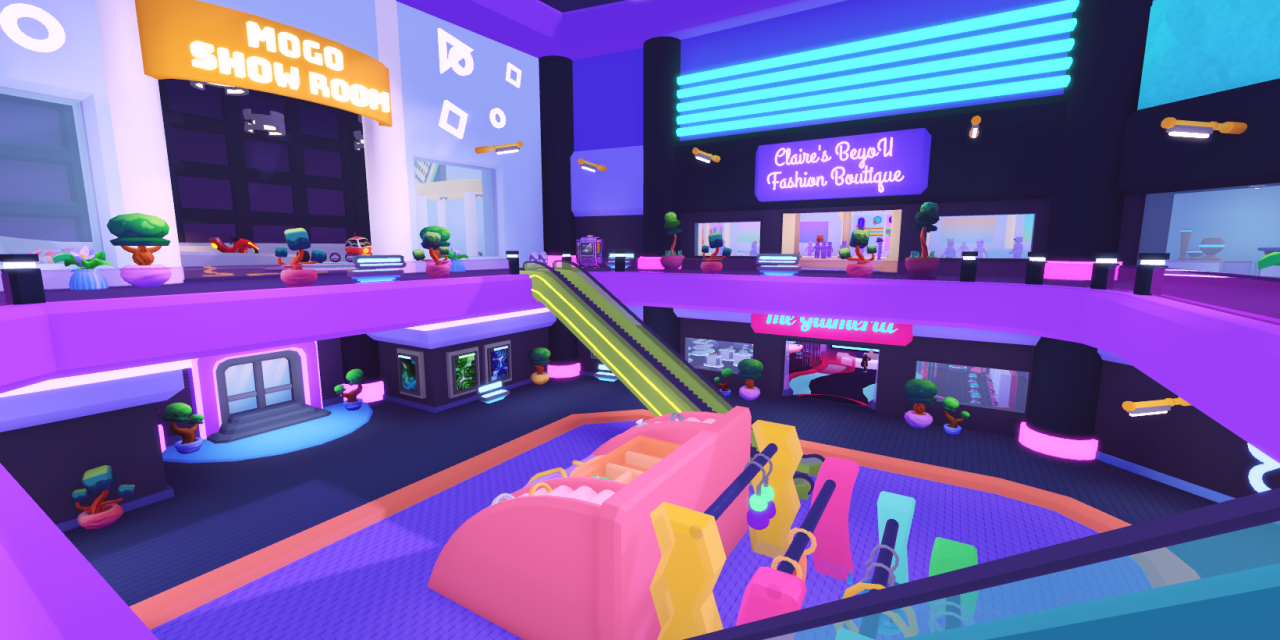 Claire's
Roblox, a gaming platform popular with children under 13, has become a ripe marketing channel for dozens of retailers looking to engage younger audiences spending more time in the metaverse.
Apparel and footwear companies such as Gap, American Eagle, Forever 21 and Nike have all recently launched unique Roblox experiences. Roblox has also become a popular pathway for luxury brands, including Ralph Lauren, Givenchy, Tommy Hilfiger and Gucci. In perhaps one of Roblox's biggest endorsements, Walmart debuted two offerings — "Walmart Land" and "Universe of Play" — on the platform last month.
Last week, Claire's became the latest retailer to make inroads on Roblox with its "ShimmerVille" experience. Claire's describes "ShimmerVille" as "a transformative digital world to explore, work, play, shop and connect with friends." In "ShimmerVille," players can build and decorate homes, earn digital currency by having a job, own a pet and outfit their avatars in Claire's accessories and clothes. The game features six destinations, including Claire's C-Style Mall, Claire's Cafe and Bungalow Valley.
Claire's Chief Marketing Officer Kristin Patrick told Modern Retail that "ShimmerVille" is a "natural extension" of what customers already love and know about Claire's. "We wanted to build a game that squarely leveraged and centered on what the brand has stood for for 50 years, which is self-expression," Patrick said. "You know that it's Claire's because of the design. But it feels like a modern metaverse update of the brand."
Engaging new audiences
Roblox is one of several so-called metaverse platforms, but is quickly becoming a favorite among companies because it relies on user-generated content (UGC). Anyone can sign up for a Roblox account to create their own game or play the games of other users. Currently, Roblox offers more than 32 million digital experiences via 12 million creators. The platform was founded in 2004 but saw more pronounced momentum during the pandemic. In 2020, Roblox boasted 32.6 million daily active users; as of June 30, it had 52.2 million.
For many brands jumping to Roblox, "the overarching aim is to connect with Gen Z," Hana Ben-Shabat, founder of the research and advisory firm Gen Z Planet, told Modern Retail. "The gaming platforms are the perfect place to meet this generation and build relationships with them, because they are there by the millions every day."
For Claire's, Gen Z (born from 1997-2012) and Gen Alpha (born from 2012-2024) are its "sweet spot," Patrick said. "They spend an awful lot of time in the metaverse. They're really starting to get into Web3 and some of the activities around gaming, which has always been a huge platform for them. So this next foray into Roblox and the metaverse is based on what our consumers told us they wanted and where they wanted us to be."
Similarly, Walmart launched its experiences on Roblox because it is "one of the fastest growing and largest platforms in the metaverse, and we know our customers are spending loads of time there," William White, chief marketing officer at Walmart U.S., said in September.
Walmart's two Roblox games differ in key ways. "Walmart Land" offers immersive experiences such as a DJ booth, roller skating rink, motion-capture concert celebration and Netflix trivia. "Universe of Play" features characters from popular franchises like Paw Patrol and Jurassic World and lets users earn coins they can redeem for virtual merchandise for their avatar.
Expanding into the metaverse
The term "metaverse" encompasses several experiences, from virtual reality and augmented reality to mixed reality. Some CEOs, like Mark Zuckerberg, have embraced the term, while others, such as Tim Cook, have rejected it. As Ben-Shabat put it, right now, "it's not really defined. It means different things to different people."
According to Gartner, 25% of people will spend at least one hour a day in the metaverse by 2026, doing some combination of working, shopping, learning and socializing. Gartner also foresees 30% of the organizations in the world having products and services ready for the metaverse by 2026.
Traditionally, brands tried to reach younger audiences through TV advertising and direct response advertising, said Andrew Douthwaite, chief commercial officer at Dubit, which works with brands including Nickelodeon, L.O.L.! Surprise and Paramount on their metaverse strategies, as well as independent builders designing metaverse experiences. Now, Douthwaite said, younger generations are spending most of their time in 3D virtual worlds like Roblox.
"Spend on TV advertising, we think, is going to just push over to the metaverse," he told Modern Retail, because the metaverse "is immersive and interactive and something that is natural to how these younger generations are used to playing."
Platforms like Roblox are also perfect for brand engagement, Douthwaite added. "When I was a kid, gaming was seen as kind of an isolated thing," he said. "It was not something that brands could tap into, because if you're a brand and you want to reach someone that's playing 'Call of Duty', you've got to do a deal with Activision.'" Now, he said, brands can hop on UGC platforms and build their own experiences.
Blending the physical with the digital
When it comes to Roblox, being on the platform — which reported $1.9 billion in revenue in 2021 — can have a real-world impact on a company's sales.
"You make yourself as a brand known to users at the young age, and they become your future loyal customers," Ben-Shabat said. "It's one way to kind of bring them into the fold of the brand at the very early stage."
Forever 21 has dozens of products on its website that connect back to its Roblox game, "Shop City." The line includes quilted jackets, flare jeans and ear muffs and ranges in price from $1 to $64.99. As Forever 21 releases new items for its physical and e-commerce stores, "Shop City" players will be able to buy the same merchandise for their avatar.
In March, American Eagle teamed up with Livetopia, a role-playing game on Roblox, for "AE Members Always Club," an experience promoting its spring 2022 line. Gamers can collect exclusive game items, including prep and vintage styles from the collection, which they can then use to outfit their avatars.
Claire's is connecting its 14 million member loyalty program to "ShimmerVille," which lets users earn and redeem digital currency. "If you're buying something in our physical stores, you might be able to redeem some of the points in the metaverse," Patrick said.
Claire's is also treating "ShimmerVille" as distinct intellectual property whose characters could make their way into Claire's other channels. This will go the other way, too, Patrick said, as other brands in Claire's stores begin to surface in Claire's Roblox experience.
It's a strategy that makes sense, Douthwaite said. "If I'm in new IP today, or I'm trying to launch some sort of TV show or new IP of any kind, I'd be looking at Roblox to launch that from, because that's where the audience is," he said.
In terms of the developer economy, Douthwaite foresees "a million builders making a living in the metaverse over the next few years." For brands, too, he thinks the metaverse is here to stay.
"Brands will go where the audience is, and the audience isn't going to stop playing games or stop socializing in 3D worlds," he said. "The demand for these types of experiences, we're only starting to see the half of it."