Retailers are using ChatGPT to help people pick what to buy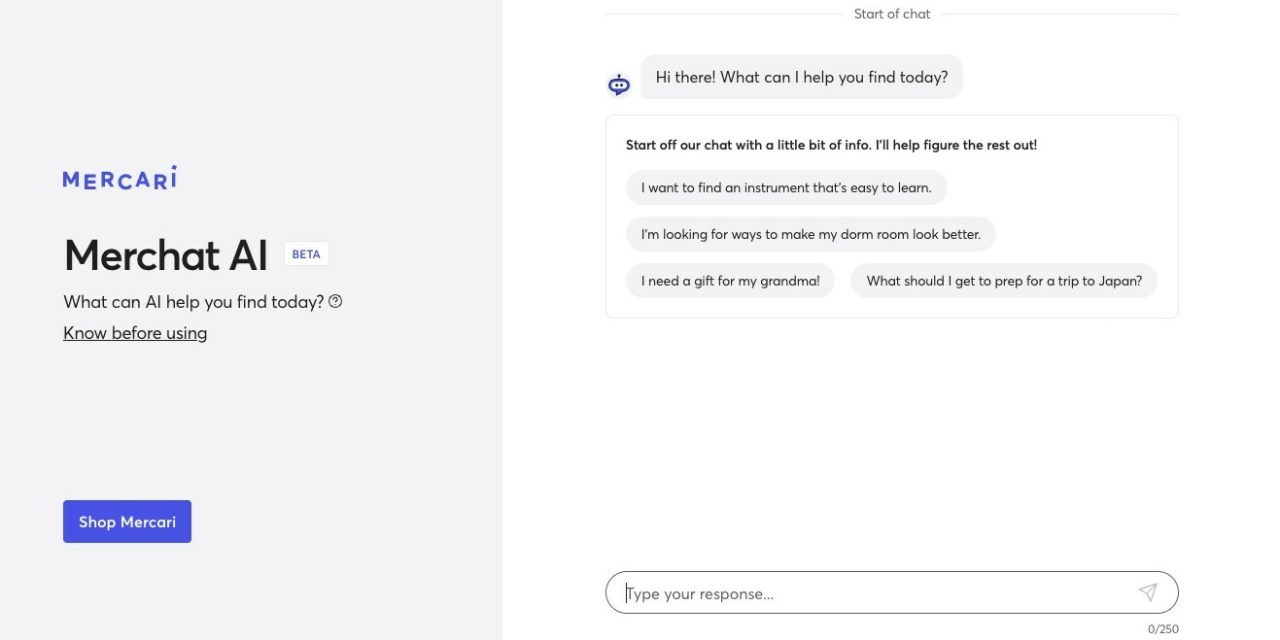 Mercari
Not long after OpenAI's ChatGPT dominated headlines, retailers have swooped in to use the tool for shopping assistance.
Online secondhand marketplace Mercari introduced a shopping assistant tool last week, called Merchat AI, to help recommend products. A day later, German e-commerce giant Zalando announced that launched a similar ChatGPT-powered tool that would help shoppers find items based on fashion terms or questions they ask. Shopping service and payments platform Klarna announced in March that it is collaborating with OpenAI to offer curated product suggestions to users. 
ChatGPT and other generative AI tools have been a hot topic for many retailers lately due to their potential to boost productivity and possible use cases. It has also garnered skepticism from various governments and regulatory bodies since the technology lacks regulation. But that hasn't stopped companies from exploring ways to incorporate it into their businesses — and customer service appears to be one of their first testing grounds.
"What makes ChatGPT unique as opposed to the existing chatbots that we have in retail at the moment is that it's much more conversational in tone and it can remember the context," said Carina Perkins, senior analyst for retail and e-commerce at Insider Intelligence. "You can provide a much more personalized and human-like experience with the answers."
In a way, ChatGPT is being used by retailers for its advanced search capabilities. ChatGPT is essentially an AI chatbot developed by the Microsoft-backed startup OpenAI. What makes it stand out from other chatbots is its ability to learn from interactions and develop human-like responses.
Retailers are using ChatGPT to both help shoppers find specific products and discover new ones. With Klarna's integrated plugin with ChatGPT, for example, shoppers can ask for shopping advice and inspiration. Users can access this by installing the Klarna plugin from ChatGPT's plugin store. Shoppers can also specify how much their budget is for the item they're searching for and the tool will come up with a list of items that match the description. 
"Klarna is in a unique position to leverage the best technology and data to help people discover new products and solve problems for consumers at every stage of the shopping journey, and we'll continue innovating to bring these services to our 150 million consumers," Sebastian Siemiatkowski, co-founder and CEO of Klarna, said in the announcement.
Barry Thomas, senior thought leader at Kantar, said that ChatGPT could generate efficiencies in customer service because it can respond to customers' requests at any time and day. He added that when companies do use AI tools like ChatGPT, retailers need to make that clear to shoppers. 
"If I had a human staffing a customer service line, there's going to be errors. There's going to be issues," he said. "You just get seamless, consistent customer service with the messaging bot and you're just collecting all that data."
Melissa Minkow, director of retail strategy at digital consultancy firm CI&T, said that people often use natural language when searching for products as opposed to tweaking it for a typical search engine. In a way, she said these retailers are adapting to their shoppers' search behaviors.
For example, on Mercari's Merchat AI shoppers can type in "What gift should I buy for my Mom on Mother's Day?" or  "Find me a large turquoise ombré tumbler." From there, the Chatbot could then ask a follow-up question to narrow down the results before listing some product suggestions. In Mercari's announcement, John Lagerling, Mercari U.S. CEO, said that the company is "leveraging the transformative power of artificial intelligence to make it easier for Americans to shop and explore Mercari's extensive marketplace."
Similarly, Zalando shoppers can ask the shopping assistant questions as specific as "What should I wear for a wedding in Santorini in July?" and others like it. The company said the shopping tool can understand that the shopper is looking for an outfit for a formal event. In the future, Zalando said that it could possibly personalize the tool even more by adding recommendations based on shoppers' brand preferences and sizes. 
"It's to heighten [consumers'] satisfaction levels with the search results," Minkow said. "What ChatGPT can do for the retailers is surface inventory that maybe doesn't get a fair shot on consumers' search because of what they're putting in as their search terms."
Other e-commerce companies like Shopify have used AI to instead develop better product descriptions. Upon the launch of its new AI tool earlier this month, Shopify said that well-crafted product descriptions could bring more traffic and increase conversion rates.
While tools like ChatGPT may have a lot of buzz at the moment, it isn't completely flawless, experts said. Insider Intelligence's Perkins said that AI tools have the tendency to hallucinate or, in other words, deliver incorrect information with authority.      
"That's obviously problematic if you were using this as a customer-facing application," Perkins said. "As a business, you wouldn't want to be providing false information." Additionally, she said that chatbots also run the risk of generating inappropriate or offensive responses.
Governments and regulatory bodies are also still in the process of writing up the rules around the use of generative AI tools and ChatGPT. Italy has gone as far as banning ChatGPT due to privacy concerns. Meanwhile, the U.S. Biden administration has just started looking into potential regulations around AI tools.