Why Gopuff and Instacart are breaking into health care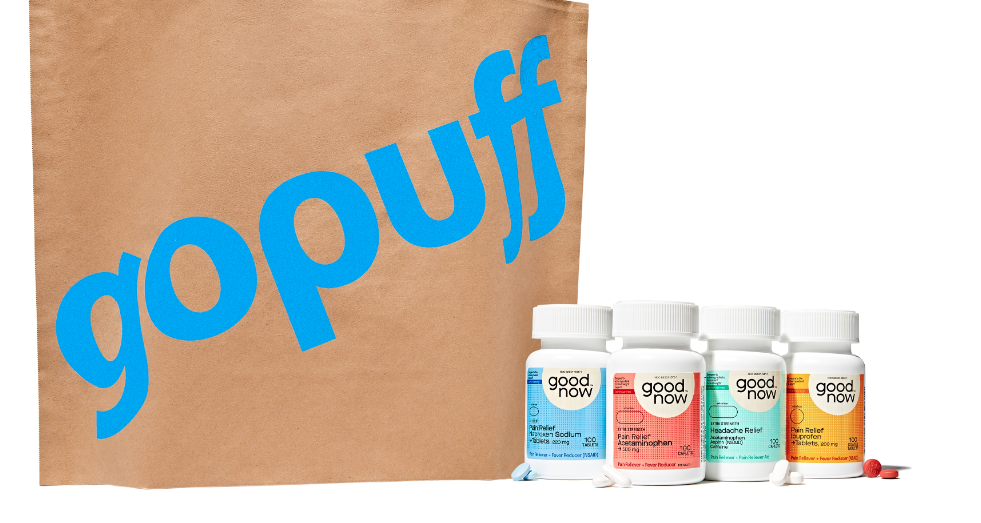 Gopuff
Much like their big-box retail counterparts, instant grocery delivery companies like Gopuff and Instacart are stepping into health care territory.
This month Gopuff launched a new private label, called Goodnow, which offers over-the-counter medications such as pain, allergy, cold, flu and sinus relief. Meanwhile, Instacart released an array of health care initiatives, called Instacart Health, which include the rollout of expanded health tags such as low-salt and gluten-free. These investments come as 80% of respondents said they plan to maintain or increase spending on health and fitness-related categories in the next year, according to a September survey from Accenture.
After several physical retailers flocked to the health care market in recent years, Instacart and Gopuff are following suit. The grocery delivery companies announced their push toward health amid an economic environment that could push people to spend less on goods. Experts said entering an essential category like health could help grocery delivery firms bolster their business and take market share.
"They're always on the hunt for the categories that would be a good fit for them," said Dan McCarthy, assistant professor at Emory University's Business School. "There's a lot of reasons why someone who isn't feeling well would want to have things ordered quickly and would be willing to pay a reasonably high premium to do so." 
The health care gold rush
Gopuff and Instacart, among other grocery delivery companies, have been dipping their toes in the health care market in recent years primarily by delivering medication. Gopuff reportedly piloted a prescription-delivery service in some areas of Philadelphia last year and Instacart formed prescription delivery partnerships with select retailers in 2020, such as Costco. Similarly, Sam's Club announced in 2020 that it is offering same-day prescription delivery through DoorDash. 
Now Gopuff and Instacart have taken it a step further by offering tools and products related to the health category.  
"Our latest push is into health and wellness, when customers aren't feeling well enough to go to the store," Jessica Glendenning, director of private label at Gopuff. The new in-house brand, she said, was developed based on market research data and feedback from Gopuff's own core customers. 
According to Gopuff, health and wellness already align with the company's offerings. Glendenning said that Gopuff customers already tend to order products like hydration beverages and pain medication when they're not feeling well. Gopuff's Goodnow also offers products like first aid, sleep aids and diagnostic test kit such as at-home UTI, BV and herpes test kits. In the next couple of months, Gopuff also plans to launch electrolyte drinks, bandages, antihistamines and antacids, among others. 
"Our initial launch collection is solutions for OTC that are purchased when you want to feel better quickly, like cough and cold, pain relief," Glendenning said. "Diagnosis test kits are another relevant category people would want delivered to their doorsteps." 
Melissa Minkow, director of retail strategy at digital consultancy firm CI&T, said health care is a category in which a lot of needs aren't met, which gives retailers and grocery delivery companies the opportunity to get involved. Financially, she said these category expansions, especially towards health, can give firms the opportunity to gain higher margins. 
Even as the initial fear of the pandemic dials down, the demand for health and wellness continues to take hold. A September report from McKinsey & Company estimates that consumer spending for wellness products and services is over $450 billion in the U.S and grows more than 5% per year.
In Instacart's case, the company's health-focused initiatives center around nutrition security, making healthy meals easier to access and food as medicine. The company has also introduced shoppable carts from health experts and influencers, which would allow customers to discover new products. It has also expanded its library of healthy recipes in partnership with Hearst Magazines. 
Additionally, Instacart also announced a new product called Care Carts, which allows health care providers and caregivers to order groceries on behalf of someone else. Digital nutrition services Season Health and Foodsmart are some of the organizations and services that are using Care Carts. 
Gopuff's foray into health comes as it attempts to grow profitably, following a turbulent past few months that includes laying off 10% of its global workforce and shuttering 76 U.S. warehouses. For Instacart, the sweeping health initiative was announced as it reportedly nears its public debut. Instacart Health could be viewed favorably by investors.
In May, Instacart cut its valuation by nearly 40% to $24 billion. Meanwhile, Gopuff was valued at $15 billion last year.
"There are a lot of macro forces at large, both the economy and then like governmentally, where there are these gaps in consumer needs, and retailers are taking it upon themselves to fill those voids for consumers," Minkow said. Retailers like Walmart and Walgreens have been positioning themselves as health destinations through their continued investment in primary care services.
Minkow said that now is a crucial time for companies to be launching these types of offerings. She said it is important for consumers to see brands help them save money through private labels and make products more accessible through certain tools. 
However, she said entering the health space won't be easy. In order to be successful, she said these grocery delivery companies must have the in-house resources in place to deliver a good experience and compete with other players vying for the health category.   
"You really need the right team to be knowledgeable in this space," she said. "Even though this whole shift does signal that anyone can play here, that doesn't mean anyone can be good at it or that anyone is actually a true resource or authority."