How brands are getting creative with summer out-of-home campaigns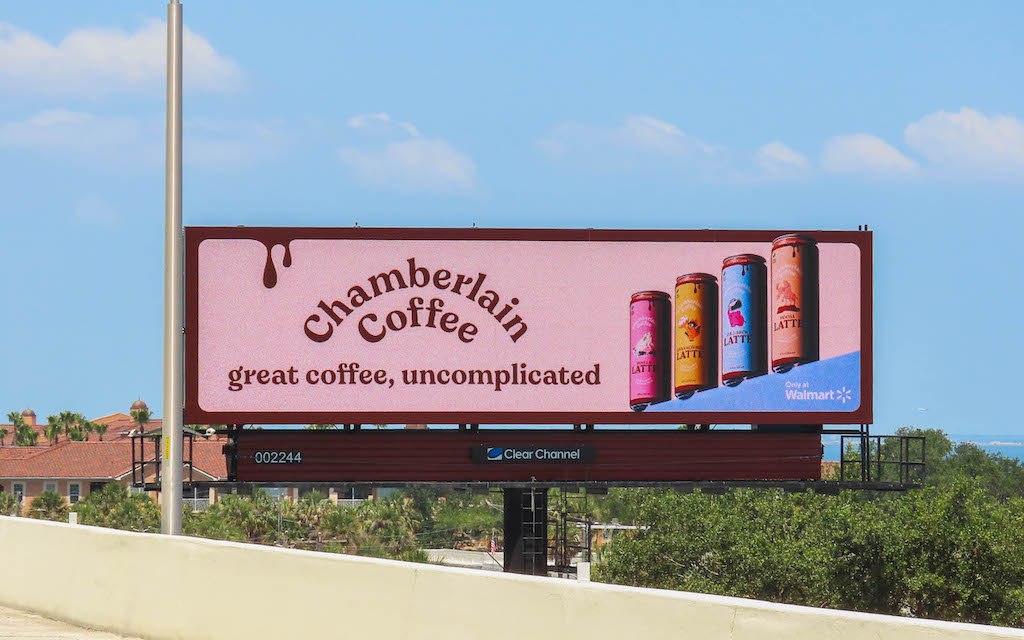 Chamberlain Coffee
Summer is here and so are out-of-home campaigns. 
For the last few years, emerging brands have tapped OOH as a way to increase their brand awareness offline. Particularly during the summer, when people are spending more time at the beach, in parks, and in airports then they are in their homes. 
According to Insider Intelligence, out-of-home spending has officially returned to 2019 levels, and is due to hit $8.2 billion in 2023. With more options to build bespoke, localized campaigns, more retail brands are testing the OOH waters this year.
But as the channel gets more crowded, it also takes more to stand out. From Chamberlain Coffee's Walmart-focused college town billboards, to Primal Kitchen's beach banners, to Ouai's travel-focused campaign, more companies are looking beyond just simply putting up billboards in major cities. According to these companies, going off the beaten path is helping raise brand awareness and bring newer types of customers into the fold. 
Thinking outside of major cities
This summer marked Chamberlain Coffee's first foray into out-of-home on a national level. The company raised $7 million dollars last summer, and brought on CMO Liz Ahern in fall 2022. With its foray into brick-and-mortar, Chamberlain Coffee is trying to better reach more of its young target audience. 
In April, the DTC brand launched its ready-to-drink cans in 4,100 Walmart locations, and ran the accompanying OOH promotions starting in May. To do so, the company specifically targeted students and young professionals near universities and downtown areas in key markets. For instance, Chamberlain is running ads on digital kiosks near the University of Houston and Arizona State University, as well as billboard placements near the heavily foot trafficked American Airlines arena in Dallas. 
"Gen Z has been our primary target, and we're trying to build a coffee and tea brand for Gen Z," Ahern told Modern Retail. Chamberlain deliberately chose smaller cities over larger markets like Los Angeles and New York, which Ahern said tend to be crowded with a number of OOH campaigns – especially during the summer. 
"We only have a few seconds to communicate the message," she said. "So we kept it very simple with phrases like 'great coffee on the go' or 'great coffee, uncomplicated.'" 
Most notably, the company wanted to find moments to feature Emma Chamberlain and make the Walmart availability prominent on billboards. The brand wanted to be in areas that have a high concentration of Walmart stores, more than just one location. Quan Media Group CEO Brian Rappaport, who worked with Chamberlain Coffee on the OOH campaign, said one differentiator was honing in on Walmart shoppers in these smaller markets. "We targeted Walmart parking lots by buying out banners there," he said. "That way, the brand and Emma's face are on people's minds as they enter the store and see the coffee."
The trial run has been a success so far. Chamberlain Coffee saw a 5% lift in RTD line sales in the markets where the campaign ran. The campaign also saw an increase in online tags and photos of the billboards taken by fans. The brand plans to do a second run of billboards in the fall, as people return to campus. 
A localized approach for greater relevance  
Kevani founder Kevin Bartanian, whose out-of-home media company specializes in localized advertising, agreed that OOH doesn't have to be static. This summer Kevani worked on campaigns for Smart Water, Topo Chico and Jack Daniel's & Coca‑Cola. Bartanian said that this is especially the case for beverage brands, which tend to ramp up OOH spending during the summer months. 
"People are out and about more than ever, so localizing the ad to its market is important," Bartanian said. Sometimes, it's as simple as displaying "Hey LA" vs. "Hey Miami," he added. However, the use of AI is increasingly helping contextualize digital OOH displays based on news cycles and events. "AI can help brands quickly generate localized scripts to better catch people's eyes," he explained. 
In May, pantry brand Primal Kitchen kicked off its "Mayo Moment" campaign  – a combination of OOH advertising, experiential activations, influencers, and a TikTok talk show. The company, which was founded in 2015, is currently in over 20,000 retail doors with distribution currently up 25% over last year. Thus, the condiments maker is trying to raise brand awareness beyond health food shoppers. Ana Goettsch, vp of marketing at Primal Kitchen, said the idea was to build creatives that are "approachable, yet thought provoking all centered around real ingredients."
For the out-of-home displays, the company is specifically targeting summer locales like Venice Beach and the Jersey Shore. For example, one of the brand's playful billboards read "Hey, look, something in LA that's not fake," featuring an image of its keto-friendly avocado oil mayo. This was accompanied by a nearby sampling activation, where the Primal Kitchen Mayo Mobile served more than 1,000 samples in 12 hours.
For the next phase of the campaign, Goettsch said the company is running similar displays featuring its organic unsweetened ketchup – just in time for BBQ season. This will include a sponsorship of lifeguard chairs in Malibu and Manhattan Beach over the Fourth of July weekend, with signs that say "your buns deserve better." On the other side of the country, the slogan will be displayed on airplane beach flyovers over the Jersey Shore for five days over the Fourth of July holiday break. Primal Kitchen didn't disclose sales figures attributed to the campaign, but said social engagement is up since its start.
Indeed, with the travel season in full swing, Quan's Rappaport added that more companies are trying to tap lesser-used spaces for OOH placements. "Airports have completely exploded recently, especially in new terminals like LaGuardia Airport," he explained. Airlines are also getting in on the promotional tactic. This month, haircare brand Ouai launched its travel-themed St. Barts line, and bought out a spot on all JetBlue domestic flights, where the Ouai promo plays before a movie or show starts.
"Now more than ever, brands have the ability to customize their OOH runs, whether it's based on the local market or their retail availability," Rappaport said.