Why Bombas is leaning into out-of-home advertising for its new campaign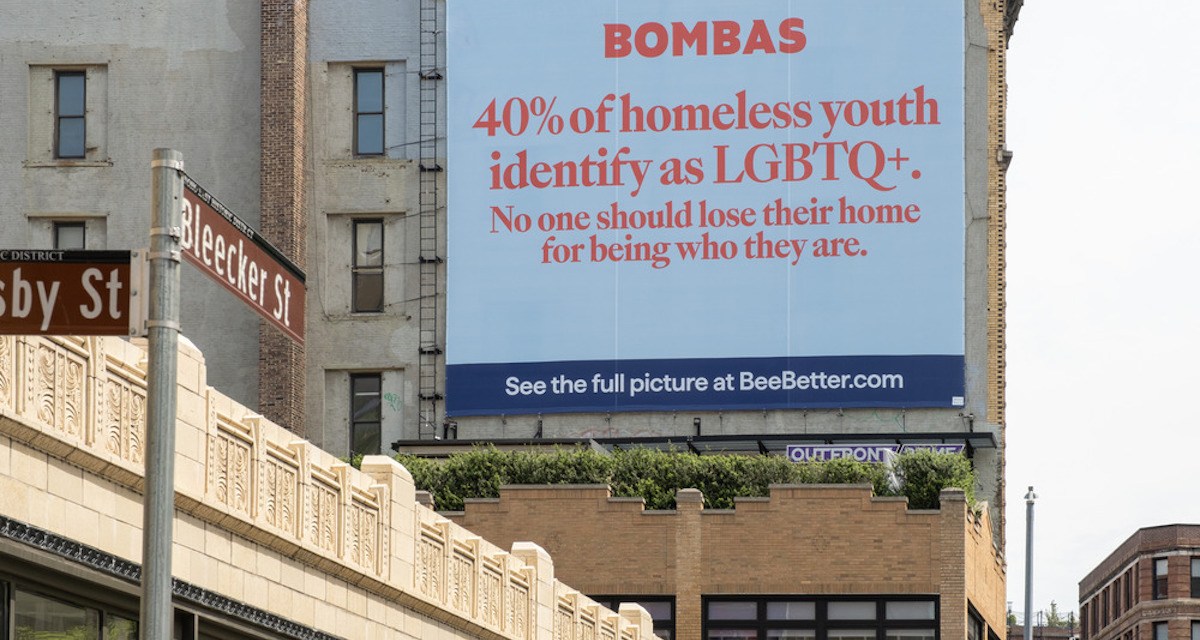 Bombas/Quan Media Group
After a five-year hiatus, direct-to-consumer sock brand Bombas is testing the out-of-home (OOH) marketing waters once again.
Its new campaign, which runs for about five weeks total, involves various marketing channels at the national level, with an OOH approach concentrated in New York City. Described as a "mission-driven marketing campaign," the company is posting facts about the realities of homelessness on signs and other media. One sign, for example, says that there are 20,000 children experiencing homelessness in New York City. Bombas also set up a microsite with interviews with 14 people who have experienced homelessness over the course of their lives.
The initiative is Bombas's first OOH campaign since 2018. Back then, Bombas ran several ads in subway stations, showing off its products. Historically, OOH "has not been a big part of how we built this brand," co-founder Randy Goldberg said, but Bombas decided that it was important to try to "meet New Yorkers where they are" for this new campaign. "We felt like… where we are in our life of the company, this was a good time to re-explore it and to invest a little bit more to put a message out that we really care about," Goldberg explained.
Since Bombas launched the campaign, "we've seen a nice lift for our brand," Goldberg said. "Mentions and traffic have all been up. But, it's not really the point of the campaign. We want people to remember the information… And if that makes them think about us as a trusted resource in the long term, I'm good with that for a campaign like this."
OOH ads were popular before the pandemic but took a huge hit over the last few years as people increased their online shopping or stayed home. OOH is seeing a resurgence once again, but now, brands are trying new types of campaigns to catch people's attention and communicate different sorts of messages.
Bombas was founded on a "buy one, give one" principle; for every product purchased, it donates one to the homeless community. This year, Bombas reached its 100 millionth donation, and it wanted to mark the milestone by honoring "the people who are represented inside of that number," Goldberg said.
"I think people often have a certain picture in their head when they think of someone who's experiencing homelessness," Goldberg said. "But when you get to know that community, as we have as a company over the last 10 years, you start to realize that it's a very multifaceted community… Homelessness is not always what we think. And if you learn a little bit more and you see some of the people experiencing homelessness and focus there, then you can gain some understanding and compassion, and compassion can create change."
Aiming to 'stop people in their tracks'
In New York City, Bombas took out more than 300 OOH ads across the city. They are situated on billboards, in bus shelters, in newstands and in subway stations. The majority of ads are at eye-level so they can "stop people in their tracks," Goldberg said.
Bombas placed its ads around areas like Williamsburg, SoHo, NoHo and Bushwick. The goal was to find "heavily-trafficked neighborhoods where we knew we were going to get a strong pedestrian audience," said Brian Rappaport, CEO of Quan Media Group, which worked with Bombas on the campaign. The other element — putting ads in places like subways and bus stations — was meant to catch people on their commute.
Unlike Bombas' first OOH ads, its ads for this campaign don't involve photos. All ads are text-based. "We felt like the words were important here in a world where sometimes we're not all speaking the way that might be appropriate or helpful," Goldberg said.
Bombas used a combination of various types of advertising — organic, social, paid — but some media partners liked the concept so much that they gave Bombas $300,000 worth of free ad space, according to Rappaport. Pearl Media, for example, donated a wall surface in Brooklyn, while JCDecaux donated some space in bus shelters and newsstands.
'Reconsidering what out-of-home is'
Companies have been using OOH advertising like posters and billboards for decades. While digital advertising has stolen some market share, more brands are starting to lean back into OOH as tech giants tinker with privacy settings and data collection.
Peace Out Skincare, for instance, ran ads on electric buses in Los Angeles and sent postcards to people's homes to promote its Acne Day Dot at the end of 2022. In October 2021, the at-home health test kit brand LetsGetChecked set up a giant couch in New York City's Flatiron Plaza to advertise its kits for conditions such as Covid and diabetes.
OOH accounted for $1.82 billion in revenue in the first quarter of 2023, its second-highest first quarter on record, according to the Out of Home Advertising Association of America (OAAA). Four in five of the top 100 OOH advertisers increased their OOH spend from the first quarter of 2022, the group found.
"The out-of-home media channel itself is very local and can speak to communities in ways that other media channels can't," said Dylan Mabin, president of Geopath, an organization that provides audience metrics for OOH advertising. "You see a lot of government programs, PSAs, vaccination conversations leverage out of home in a similar distribution way that this campaign is using."
It makes sense for Bombas to use OOH ads on the streets of New York "because it is in the space where those challenges are most seen," Mabin told Modern Retail.
Traditionally, companies have used splashy billboards, posters and banners to advertise new products or seasonal collections. Today, Mabin sees more companies using OOH "in a much more strategic targeting way, not just for promoting sales… but also [for] having this level of trust that other media channels don't have."
"I think DTC, CPG clients are starting to leverage out of home quite a bit more than I think had  been considered in the past," he added. Nearly a quarter of the top 100 OOH spenders last year were technology or direct-to-consumer brands, according to the OAAA.
"This [Bombas campaign] is a good example of how people are reconsidering what out of home is and what it's capable of doing," Mabin said.