'An out-of-the-box experiential moment': Brands are getting creative with their out-of-home advertisements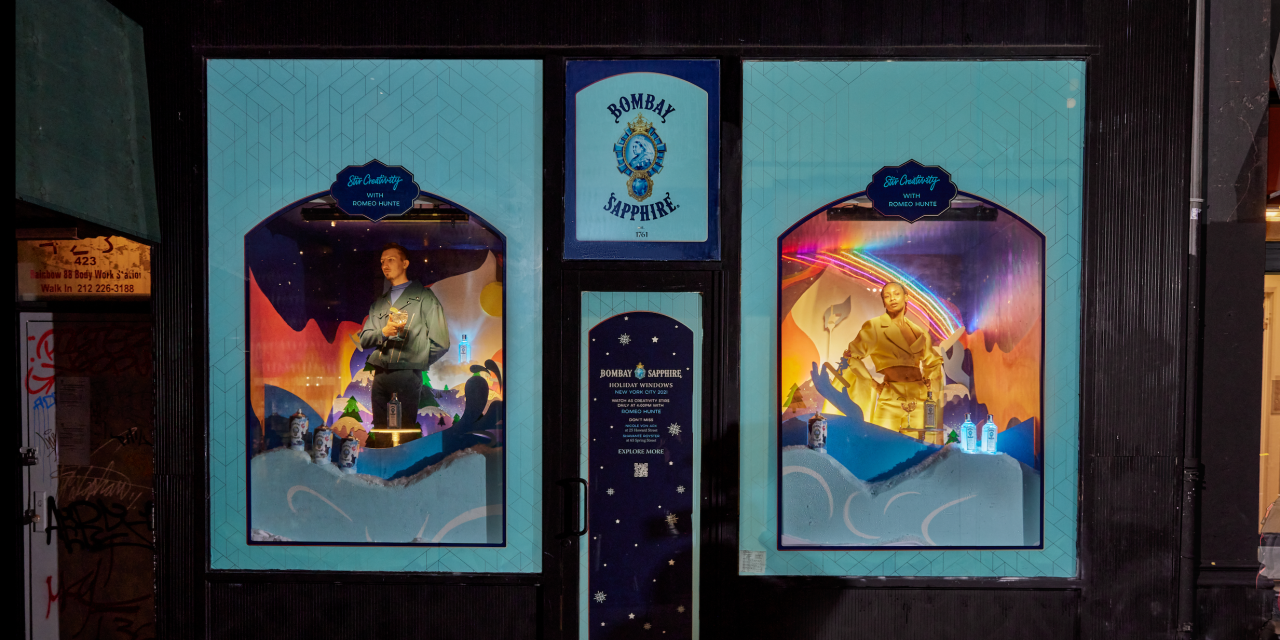 Hagop Kalaidjian
Brands are finding ways to make outdoor marketing more interactive.
In 2021, out-of-home (OOH) ad sales started to rebound after advertising in the channel ground to a halt due to stay-at-home orders. By the third quarter of 2021, the industry was already up 10% in year-to-date revenue compared to 2020, according to the Out Of Home Advertising Association. Moreover, the costs of OOH ad placements are back to pre-pandemic levels.
As a result, advertisers are getting more creative with their OOH ads.
To stand out in the space and make their marketing more interactive, brands are testing out everything from tying NFTs to traditional billboards to turning store windows into live performances. These brands are hoping interactivity will encourage people to remember these outdoor ads — and share them on social media. In turn, they are also taking advantage of more granular tracking data that out-of-home vendors are offering to compete with online advertising.
Moving beyond the billboard
This October, cryptocurrency finance platform Gemini wanted to find a way to connect outdoor ads to an interactive digital experience. Gemini partnered with ad agency Vector Media to take over a digital billboard in New York City's Columbus Circle for a three-year long lease. Instead of promoting a traditional ad linking back to Gemini's services, the platform decided to connect the billboard to a digital NFT auction.
Gemini mysteriously shuffled phrases like "a solution" and "peer-to-peer" on a digital billboard over the course of a few weeks in October. The company then revealed that the phrases and words were all part of Satoshi Nakamoto's 2008 white paper announcing Bitcoin. Gemini then linked each phrase displayed on the billboard — 105 phrases in total — to a corresponding NFT image that people could purchase via an auction on NFT marketplace Nifty Gateway.
Consumers bid between $300 to over $4,000 for the NFTS, and proceeds were donated to the Human Rights Foundation's Bitcoin Development Fund. Now, after the auction has since wrapped, Gemini promotes its crypto-rewards credit card on the billboard.
Jim MacCurtain, chief strategy officer at Vector Media believes that the OOH advertising industry has changed significantly over "the last five to ten years," with the rise of both social media sharing and digital billboard technology.
"There's a sense that with typical… advertising that you can skip it, you can ignore it, you can look away, but you can't do that with outdoor advertising," said MacCurtain. "And — if it is good — people actually want to see it in the real world."
Connor Burden, co-founder of geotargeting outdoor advertising platform AdQuick, pointed to a Neilsen study that found that one in four Gen Z-ers or millennials said they had shared picture of an outdoor ad on their own organic social media feeds. "I think it is kind of trendy in a way," said Burden, "And I think brands are really picking up on that, especially with the flexibility of what you're able to do on the creative."
Indeed, alongside Gemini, brands across a wide array of categories have found ways to make their outdoor advertisements more interactive.
At-home health test kit brand LetsGetChecked, for example, set up a giant couch in New York City's Flatiron Plaza, to promote its kits for 30-plus conditions like coronavirus and diabetes. Rebecca Silver, svp of marketing at LetsGetChecked, explained over email that the campaign was meant to highlight the ease of at-home testing, "straight to your couch." Health tests weren't conducted at the activation. Instead, LetsGetChecked nurses offered education about the brand's different tests and gave out discounts for future orders.
"With the pandemic keeping consumers indoors for nearly two years by the time of our activation in October 2021, we were excited to host a safe experiential marketing campaign that engaged consumers in person," said Silver. "We saw thousands of consumers stop by the activation to meet our clinical team and interact with our product. We saw hundreds of app downloads."
During holiday shopping season, Bombay Sapphire followed in the footsteps of department stores like Bloomingdales or Macy's for a series of store-front window displays. Unlike these retailers, however, Bombay took over empty store windows in Soho with live models and dancers. In a walking tour of three different window displays, people could see art from Shavante Royster and fashion from Romeo Hunte, then stop into local Soho bars for free Bombay Sapphire cocktails.
"People are definitely craving a deeper sense of community, connectivity [and] experiences," said Jaime Keller, Bombay Sapphire's brand director. "We're investing in…providing consumers with an out-of-the-box experiential moment."
The ever-shifting role of out-of-home
The digital advertising industry has faced some headwinds this year. Apple's iOS14 App Tracking Transparency rollout, for instance, caused some brands to shift their advertising budgets from social media. Indeed, while social media advertising loses some sophistication — a lack of tracking data decreased Facebook ad conversion by 9% at firm Balardi Wong, for example — out-of-home is getting a digital upgrade, and ad vendors are increasing their technology offerings.
Startup Cooler Screens, for example, installs digital screens in in-store refrigerators and coolers in retail stores. Vector Media is experimenting with digital double-deckers that puts a Times-Square-sized, digital ad on wheels. AdQuick — and peers like Lamar or Broadsign — are now helping brands geotarget their customers down to details like nearby stores, foot traffic and car traffic.
In turn, brand executives said they are increasing their investments in OOH. For example, swimwear brand Andie used to center its media spend on social but last year invested in its first billboard as well as various digital out-of-home placements.
"In a sense, the [iOS 14] timing is not bad for us, because in this stage of our growth we need to branch out and do more with upper-funnel marketing," said Jessica Granata, vp of growth at Andie over email. "This is a big year for us because we'll be trying out physical stores for the first time. We're thinking about adding in OOH to help raise awareness about our new locations and drive traffic."