How having an influencer-founder helped Bloom land retail partnerships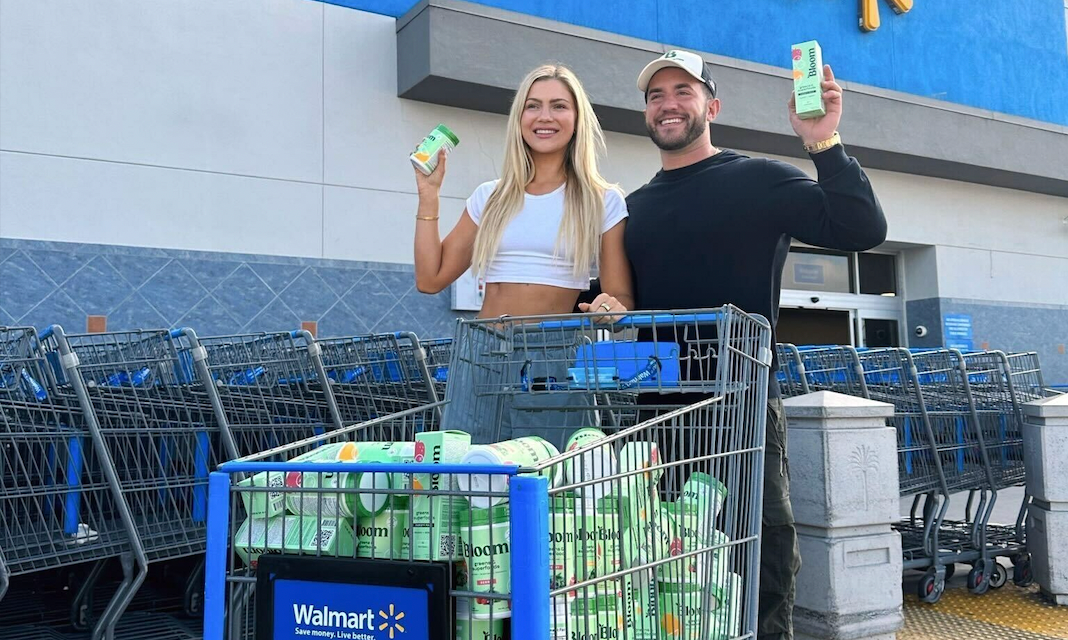 Bloom
Social media fame can open more doors for wholesale expansion.
That's the case for Mari Llewellyn, co-founder of supplements brand Bloom, who boasts over 1.6 million followers on Instagram, 245,000 on TikTok and 200,000 on Youtube. Bloom announced its first retail partnership at Target stores in October and just four months later in February, the company announced that it will be available at Walmart. Its products, such as its popular Greens & Superfoods powder, are currently available in around 6,000 doors.
"When it comes to retailers, they know that this social media movement is happening and they know that TikTok's important," Llewellyn said. "These bigger corporations, sometimes run by older people, want young companies like us who can help bring that Gen Z audience into the store."
Llewellyn, who has been posting fitness content such as her own weight loss journey online since 2017, started Bloom around four years ago using funds she earned from selling her $5 workout guide. From its customer growth to its expansion to physical retail, Llewellyn credits Bloom's progress to the personal wellness platform she's developed. 
"The community that I had built and gained trust with on my platform were all of our customers. The entire Bloom following was my following," Llewellyn said. "It gave us the boost we needed at the beginning and I felt like they knew who was behind the brand." 
Bloom now ships over 100,000 orders monthly and in 2022 the company tripled its revenue from the previous year. The company declined to share specific figures but said it is making nine figures in revenue and is completely bootstrapped. It currently has 200 SKUs, which include pre-workouts, protein powders and vitamins. 
Brands like Bloom and others that have influencer founders often capture the interest of wholesalers who are interested in trendier assortments and in gaining the business of their followers. For instance, Chamberlain Coffee — founded by content creator Emma Chamberlain — landed highly coveted shelf space at the high-end grocery store Erewhon and even hired a new chief marketer from Red Bull to execute its plans to be a multichannel company. Llewellyn said she wanted to be in stores like Target and Walmart to be more accessible to shoppers. Apart from physical stores Bloom is also available on its own website and on Amazon. 
"I never went down the traditional influencer route," she said. "I do think being an influencer has allowed me to have a different view on what we do as a brand and also to meet other influencers and network in that way." Bloom also has an influencer program on TikTok, where it taps influencers for partnerships, some of which are paid.
Online fame has allowed some brands to drive offline sales lift without spending too much on marketing, which makes them attractive brand partners for wholesalers. Poppi founder Allison Ellsworth, who frequently appears on promotional videos, said that 80% to 90% of commenters on the company's TikToks about where they purchased Poppi said they bought cans of its soda at a physical store. Adam Bent, CEO and co-founder of tinned seafood company Scout, previously told Modern Retail that its TikTok fame had helped it expand its WholeFoods partnership.
"The shelf space is very scarce," said Kimberley Ring Allen, founder of Ring Communications and adjunct professor at Suffolk University. "They know that this influencer is driving sales so it's a no-brainer. Not only are they getting tapped into their audience, they also know that these people are driving revenue."
While Bloom still has a "decent marketing budget," Llewellyn said its products are being advertised organically as celebrities and influencers request their products or post them. In January, Llewellyn aired the first few episodes of her podcast, called Pursuit Of Wellness. The podcast will dive deeper into health and wellness topics and is expected to reach a similar demographic to Llewellyn's Instagram followers.