How candle brand Homesick is building out its custom gifting program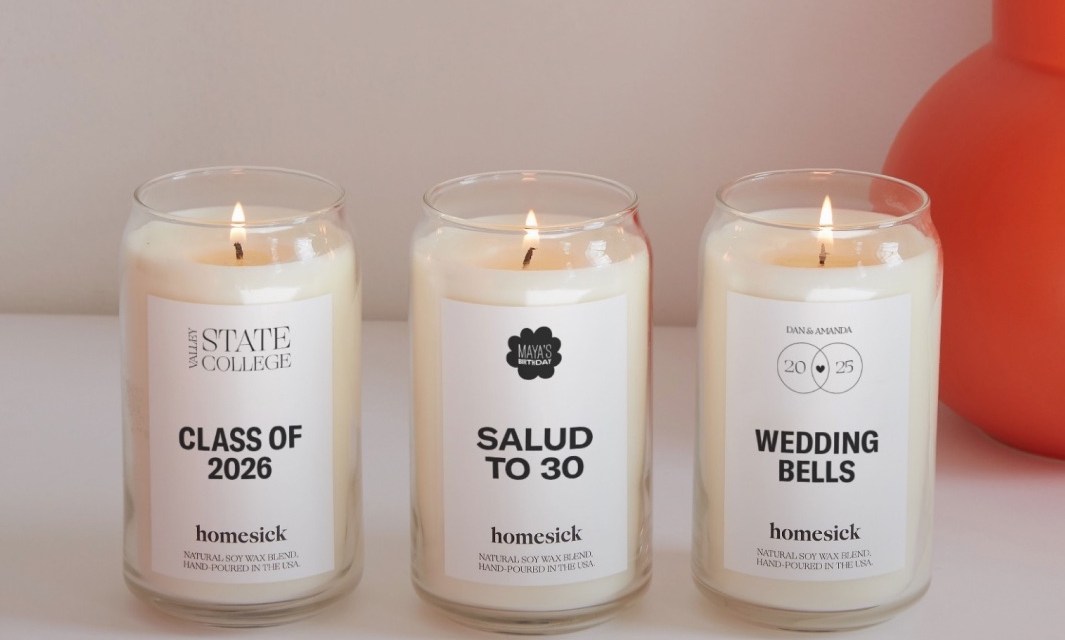 Homesick
Homesick wants more people to think of its candles as ideal party favors or thank-you gifts.
Last month, the candle brand — which is owned by holding company Win Brands Group — launched a new custom bulk ordering program called Homesick By You. It's an extension of a portal Homesick launched for corporate customers in September 2021, after receiving a number of inbound requests. Some of the corporate clients Homesick has worked with include Shopify and the Mercedes-Benz Stadium in Atlanta.
Last year, these custom corporate orders accounted for 3% of online orders. Now, the brand is ready to scale the program and open it up to the public for the first time, according to Homesick general manager Lauren McCord. Homesick joins a number of other DTC brands like Bombas and W&P who have been dedicating more resources to corporate gifting in the hopes of building out a revenue stream that can grow more quickly without relying on digital customer acquisition. As it has worked out some logistical challenges, Homesick has been able to lower the minimum order threshold required for a custom bulk order from 1,200 candles to 48 candles. With that, the hope is that Homesick is able to build up its custom corporate business to eventually account for a double-digit percentage of revenue.
"Long-term, I think we could be 50% of a corporate and custom program," McCord said. "The core of Homesick feels very personalized."
Homesick got its start selling candles with a fragrance that was meant to evoke memories of a specific city or state — such as a peach and magnolia-scented candle for the state of Georgia, and a candle with notes of Bourbon for the state of Kentucky.
As such, McCord said that Homesick started to receive requests from some companies like WeWork and Puma to design custom candles. Initially, Homesick didn't have the bandwidth to create fully custom candles for corporate clients, so the company started by first creating a unique belly band that would go around each candle.
"They wanted these custom candles [but] there were a lot of obstacles we were facing in order to do this —  turnaround times, high minimums and a lot of back and forth on design," McCord said.
So the first order of business was to simply create a portal that Homesick could direct businesses to whenever they received a request for a custom corporate order. Then, Homesick spent the next year trying to figure out how it could make the bulk ordering process more efficient.
"With all of our brands, we have tried to take this scalable approach, while also keeping our customers and audiences wanting that personalized and custom experience," McCord said.
As a result, Homesick decided not to give customers endless options when it opened up its custom bulk order portal to the public last month. Customers have five boxes and five fragrances they can use to mix and match, but they can customize the label. The Homesick By You page automatically generates a preview page once a customer designs the logo, minimizing the need for the brand to send design templates back and forth, as they previously had to do with corporate clients.
"We wanted to be able to service all fragrance profiles… without getting completely custom down to your favorite barbecue place on Second Avenue," McCord said.
As a result, Homesick says it's now able turn around custom orders in two to four weeks. A year ago, that process took a minimum of 60 days, McCord said.
Corporate gifting has become a bigger area of focus for some brands in recent years. The allure of corporate gifting programs is the potential for a significantly higher average order value, without having to reach customers through increasingly-expensive digital marketing channels like Google or Facebook.
But, launching a corporate gifting program requires brands to build out a different muscle because they have to market to businesses, not individuals. Polly Wong, president of marketing agency Belardi Wong, said that most DTC brands — particularly those that have a more narrow assortment in the home or lifestyle space — don't have corporate gifting programs. "B-to-B audiences are hard to reach and target in the digital space, Wong, whose firm has worked with brands like Lunya and Parachute, wrote in an email to Modern Retail.
Wong said there are other challenges to consider. Corporate gifting is often very seasonal, with much of it happening around the holidays. Additionally, she said that corporate gifting is among the first thing that companies cut down on when an economic downturn hits, and that more companies are increasingly making charitable donations in lieu of holiday gifts. Still, she said that companies that have a higher level of brand awareness are more likely to be able to pull it off because "companies want to give corporate gifts from brands that people will recognize."
McCord emphasized that as Homesick grows the program, it hopes to make it even more accessible to not only corporate clients, but people who want to use Homesick candles for both large and small events.
Since launching Homesick By You last month, the company has already lowered the minimum order value from 72 originally to 48 currently — McCord said that the company found that lowering the minimum order value by that much didn't hurt the company's margins significantly, but did make a big difference with conversion rates.
"I hope that we can only iterate on this program and lower the minimum even more so it is less restrictive and it can be for your Sweet 16 birthday or college graduation parties," McCord said.