Merrell rolls out digital 'Hike and Seek' game to promote its new Moab 3 shoe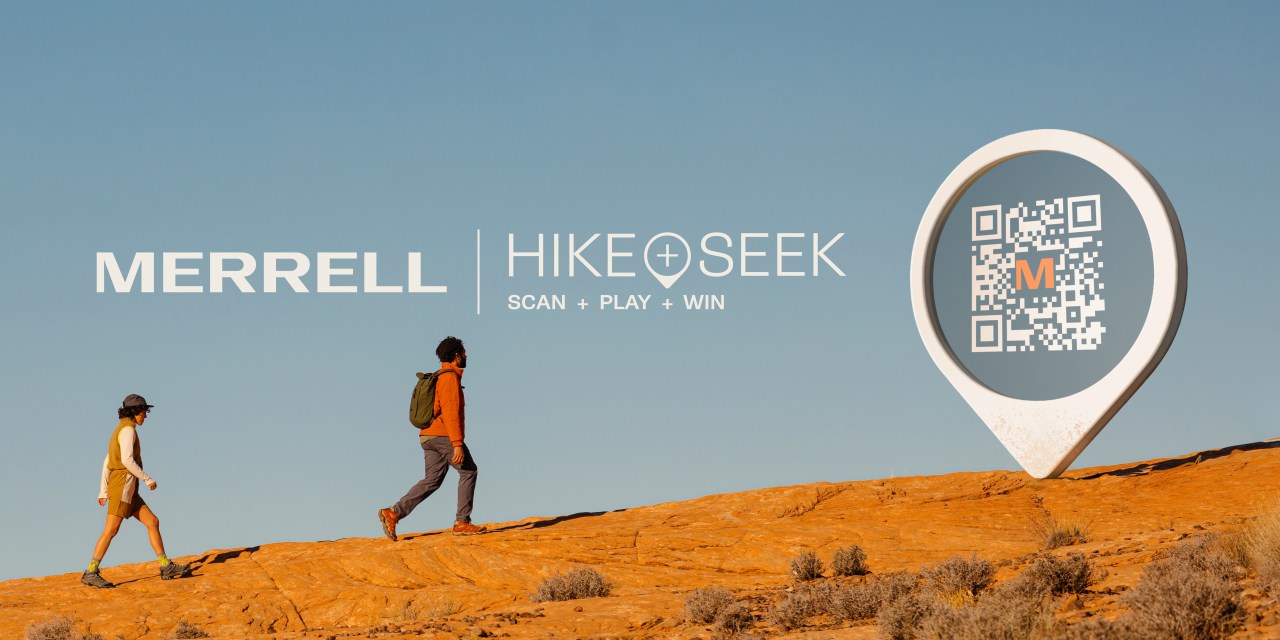 Via Merrell
Hiking shoe brand Merrell is turning to a digital game to get its customers outside and moving in the real world. 
As part of its plan to promote its new, more sustainable Moab 3 boot, Merrell has rolled out "Hike and Seek," a mobile web app-based game in which U.S. customers can earn gear and win a trip to Utah for completing nature-based challenges. The game runs until October 18 and racked up hundreds of participants in its first week, according to a Merrell spokesperson.
Merrell has been selling hiking boots and athletic shoes since 1981. Like others in the footwear industry, its parent company Wolverine has grappled with inflation and supply chain issues over the past several months, according to its most recent earnings report. Still, Merrell's revenue jumped 14% year on year to hit $203.6 million in the second quarter of 2022. The company hopes its new game can build on that growth and find footing with the many Americans who have turned to hiking in the coronavirus pandemic. According to the U.S. Bureau of Economic Analysis, the outdoor recreation economy accounted for nearly 2% of the country's GDP in 2020.
Nathan Buelow, senior brand manager at Merrell Performance, said the game is geared toward the brand's target audience: "Folks that are adventure seekers, that wanted to get outdoors, that maybe didn't know how accessible the outdoors was to them," he told Modern Retail. "We want to make sure that people aren't just thinking about hiking as some great thru-hike in the Appalachian Mountains — that there's a lot of hiking that could be had right around the corner from them."
Anyone can sign up to participate in Merrell's "Hike and Seek" using their Google account, Facebook account or email address. From there, users are directed to a list of more than 65 challenges, separated into social, outdoor and retail categories. These span from taking a hike with a friend to volunteering for a trail clean-up. The more challenges users complete, the more branded prizes they can obtain, from a pair of socks to a shirt. After finishing 10 challenges, participants can enter to win an all-expenses-paid trip to Moab, Utah — home of Arches and Canyonlands National Parks — in 2023.
Customers in New York City and Denver can accomplish additional challenges by going into a store such as an REI, Paragon or Dick's Sporting Goods. Right now, the game's location-based tasks are limited to those two cities and their surrounding areas because "those markets have so much outdoor space," Buelow said.
"Our retail partners are obviously a very critical part of the business, and oftentimes the place where customers are going to have that first interaction and buy that first hiking boot," he said. "So we want to make sure that we're getting folks into those retailers to check out the new boot and talk to some of the great sales associates that they have on the floor to be able to help drive that business." 
Developing the app warranted an "unconventional" process, Buelow said. "It's not a traditional media buy… where it's just putting together some digital banners and getting the message out there," he said. The company hopes the game can shed light on its customers' goals, perhaps for a future iteration.
"Do they want to find out more of those hidden-gem type of spots?" Buelow asked. "Do they want to have more of those epic adventures that we can highlight within that one to two-hour drive or transport range? Or… are they looking to engage more retailers and have that immediate tacit reward from a discounting perspective that we can give them for coming in and checking things out?"
More footwear companies are releasing experience-based apps. Nike's Run Club app offers users the chance to participate in running challenges, follow training plans and post on community message boards. Last year, the brand entered the metaverse with "Nikeland," a virtual world made in partnership with Roblox. Adidas' Running app offers workout plans, tracks runners' activity and connects them with friends. Its users have also participated in "Run for the Oceans," a plastic waste clean-up campaign between Adidas and Parley for the Oceans. 
With "Hike and Seek," Merrell joins a growing list of brands using apps not only to connect with customers, but to also act as an extension of their corporate ethos, Brad Jashinsky, director analyst at Gartner, told Modern Retail.
"Commerce is still the main objective for most retailer apps, but I think the retailers that are doing it really well and the brands that are doing it really well are going beyond that," Jashinsky said. "And thinking about, 'Yes, we drive commerce. But how do we also connect? How do we use the app as an extension of our brand and our brand values?'"
Unlike Nike and Adidas' apps, Merrell's "Hike and Seek" is web-based only and not available on the App Store or Google Play. Jashinsky told Modern Retail this is a common route for one-off campaigns, because it requires simpler technology and is more user-friendly.
"As these browser experiences have gotten better and better, we are seeing more and more brands take a step back and look at, does an app make sense for this campaign, this experience?" he said. "I think we are seeing a lot more brands and retailers in general embracing these web experiences, because they're getting more and more powerful."