To grow its direct business, Nike is looking to get more out of its app users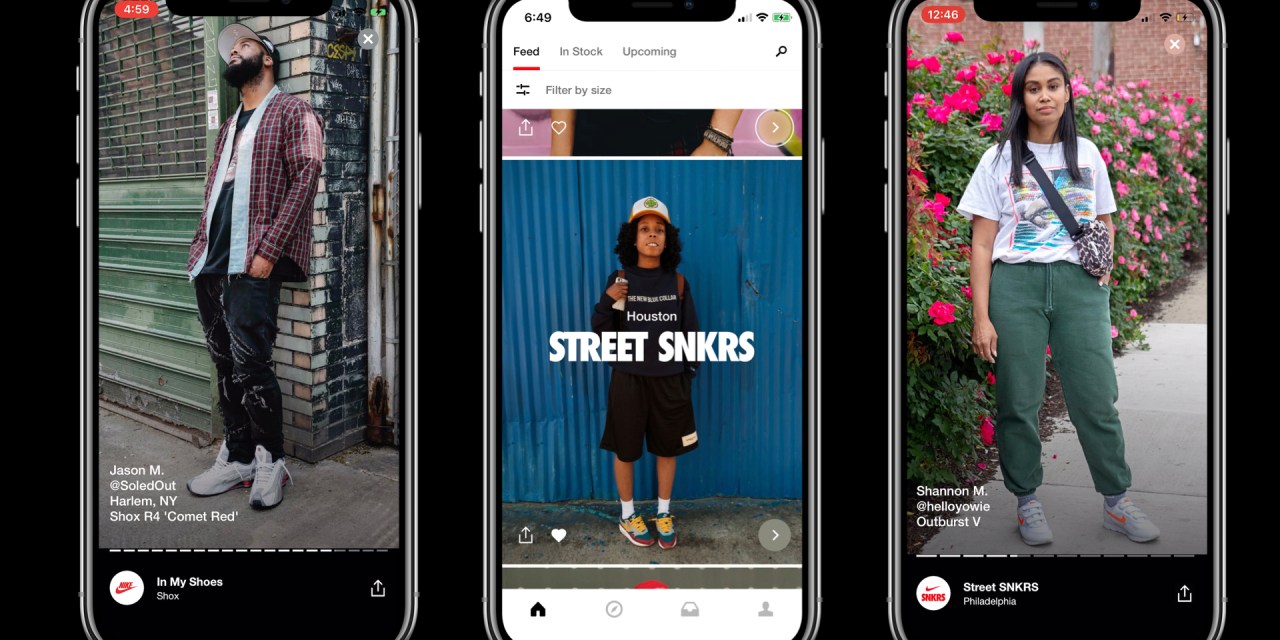 While other retailers like Target and Walmart have consolidated the number of apps they offer in recent years, Nike has centered its app strategy around building a handful of apps to serve specifics audiences. There's Nike's main app, Nike+, to which Nike has added more features in recent years to make it easier to shop in-store. SNKRS targets sneakerheads with limited edition product drops, while Nike Train Club and Nike Run Club are marketed towards fitness fanatics who want an app to help them manage their workouts. In total, Nike has more than 170 million users across its family of apps.
Now, as Nike looks to grow its direct-to-consumer business, it wants to add more features to its apps to encourage users to buy more, attend more Nike events and give Nike their input on product design. By wringing more activity out of its app users, Nike may be able to further lessen its reliance on wholesalers, as well as advertising to encourage customers to buy more. Yesterday, Bloomberg reported that Nike would no longer sell on Amazon, two years after it began a pilot with the e-commerce giant.
Nike has projected that its DTC business, called Nike Direct, will reach $16 billion in sales by the end of fiscal year 2020. Last year, Nike Direct did $11.8 billion in sales in fiscal year 2019. And last year, the company said it invested $1 billion in "new capabilities and consumer concepts," primarily to increase direct-to-consumer sales. That included investments in new store concepts, data analytics capabilities, and its NikePlus and SNKRS apps.
The team tasked with bringing new features to Nike's family of apps is s23NYC, a team that was born out of Nike's acquisition of mobile tech startup Virgin Mega in 2016. Over the past three years, the s23NYC has grown from 12 employees to 70, according to Ron Faris, vice president of SNKRS and general manager of s23NYC.
"There are so many signals we get from our apps," said Faris. "What we want to get better at is being predictive and anticipating what the needs of our members are."
Up until now, the s23NYC team has primarily been responsible for building and managing the SNKRS app. But now, the goal is to bring the most successful features from Nike's SNKRS app to other apps. Nike CEO Mark Parker said during an earnings call in June that SNKRS now accounts for about 20% of Nike's overall digital business.
Six months ago, SNKRS added its own version of Instagram stories to the app. Right now, it's a photo and video carousel that's populated with content from Nike. One series, called "Behind the Design," highlights how Nike designed popular sneakers. Another series shows photos of Nike customers wearing their favorite sneakers. Faris said that Nike will look to introduce this feature to all of Nike's other apps, starting with the Nike+ app over the next quarter.
"What we want to get better at is being predictive and anticipating what the needs of [our] members are," said Faris. "Every few seconds you are letting us know you are interested in that story, and those are the type of interactions that are really important for us to capture." The goal is to be able to serve users more personalized product offers and events based on what type of content they view the most in stories.
Another feature that Nike is currently testing within the SNKRS app is polling, where a Nike moderator will ask users within that app specific questions about what products they would like to see. Faris gave the example of a moderator asking SNKRS users if anyone tie-dyes their Nikes, asking users to upload photos of them, and then using that to create a special tie-dye version of an existing sneaker.
"For most brands to say, 'Hey we are going to put a super important experience like a product launch exclusively in an app,' is super risky because not enough of their market is likely to download that app and use it on a recurring basis," said Jason Goldberg, chief commerce officer at Publicis. "But Nike is a strong enough brand that I feel like their sneaker app became a core part of their shift to direct-to-consumer." 
While both Nike Train Club and Nike Run Club have shopping tabs within the existing apps, shopping is not the sole or primary use case, like it is with Nike's other two apps. Still, Faris is confident that Nike can introduce the same features that have been popular within SNKRS to these respective apps. He gives the example of Nike eventually giving a Run Club user exclusive gear unlocks the more they run, and inviting them to join local runs.
When Nike first formed the s23NYC team, it consisted of engineers, digital design, product management, product marketing and data analysts. Now, Nike's also added data scientists, footwear and apparel designers to the team, in order to actually create product that incorporates user feedback.
"Our goal is down the line, we may rethink how we put people together in a new end-to-end process, so that there's always that data scientist that's involved at some level to be able to partner with what would be a traditional footwear designer or apparel designer to help shape how that product comes together," Faris said.